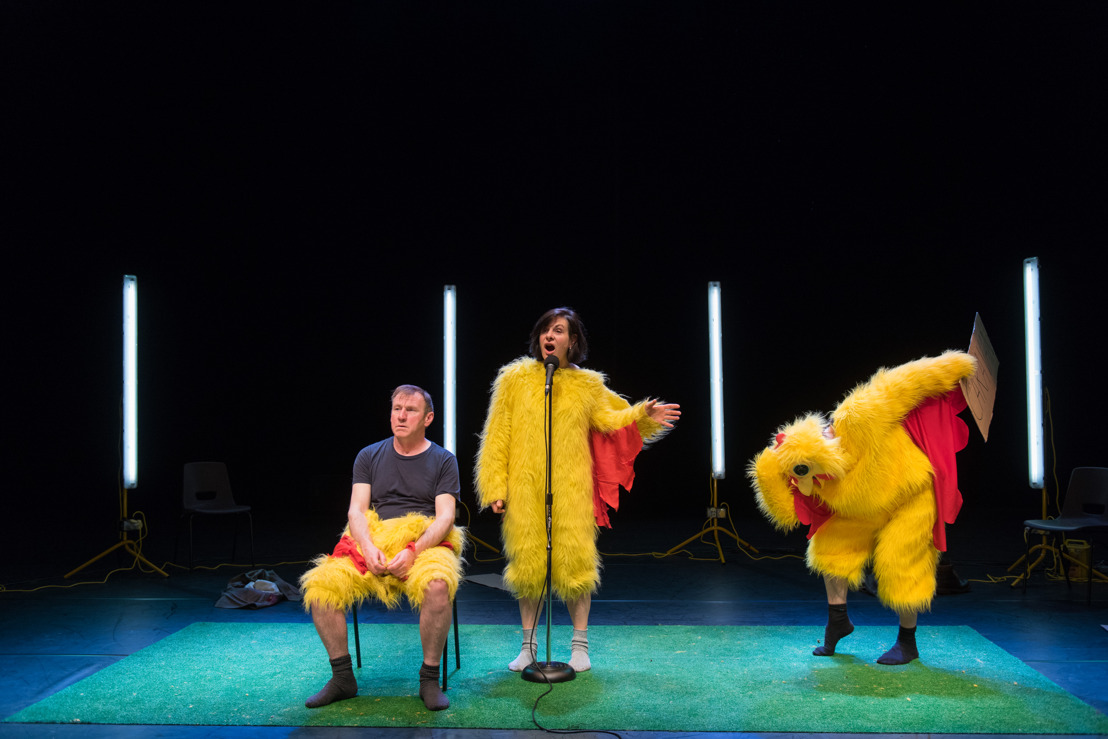 October at Kaaitheater
Monday, August 21, 2017
40 years Kaaitheater
Belgian premières by Forced Entertainment and by Kaaitheater artist-in-residence Benjamin Vandewalle
RE:RITE with Richard Schechner, Eko Supriyanto, focus week Our Daily Death
Ecopolis 2017: Digital Together
dance productions L'oeil la bouche et le reste by Volmir Cordeiro and We to be by Mette Edvardsen, with audiodescription
new concert by Eric Sleichim & BL!NDMAN
40 years of Kaaitheater
Kaaitheater turns forty. The first Kaaitheater festival ran from 5 until 15 September 1977, when Hugo De Greef charted a new course. It was an indictment of what he called the stagnant Flemish theatre landscape, and it aimed to inspire something new, an alternative. The fact that in this case the alternative managed to endure calls for a celebration. Four days in a row! (3>6/10) You can find the full anniversary week programme here.
The British company Forced Entertainment has been a regular fixture in the Kaaitheater programme for twenty years. This new production creates a world of absurd disconnection, struggle and comic repetition. To the sound of looped applause and canned laughter, the performers take part in an impossible illusion. While moments of defeat, hope and expectation are repeated endlessly, something unfolds that is part chaotic TV programme, part cabaret act, and part telepathic feat. Real Magic is a compelling performance about optimism, individual agency and the desire for change: pure magic!
Real Magic premièred in PACT Zollverein (Essen) last year and has been touring around Europe since. Kaaitheater is the first Belgian stop.
Kaaitheater | 5>6/10 | theatre | in English
Each of Kaaitheater artist-in-residence Benjamin Vandewalle's creations offers new perspectives and experiences, both within the theatre itself as in the city streets. In his latest performance, he is accompanying you into the city. He takes the lead in a series of purposeful actions: some are banal, while others are completely unconventional. You leave as a group of individuals and gradually transform into one collective body. Walking the Line is a walking performance that will give you a new perspective on the city around you through a sequence of tableaux vivants.
Kaaitheater | 6>8/10 | dance/walk
RE:RITE is a series of rituals, productions, lectures, debates, and workshops that form a leitmotif throughout this season's programme.
Richard Schechner, professor of Performance Studies at the Tisch School of the Arts (New York University) and founder of The Performance Group, wrote many books about the relationship between theatre, performance and ritual, including Performance Theory, Between Theater and Anthropology, The Future of Ritual, and Performed Imaginaries. Using, a.o., the Ramlila of Ramnagar – a 31 day ritual play that takes place in India – Schechner explores what anthropology and theatre have to say to each other.
Kaaitheater | 4/10 | talk | in English
Eko Supriyanto is one of the central figures of Indonesia contemporary dance. In this solo, he revisits the theme of Cry Jailolo: the threat to his homeland's marine life. He explores the relationship between Javanese cultural heritage and the rhythm of the underwater world – a world without gravity where another perspective emerges. He draws from his classical dance training, his diving experience, and the Javanese agricultural tradition of carving in the ground.
Kaaitheater | 19/10 | dance | as part of Europalia Indonesia
Our contemporary Western culture generally looks on death and dying with fear and denial. In Our Daily Death, we are examining the other side of the coin by welcoming artists and scientists who consider death to be part of our daily life. Their aim is to make life more intense. We look at mourning that isn't a process of letting go, but a different way of holding on, in our interior world. How can we rethink the symbols and rituals related to death so that they are more connected to life and so that in the future, these themes are not only raised in the run-up to All Saints and All Souls, but every day?
A 3-day programme with talks, performances, rituals and installations.
On the opening night Barbara Raes, Valentine Kempynck and Jorge León will each speak about their work.
TOPAZ offers you a glimpse of the IN/FINITY project, in which artists and patients at the clinic for supportive and palliative care meet.
Robert Steijn takes you on his meditative departure ritual Walk into Nothingness.
Claire Croizé and Etienne Guilloteau/ECCE present their latest dance production Mer-, preceded by a 7PM talk by Thomas Quartier: Performing Death. Rituals and Spirituality of Human Finitude.
Obtaining and sharing information, campaigning, making friends, dating, working, gaming… we are increasingly doing these things online. Hardware, apps and digital alter egos are giving new meanings to commitment, cooperation and connections between people. What are the implications of this digital reality for building a shared horizon? Ecopolis is the annual encounter for people working on a sustainable future. This third edition is again bringing together national and international experts for a day of inspiring debates, workshops and documentaries.
With Kate Raworth, Aral Balkan, Hanan Challouki, Luise Tremel, Gustavo Illescas, Alicja Gescinska, Jeroen Olyslaegers, Gaea Schoeters, Hans Bogaert, Wouter van Noort, Karel Verhoeven, Sarit Michaeli, Ibrahim Mohamoud (CAGE), Ana Naomi de Sousa (Forensic Architecture), CREW, Cateringa & Kompanen (Dumpling Bus), Benjamin Vandewalle and many others.
Kaaitheater | 8/10 | talks/debates | in Dutch, French and English
Visual stimulation often outweighs sound in theatre productions. But what happens when you have to rely on your sense of hearing and touch? Upon the invitation of Kaaitheater and European partners of The Humane Body network, two artists present work that can be experienced by people who are blind or visually impaired, with audiodescription.
After a series of solos, Volmir Cordeiro has created his first work for four dancers. In L'œil la bouche et le reste, he invites you to change your perspective on sight. He starts with the eye and then extends his exploration to all spherical things: the sun, an egg, the moon, an arena. He has created a dance that aims to express the physical movement and behaviour of the eye: crying, staring, winking, spying…
Kaaistudio's | 17>18/10 | dance
Choreographer, dancer and performance artist Mette Edvardsen presents the third part of a trilogy in which language and voice predominate and visual aspects are transferred to the imaginations of the audience. She is performing We to be at three locations simultaneously: in the book from which she reads aloud, on the empty stage as a projection screen of your imagination, and in the ether as a live radio broadcast. For We to be, Edvardsen received the prestigious Norwegian Ibsen Prize.
Kaaistudio's | 20>21/10 | theatre/performance | in English
Exactly one hundred years after the October Revolution in Russia, Eric Sleichim and BL!NDMAN [strings] are presenting a new sound score to the legendary silent film Arsenal by director Alexander Dovzhenko.
Eva Decaesstecker Kaaitheater
Katelijne Meeusen Kaaitheater