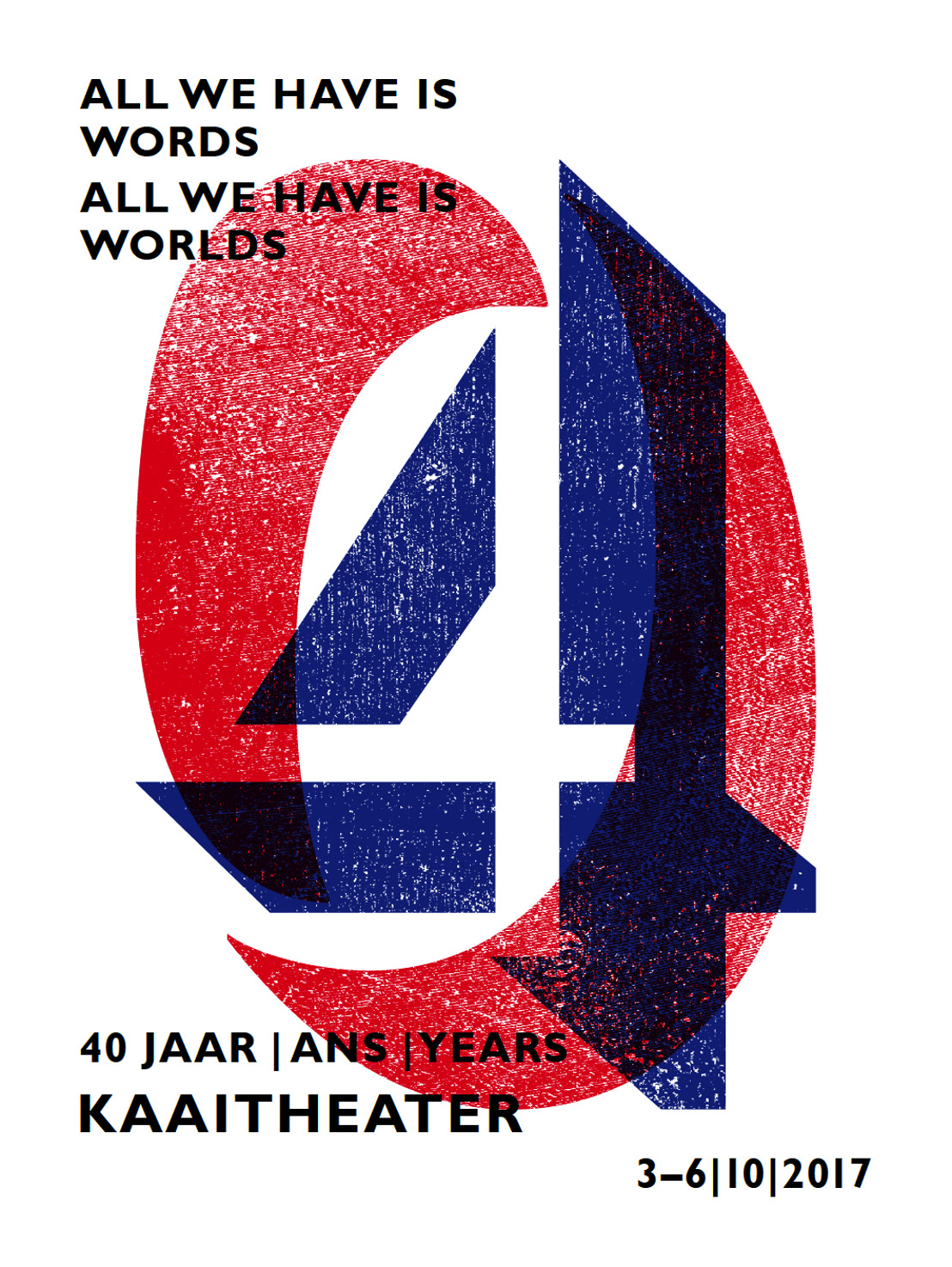 40 years Kaaitheater - birthday programme 3>6/10/2017
Tuesday, September 5, 2017
Belgian première Real Magic by Forced Entertainment
Stefan Hertmans' new theatre text Antigone in Molenbeek
Première Walking the Line by Benjamin Vandewalle
Richard Schechner on theatre, performance and ritual
Radio Etoile on art, arts centres and the world
Zina's Beauty Stories Salon
Kaai 40 Party

Today, 5 September, marks the exact date that the very first Kaaitheater Festival began 40 years ago. Hugo De Greef's festival charted a new course. It was an indictment of what he called the stale Flemish theatre landscape, intending to inspire something new, an alternative. The fact that in this case the alternative managed to endure calls for a celebration. Four days in a row, from 3 to 6 October 2017.
The programme of this four-day programme will highlight both the historical roots of the Kaaitheater as well as its direction and focus for the coming years.
The new script by Stefan Hertmans ties in with the Kaaitheater's past as a producer of theatre productions. As a director and academic, Richard Schechner, a pioneer of theatre innovation, influenced an entire generation of performing artists featured at the Kaaitheater. The British ensemble Forced Entertainment – a regular guest for more than twenty years – highlights the international character of our programme. Since the early years, the Kaaitheater's programmes have showcased both national and international talent. The work of Brussels-based directors Benjamin Vandewalle, one of the six current Kaaitheater artists-in-residence, and Inne Goris underscore our constant commitment to the local and regional artistic scene.
Over the past ten years, we have increasingly highlighted our connection to the city and the canal zone. Benjamin Vandewalle is taking the audience out into the streets in his production Walking the Line. For the Beauty Stories Salon, we collaborated with Zina to collect stories from newcomers to Brussels in Molenbeek. Antigone in Molenbeek will not only be staged at the Kaaistudios, but will also be performed in Molenbeek and other neighbourhoods in Brussels.
Finally, Radio Etoile will express the Kaaitheater's thoughtful side. How can artists and arts centres contribute to social debate? How can we play a role in the repositioning of the arts in a changing world?
Here you can read a history of 40 years Kaaitheater.
The British company Forced Entertainment has been a regular fixture in the Kaaitheater programme for twenty years. This new production creates a world of absurd disconnection, struggle and comic repetition. To the sound of looped applause and canned laughter, the performers take part in an impossible illusion. While moments of defeat, hope and expectation are repeated endlessly, something unfolds that is part chaotic TV programme, part cabaret act, and part telepathic feat. Real Magic is a compelling performance about optimism, individual agency and the desire for change: pure magic!
Kaaitheater | 5>6/10 | theatre | in English
Antigone in Molenbeek is the unrelenting tale of a young woman who goes in search of her dead brother. Inspired by Sophocles' tragedy, Stefan Hertmans has written a contemporary, gripping, and poetic theatre monologue about having compassion for someone who finds herself completely abandoned and alone: the sister of a suicide terrorist.
In June 2018, the Kaaitheater will close its season by staging the theatrical version of the piece, directed by Inne Goris and starring Dounia Mahammed. But we are presenting the book version now: psychologist and writer Birsen Taspinar will introduce the text, actresses Romy Lauwers (NL), Selma Alaoui (FR) and Réhab Mehal (AR) will read extracts, and Stefan Hertmans will sit down to discuss his text with Johan Reyniers.
Kaaitheater | 3/10 | book presentation in collaboration with De Bezige Bij | in Dutch
Each of Kaaitheater artist-in-residence Benjamin Vandewalle's creations offers new perspectives and experiences, both within the theatre itself as in the city streets. In his latest performance, he is accompanying you into the city. He takes the lead in a series of purposeful actions: some are banal, while others are completely unconventional. You leave as a group of individuals and gradually transform into one collective body. Walking the Line is a walking performance that will give you a new perspective on the city around you through a sequence of tableaux vivants.
Kaaitheater | 6>8/10 | dance/walk
Richard Schechner, professor of Performance Studies at the Tisch School of the Arts (New York University) and founder of The Performance Group, wrote many books about the relationship between theatre, performance and ritual. In this lecture, Schechner will reflect on the Ramlila of Ramnagar – a 31 day ritual play that takes place in India and which he has researched since the 1970s.
Kaaitheater | 4/10 | talk | in English | part of RE:RITE
At Kaaitheater, a new radio studio arises: RADIO ETOILE. Artists, thinkers, lecturers and journalists reflect, in eight one-hour sessions. How much has the world changed since 1977? The demand for a new political 'account' to replace the neo-liberal 'accounting' is growing ever louder. The search for a star to show us a new way is growing ever more urgent. RADIO ETOILE questions the power of artists and cultural centres in our current circumstances. Can they or should they lead the way?
Kaaitheater | 3>6/10 | debates | in Dutch and English
Lie back and close your eyes. While enjoying a hand massage secluded from the outside world, close neighbours and complete strangers divulge their most intimate secrets. This travelling audio installation reveals compelling and moving new portraits from Molenbeek in Brussels to Slotermeer in Amsterdam. Learn how the universal search for happiness and security can be hampered by relentless reality.
Kaaitheaterfoyer | 3>6/10 | installation | in Dutch, French and English