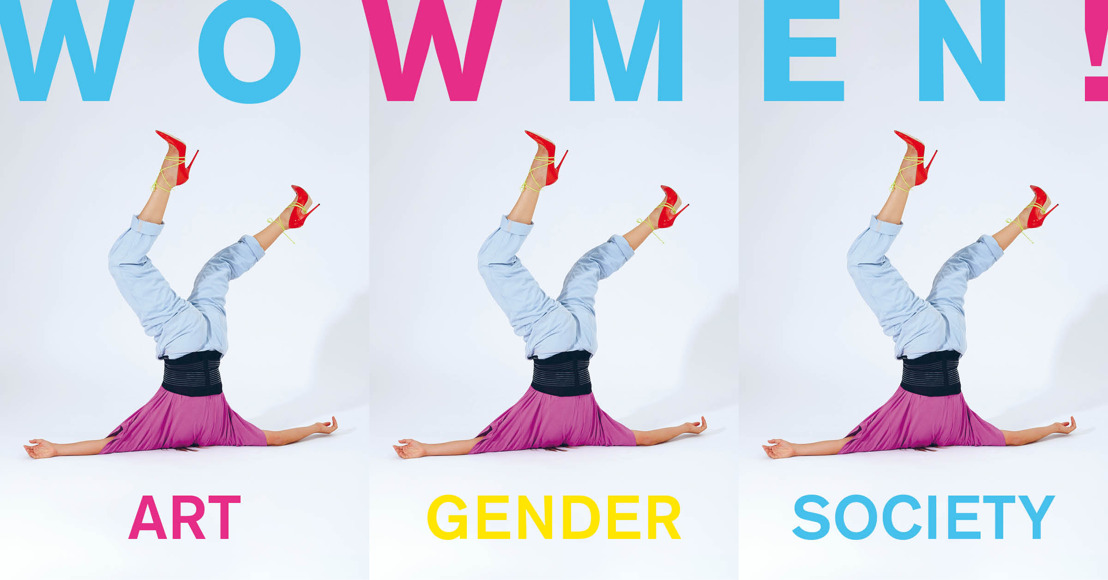 WoWmen! 2020 - festival on gender, art & society (that hopes to be superfluous soon)
2 > 8/03 | Kaaitheater together with deBuren, Engagement, Espacetous, Finnish Cultural Institute, KVS, Passa Porta, rile*, RoSa, VUB-Rhea, workspacebrussels
Thursday, January 30, 2020 — In the week before International Women's Day, Kaaitheater presents the fourth edition of WoWmen! a 7-day festival on gender, art and society.


10 PERFORMANCES + 1 FILM
Alexandra Bachzetsis, Daina Ashbee, Orla Barry, Sarah Vanhee, Syreeta Hector, Esther Mugambi, Kim Snauwaert & Anyuta Wiazemsky, Einat Tuchman & Doha Jaadi, Azahara Ubera, Rebecca Simons
3 TALKS
Karen Celis & Sarah Childs, Rosi Braidotti, Minna Salami
WORKSHOPS & READINGS
Engagement, xiri tara noir, Nathalie Rozanes & Rachel Levitsky
VIDEO & INSTALLATION
buren, Jimmy Roberts, RE/defining Masculinities, Sofie Vandamme & Sarah Desmet
'Don't protect me – respect me.' – JEANETTE WINTERSON
In the first week of March – the week before International Women's Day – the fourth edition of WoWmen! is coming to Brussels. This programme of performances, talks, debates, films and workshops critically analyses the state of gender, art and society.
Indeed, this continues to be necessary in a world in which domestic violence and feminicide appear to be ineradicable. A world in which sexism is rampant, both on and off social media. A world in crisis, in which informal social networks – often white, heterosexual and male – continue to emerge. A world in which #MeToo stories all too frequently continue to occur.
Some of us are privileged, while others are marginalized. That is why we are reflecting on strategies of resistance. Through an oral and physical tradition that does not often coincide with the traditional canon: using our voices, sounds, languages, and bodies!
Does voice have a gender? Does skin have a race? Can masculinity be redefined? How can we make language inclusive? And what is the secret of Finland, where young women become political leaders? Based on these and other questions, an international group of artists, activists and researchers will cast a spotlight on our multiple identities.

Following editions in 2010, 2014 and 2018, WoWmen! is now taking place for the fourth time. For this edition, Kaaitheater teams up with an extended group of Brusselse partners: deBuren, Engagement, Espace Tous, Finnish Cultural Institute for the Benelux, KVS, Passa Porta, rile* bookshop, RoSa, VUB-Rhea Centre for Gender and Diversity and workspacebrussels. On the programme, there are premières as well as work-in-progress, debates are held alongside workshops, sharings, readings, video... and a party.
WoWmen!: the festival that hopes to be superfluous soon. Because the future will be feminist.
WOWMEN! DEBATES

KAREN CELIS & SARAH CHILDS | Beyond gender quotas - opening debate
Gender quotas have been introduced in politics in many European countries. But are quotas sufficient to create gender equality? The political agenda, communication and staff are not aligned with a broad swathe of women and their ideological and intersectional diversity.
A debate with Karen Celis (RHEA, VUB) and Sarah Childs (Birkbeck, University of London), with video statements by Johanna Kantola (Tampere University in Finland) and Elin Bjarnegard (Uppsala University).

ROSI BRAIDOTTI | On Posthumanism
Acclaimed feminist theorist Rosi Braidotti, Director of the Netherlands Research School of Women's Studies and Professor of Gender Studies at Utrecht University, will help us to make sense of our flexible and multiple identities. How can we measure the escalating effects of post-anthropocentric thought?
MINNA SALAMI | A Black Feminist Approach for Everyone
Finnish-Nigerian author Minna Salami is the founder of MsAfropolitan, an internationally celebrated blog in which she combines feminism with critical reflections on contemporary culture from an African perspective. Salami's first book Sensuous Knowledge: A Black Feminist Approach for Everyone, which will be published a week after the festival.

WOWMEN! PERFORMANCES + FILM

SARAH VANHEE | Collective Screams - opening performance
Brussels artist Sarah Vanhee embodies uttered and unuttered scientific, philosophical, mythological, artistic and political screams.
DAINA ASHBEE | Laborious Song - premiere
In her first creation for a male dancer, the young Canadian choreographer Daina Ashbee uses repetition to attain a form of trance and transformation. She traces the forms of vulnerability that transcend gender.
SYREETA HECTOR | Black Ballerina - work-in-progress
Canadian dancer Syreeta Hector explores the identity and the unconscious ways in which we try to blend in. 'I wanted to examine how the body of minorities is depicted onstage, and how white culture has influenced the relationship I have to my own blackness and indigeneity.'
ESTHER MUGAMBI | Podcast for introverts - premiere
A one-woman performance, a poetic guide to living in this media-saturated world. The Amsterdam based Kenyan/Australian Esther Mugambi invites you into the process of creating her podcast on shifting gender identities.
ORLA BARRY | Spin, Spin, Scheherazade
Visual artist and shepherd Orla Barry explores the boundaries of art, gender, and the rural everyday in this monologue performed by Einat Tuchman. She describes the experiences of an artist who returns from the city to her rural roots and is reborn as a hybrid 'farmer-artist'.
KIM SNAUWAERT & ANYUTA WIAZEMSKY
What if two artists got married without being romantically involved? Kim Snauwaert and Anyuta Wiazemsky tell their story in a lecture performance and show the installation Female Russian Immigrant I married for Papers and Turned Into My Muse In Order To Build a Great Career, As A Woman.
EINAT TUCHMAN & DOHA JAADI | Other Enter
Einat Tuchman opened a community centre in Molenbeek 'Espacetous'. Together with Doha, a local girl and regular guest she made Other Enter, which talks about the difficulties that you encounter when launching neighbourhood projects and how they nevertheless manage to create a place for ordinary people where everyone can be themselves.
ALEXANDRA BACHZETSIS | Escape Act - Belgian première
Does gender have a voice, does skin have a race? In Escape Act, choreographer and visual artist Alexandra Bachzetsis joins philosopher and activist Paul B. Preciado to investigate the mechanisms of desire. Using drag, vogueing, striptease, YouTube tutorials as well as the triadic ballet by Oskar Schlemmer, seven bodies and many more objects try out new constellations, like surrealist ready-mades. With a great sense of irony, the production presents hyper-stereotyped gender identities, only to deconstruct them completely.
AZAHARA UBERA & Engagement Research Lab | CoraL-Lab
A group of artists, activists and thinkers are meeting once a month to find ways of choreographing themselves through movement and discursive practices. During WoWmen!, they will share their findings with you. Expect collective thinking, contradictions and fresh feminist moves!
REBECCA SIMONS | Letters from the Past - film screening
An encounter between a granddaughter and grandfather brings long-forgotten memories to the surface. Letters from the Past is a film about sexual abuse within the family and aims to open doors to a wider and more nuanced discussion. The film screening will be followed by a talk with Rotterdam based Finnish film maker Rebecca Simons.
The performance by Orla Barry and the talk with Rosi Braidotti are co-funded by Act & the Creative Europe Programme of the European Union.
>> Discover the full programme of WoWmen! 2020
Katelijne Meeusen Kaaitheater
Eva Decaesstecker Kaaitheater