This autumn at Kaaitheater: new programme and all tickets at €10
Finally back to the theatre together!


Kaaitheater is finally reopening after a long silent period. On the 18th of September, the Kaaitheater programme proper will begin, but this week we're opening the Brussels performing arts season with The Theaterfestival. From 3 to 13 September, Kaaitheater is the main partner and base of operations for the festival, which is taking place in Brussels this year. Along with The TheaterFestival, we are welcoming the first audiences back to our theatre.

How to make space for more people in our theatre, while less seats are available?
This autumn, there will be no price categories or season tickets at Kaaitheater. Instead, everyone will pay the same amount. Because many of us have been affected financially by the current crisis, we lower the threshold: until the end of the year, all tickets will be sold at the same price of € 10. We are thus aiming to soften the corona blow and to make the Kaaitheater programme as accessible as possible. The Paspartoe and Article 27 prices remain valid if you are entitled to them.


How to Be Many?
Over the coming years, Kaaitheater will be guided by a question: How to Be Many? This question now resounds in many parts of society. Agnes Quackels and Barbara Van Lindt have made this question a leitmotif of Kaaitheater. Expect a broad spectrum of stories, voices, bodies. In one society. In one city. In one theatre. A theatre by and for many.
How can we make space for many perspectives in our programming and in our operational methods, and work towards a theatre in which many voices are self-evident? With How to Be Many?, Kaaitheater is beginning a long-term commitment. A first concrete step is the decision to give 20% of the available artistic budgets and stage space to organizations in Brussels that focus on community building, social justice, or artistic practices that have not yet found their way to big stages. What do they think are pressing topics? What are they missing on the stages in our city? As hosts, they make space for a broad spectrum of stories, voices, and bodies.
Starting in 2020-2021, we will cooperate with organizations like Citylab and WIPCOOP, which support people with artistic aspirations and of diverse backgrounds to find their way to the regular arts circuit; For All Queens!, an organization by and for queers and people of colour; Headquarters of the Mouvement, which will have a residency at the Kaaistudios for several months; Mothers & Daughters, who work with lesbian and trans people; Mophradat, partners for artists from the Middle East and North Africa or the diaspora; just like Moussem; and Globe Aroma, an open arts centre for newcomers, refugees and asylum seekers. Kaaitheater already had long-term collaborations with the latter two organizations, and they will be extended.
Kaaitheater will also remain a regular partner of workspacebrussels, The TheaterFestival and Kunstenfestivaldesarts, and will connect with many European partners in the international networks ACT (Art, Climate, Transition) and Be My Guest.


A programme that resonates with current concerns
This autumn, we are presenting about twenty different productions. Due to corona, a large part of our planned programme had to be cancelled and replaced. But these exceptional circumstances have also made it possible to programme with our finger on the pulse of society. For example, several of the productions that we are presenting this autumn focus specifically on current social concerns. SAFE by Julie Pfleiderer & Ictus resonates with the corona reality and the way fear rears its head, in Dying Together by Lotte van den Berg & Third Space, you will become conscious of the many connections and alliances that exist between us, Métisse by Action Zoo Humain & Theater Antigone resounds with the awakening about decolonization, and in the year-long project Re-claiming Space, Khadija El Kharaaz Alami focuses on the live encounter with the other.
We are also organizing a series of lectures and debate days. The Madrid-based María Acaso, for example, connects art with education in Ways of Working with Art Thinking and will share her practice via a playlist, an online talk and a symposium.
Elsewhere in the city, small-scale, long-term, and participative projects will find a place. You can discover them via workshops, reports, podcasts or debates.
Over the next few years, Kaaitheater will have an additional new focus: what would happen if we were radically to take the voices of children and young people seriously? In Club of the Future, a series of productions, workshops and conversations, they will take the lead and adults will follow. As adults, we will be challenged to listen carefully to them, their ideas, dreams and concerns about a future that fundamentally belongs to them. We're kicking things off with a two-day event for children, young people and their adult entourages during the autumn half-term holiday, and with a programme at Artsdayforchildren.

A safe theatre visit
The theatres are finally reopening, but we are not yet able to return to business as usual. The new safety measures for artists, audiences and staff will lead to the development of new rituals around a trip to the theatre.
This autumn, all our productions will be performed in the large Kaaitheater auditorium because it lends itself better to spacing both the audience and the actors. You will see many different arrangements: from a stage onstage to a hall without stalls. There will be a striking number of solos and duets, and often young theatre makers, who are seizing the opportunity to show their work in a larger space.
We constantly adjust the safety measures in accordance with the latest guidelines. Read about the latest safety measures on kaaitheater.be/corona.



Kaaitheater is working on the 2020-2021 season together with (list in progress):
ACT | Action Zoo Humain & Theater Antigone | Ahilan Ratnamohan | Anna Rispoli | Anne Teresa De Keersmaeker/Rosas | Anta Helena Recke | Anoek Nuyens & Rebekka de Wit/Frascati | Be My Guest | Bronks | buren | Charleroi Danse | Citylab | Coral Labs/Azahara Ubera Biedma | David Weber-Krebs & Jeroen Peeters | de KOE | Diederik Peeters | Ecopolis | Einat Tuchman | Emke Idema | Enkidu Khaled | Eszter Salamon | Etienne Guilloteau & Ictus | Femke Gyselinck | For All Queens! | Francesca Grilli | Globe Aroma | Guy Cassiers/Toneelhuis | Gérald Kurdian | Het TheaterFestival | Ictus & Julie Pfleiderer | Ingrid Berger Myhre | Ivana Müller | Javi Cruz | Jordi Ferreiro | Kate McIntosh | Katrien Oosterlinck | Fernando Gandasegui | Khadija Al Kharraz Alami | Kristien De Proost & Bwanga Pilipili | Kuno Bakker & Mokhallad Rasem/Toneelhuis | Kunstendag voor Kinderen | Kunstenfestivaldesarts | Kyoko Scholiers | La Manufacture/Simone Aughterlony/Marcelo Evelin | Lara Staal/NTGent | Lotte van den Berg/Third Space | Maatschappij Discordia | Madeleine Fournier | María Acaso | Maria Jerez & Edurne Rubio | Marion Siéfert | Markus Öhrn | Meg Stuart/Damaged Goods | Mestizo Arts Platform | Mette Edvardsen | Mette Ingvartsen | Michiel Vandevelde | Mohamed El Khatib | Mothers&Daughters | Moussem Nomadic Arts Center | Myriam Van Imschoot & HYOID | Négar Djavadi | Platform K & Michiel Vandevelde | Radouan Mriziga | ROBIN | 1000 Scores (met Helgard Haug, David Helbich, Cornelius Puschke e.a.) | Simon Allemeersch | Solta | tg STAN | The Mouvement | Tibaldus | Tine van Aerschot | Vera Tussing | Volmir Cordeiro | workspacebrussels
Like a sequential drawing — a cadavre exquis – the Kaaitheater season 2020-2021 will take shape gradually. This collaborative drawing (sometimes called a 'cadavre exquis') consists of three parts, each drawn by another artist. Gabriela González Rondón took on the head, Imge Özbilge the torso. The legs will be drawn by a third artist and will be revealed along with the programme for spring 2021. We will announce that programme in November.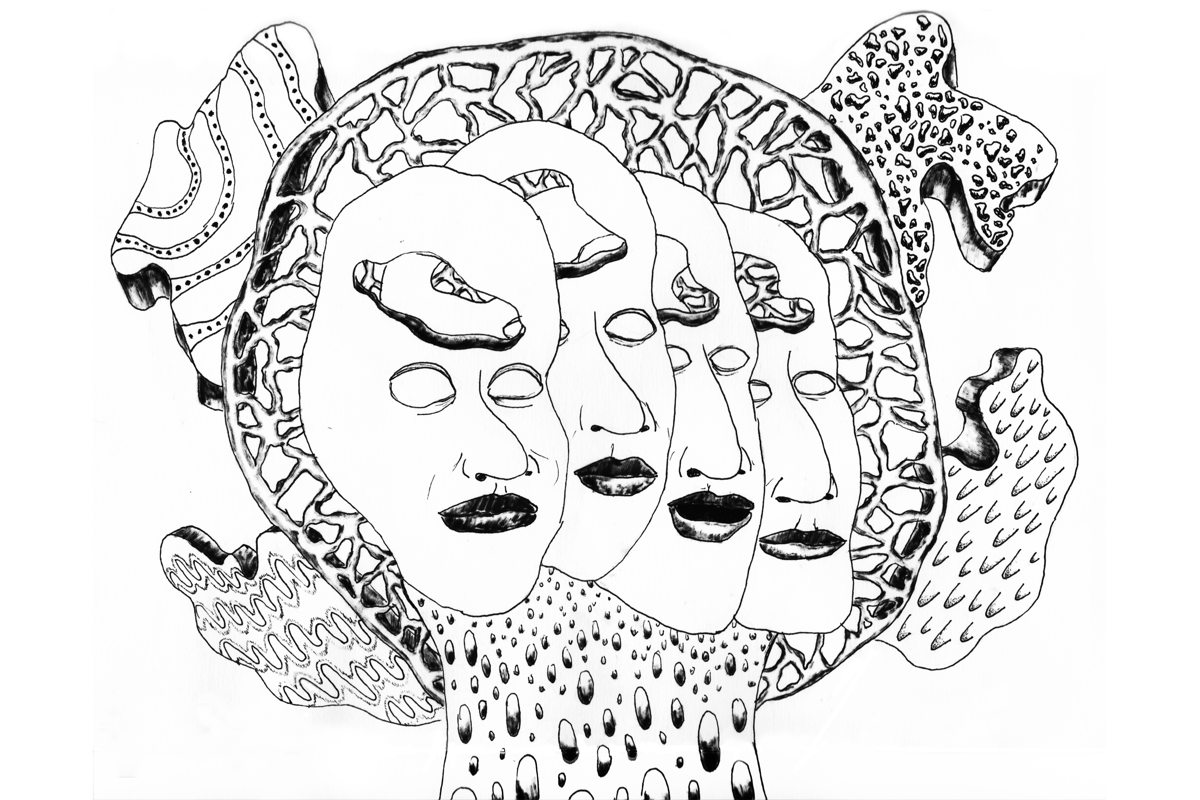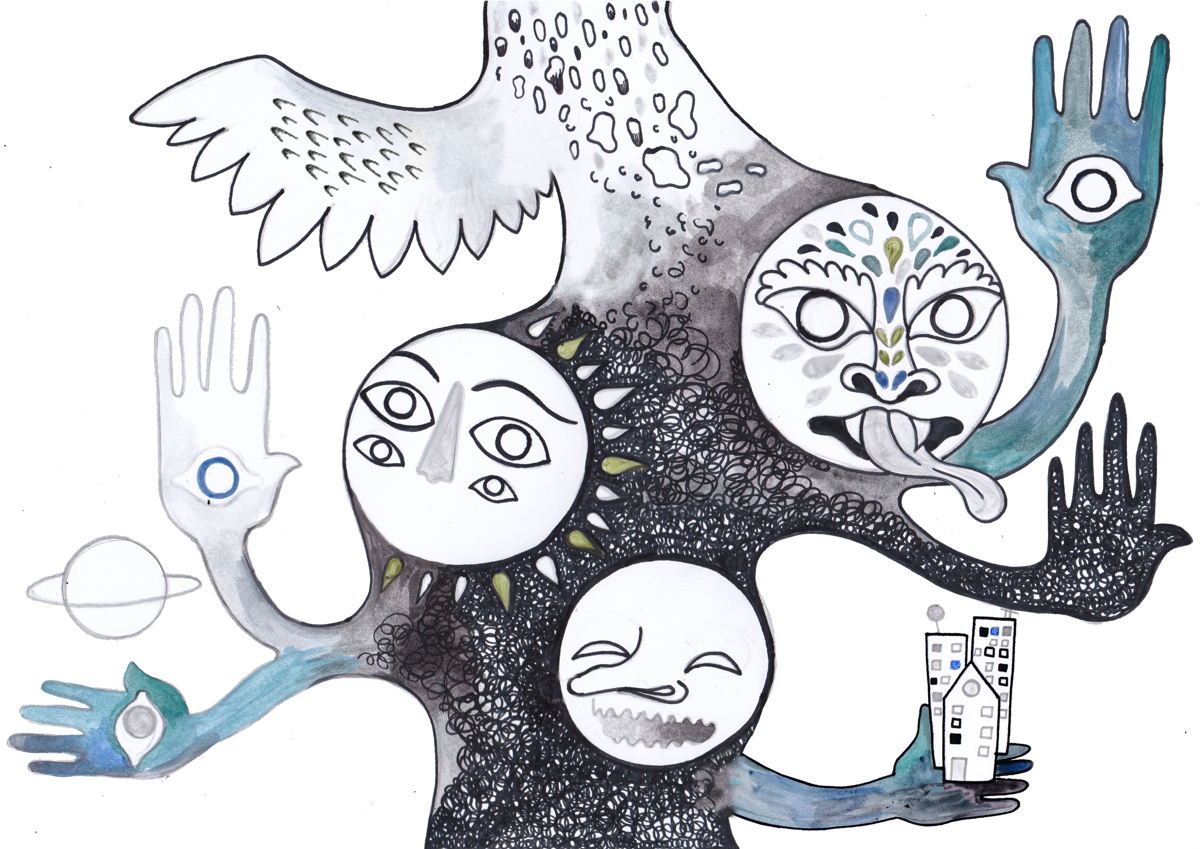 Katelijne Meeusen Kaaitheater
Eva Decaesstecker Kaaitheater