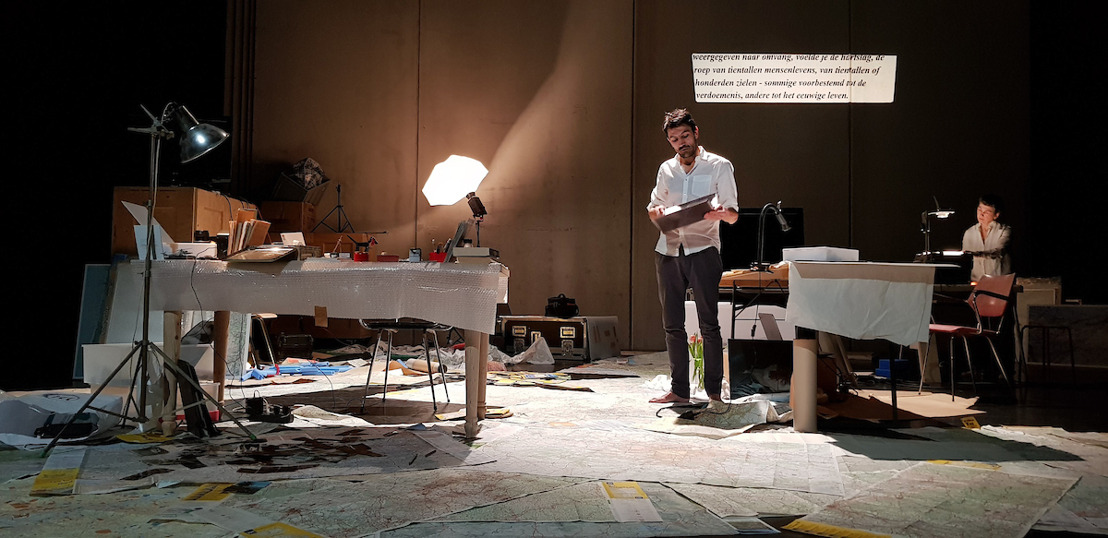 September at Kaaitheater
Tuesday, August 21, 2018
18-19 series To Authenticity... and Beyond! opens with a focus 'To be or not to be me'

performances by Jed Martin (Zelfportret/Autoportrait), Katja Dreyer (Ophelia comes to Brooklyn), Juan Domínguez (My Only Memory) and Lisaboa Houbrechts/Kuiperskaai (Hamlet)
a debate with Didier Eribon
7PM talks by Elke Van Campenhout a.o.

10 x The Tip of the Tongue by Pieter De Buysser at the Brussels Planetarium
There has been a striking increase in the use of the word 'authenticity' over the past few years: in newspapers and other media, in various forms of discourse, and especially also in discussions of art and artists. The idea being that whatever is authentic is a cut above the rest: original, pure, real. But what do we think to find in this urge for the 'real' or the 'original'? When does the desire for authenticity become collective nostalgia, conservatism, or fundamentalism? And is this desire not an enormous paradox anyway in a digital age when we simply click and swipe from one artificial, simulated reality to the next?
In the growing critique of Western, modern thought, an increasing number of voices are calling for a revision of historical and philosophical constructions. They invite us to 'un-learn' patterns of thought and narratives and to be receptive to whatever this exercise produces. This process, too, reveals a desire for 'realness', in an age in which reality often no longer feels real or sincere.
Throughout the season, we are bringing artists and intellectuals together to focus on this desire. Where might the search for truth and origins take us, if we are prepared to look beyond authenticity?
→ read more onTo Authenticity... and Beyond!
To Authenticity... and Beyond runs as a thread throughout the 2018-2019 Kaaitheater programme. It is a series of performances, 7PM talks preceding performances, encounters with thinkers (Afua Hirsch, Dider Eribon, Nina Power, Thijs Lijster, Philipp Blom and Mogobe Ramose), a symposium rethinking the documentary in art and an alternative election show. The series opens with a focus programme: To be or not to be me, looking at the border between sincerity and 'mendacity' onstage.
This season opens with the question of how authenticity resonates in our own biotope: the theatre. Where is the border between sincerity and 'mendacity' onstage? What is the relationship between embodying a character and the involvement of one's own self in doing so? How do autobiographical elements contribute to an artwork? And how credible is an actor or director who speaks from their own experience?
Didier Eribon - Conversation #1
Sociologist and philosopher Didier Eribon's Return to Reims combines autobiographical narrative and powerful sociological analysis. By exploring his own family history, he analyses how the class system influenced and continues to influence their lives.
Kaaitheater | 24/09 | talk, moderated by Béatrice Delvaux (Le Soir) | in French, simult. translation to Dutch

Jed Martin - Zelfportret/Autoportrait
Jed Martin – the main character in Michel Houellebecq's The Map and the Territory – was born near Paris in 1975. When he is forty years old, he writes a letter to his dead mother. She was as old as he was then, when she decided to take her own life. The combination of his words and his visual work results in a compelling self-portrait of a contemporary artist.
Kaaistudio's | 20 > 21/09 | theater | in French (surtitled in Dutch)

Katja Dreyer - Ophelia comes to Brooklyn
Ophelia Comes to Brooklyn is a theatre script that Antje Katcher wrote in 1982. In 1967, when she was 20 years old, she emigrated from a small German town to New York City. When she died in 2014, she left an inheritance for her niece: Katja Dreyer. Now, by staging Ophelia Comes to Brooklyn, three actors are attempting to decipher the story – the play and Antje's life itself.
Ophelia comes to Brooklyn premièred in BUDA (Kortrijk) and is now touring Belgium.
Kaaistudio's | 25 > 26/09 | theatre | in English

Juan Dominguez - My Only Memory
You can only observe changes with hindsight. Indeed, the present and the past are diametrically opposed: we realize that we have arrived somewhere, but we don't know how we got there. That is precisely what My Only Memory is: a retrospective, knowing that nothing will ever be the same.
Juan Domínguez calls himself a conceptual clown, magic cowboy, model poet, and curator of pleasure. In the dance and performance world, he is active as a creator and curator. My Only Memory premièred in Madrid earlier this year and now tours across Europe.
Kaaistudio's | 28 > 29/09 | performance | in English
In the 7PM talk Authenticity and Spirituality (on 28/09) Elke Van Campenhout/Elle will speak about authenticity and our constant need to be unique, original, and connected to ourselves. Meandering through spiritual pragmatism, contemporary philosophy, and artistic discourse, she will rethink the boundaries of the authentic.

Lisaboa Houbrechts/Kuiperskaai - Hamlet
The young director Lisaboa Houbrechts is tackling Hamlet. She has opted for the female perspective, focusing on the destructive relationship between Hamlet and his mother Queen Gertrude. Houbrechts primarily aims to illustrate Gertrude's innocence and thus to show the iconic play in a radically different light. Actress and Needcompany member Grace Ellen Barkey plays Gertrude, Grace's son Victor Lauwers plays Hamlet and her daughter Romy Louise Lauwers plays Ophelia. The parallel between the nuclear family in the play and the actual family onstage heightens the narrative tension of the piece.
Kaaitheater | 29/09 | theatre | in Dutch (surtitles in French)
During the Kunstenfestivaldesarts 2017, author, philosopher and storyteller Pieter De Buysser premiered The Tip of the Tongue on location at the Planetarium of Brussels. He is now reprising the production for an entire season: on the eleventh day of every month at eleven minutes past eight. The Tip of the Tongue does not attempt to map the world: it draws a different map. And all that in 11 dimensions, with 11 fables, in six times 11 minutes.
The story traverses a pronounced curve in space-time, a little girl tired of the Messiah and a lost detective who no one is looking for anymore. A portable particle accelerator, a dozen nebulous spirals and a majestic black hole. A political and philosophical detective story. A fundamental, cosmological speech exercise.
Together with the new series of performances of The Tip of the Tongue, Pieter De Buysser en ROBIN are launching the Tongue-Tied Network: an interdimensional community of thinkers, chatters and observers. After having seen The Tip of the Tongue, they will discuss science, art, politics, theatre, philosophy or ecology, under Brussels Planetarium's dome ceiling.
Planetarium of Brussels | 11/09 + 11/10 + 11/11 + 11/12 + 11/01 + 11/02 + 11/03 + 11/04 + 11/05 + 11/06 + 11/07 | theatre | alternately in Dutch/English/French, surtitles in Dutch/English/French
Eva Decaesstecker Kaaitheater
Katelijne Meeusen Kaaitheater