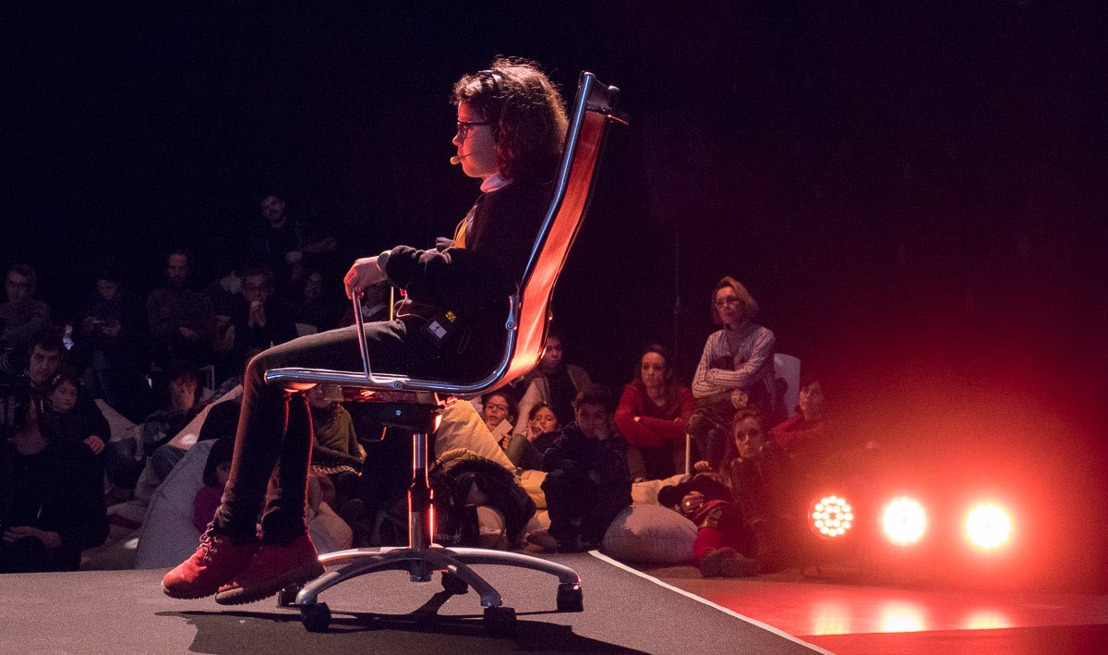 September at Kaaitheater
Thursday, July 6, 2017
the TheaterFestival is coming to Kaaitheater
RE:RITE season's opening with The Monastery, Ant Hampton, Myriam Van Imschoot & Willem De Wolf
Belgian premières Conversations (at the end of the world) by Kris Verdonck & Het Zuidelijk Toneel and Mitten wir im Leben sind (Bach 6 Cellosuiten) by Anne Teresa de Keersmaeker/Rosas & Jean-Guihen Queyras
The THING - a workshop by Ant Hampton & Christophe Meierhans
Fatima Mernissi Chair: Sarah Bracke & Zakia Salime on sexism and islam
At the start of the season the TheaterFestival returns to Brussels. For ten days, the TheaterFestival is showcasing the finest productions that the theatre landscape in Flanders, Brussels, and the Netherlands has to offer. A jury of theatre experts travelled around to see shows and drew up a shortlist, including the latest dance productions by Claire Croizé, Salva Sanchis and Rosas and theatre productions (surtitled) in English by Milo Rau (Five Easy Pieces) and KVS (Malcolm X). In addition to the jury selection, you can also see unmissable productions from the selection of the Dutch Theaterfestival, and upcoming talent is also commanding a place as part of Circuit X. Many performances by these young theatre makers are either without language or in English.
For press inquiries you can contact Kathleen Treier, the TheaterFestival's director.
Kaaitheater, Kaaistudio's a.o. locations | 31/08 > 10/09 | theatre, dance, performance

RE:RITE is a series of rituals, productions, lectures, debates, and workshops that form a leitmotif throughout this season's programme. What might rituals be in our current, 'fluid' times in which everything has become more fleeting and transient? In our almost completely desecularized and pluralist society, grand rituals appear to have been replaced by the small, the concrete, the authentic, and the everyday. This season, we are providing tools and writing scores for new, contemporary rituals. To this end, we will explore a number of transitional periods: not only from one season to the next, but also from childhood to adulthood, from life to death, and from health to sickness.

We will re-open at dawn on 21/09, when Brussels' spiritual urban community The Monastery is coming to the Kaaistudios.
By performing rituals, The Monastery aims to make every day and every action an intense experience. Because in the whirlwind of work, relationships, deadlines and discussions, we sometimes get distracted from the most important things in life.
In 2017-2018, the Monastery is coming to the Kaaistudios four times with A-LIFE, a ritual day that is patterned to the rhythm of the seasons. You can live the life of a monk for an entire day or take part in only one ritual, attend a lecture, or join a ritual dinner. During the WoWmen! festival, A-LIFE will devote several days to feminine energy and cyclical transformation. The 'monks' who will lead the A-LIFE cycle are Elke Van Campenhout, Stijn Smeets and Robin Amanda Creswell.
Kaaistudio's | 21/09 + 21/12 + 9&10/3 + 21/6 | ritual | in English, language no problem
In the performance Crazy But True, children between the ages of seven and eleven present a growing list of extraordinary facts. While some are very funny, others are serious, describing a world for which the adult audience is often collectively responsible. This simple proposal using minimal resources becomes increasingly addictive and complex, the longer you stay with it. It is a tender, intergenerational confrontation involving tragic ánd comic extremes.
Kaaitheater | 21/09 | performance | in Dutch, English and French
IN KOOR! is a musical theatre project by the Brussels-based performance artist Myriam Van Imschoot and actor and author Willem de Wolf. Along with unpractised singers, Myriam Van Imschoot and Willem de Wolf are exploring the rehearsal process of a choral production. The misses, repetitions and mistakes that occur in the process form the performance material of this production. Because people are at their most vulnerable when they can't (yet) do what they most desire.
Kaaitheater | 21/09 | music/performance | in Dutch
Between the visual arts and theatre, between installation and performance, between dance and architecture, the work of playwright and director Kris Verdonck looks for beauty in catastrophe. In Conversations (at the end of the world), five figures stand in an empty theatre space, accompanied only by the time they have left. Together, they form a portrait of humanity in the insane twentieth century, awaiting the inevitable catastrophe. The oeuvre of Russian author Daniil Charms inspired the script, supplemented with work by contemporaries, crazy prophets and philosophers, and tweets from warzones. This piece is performed by star actors José Kuijpers, Johan Leysen, Jan Steen, Jeroen Van der Ven, accompanied by pianist Marino Formenti.
Conversations is premiering in Rotterdam on 16/9 and will have its première at Kaaitheater, before conintuing its tour in Belgium and the Netherlands and being staged in Parijs.
Kaaitheater | 29>30/09 | theatre/music | in Dutch (surtitled in French)
Anne Teresa De Keersmaeker has already demonstrated her affinity with Bach in earlier choreographies. She continues to pursue a choreographic écriture that captures the essence of Bach's musical language. Five dancers – including De Keersmaeker herself – adapt, question and dance the six suites, performed by the world-renowned cellist Jean-Guihen Queyras. This exciting symbiosis of music and dance both reveals the individual character of each suite and their mutual interconnections in the totality of the cycle.
Mitten wir im Leben sind (Bach 6 Cellosuiten) is premiering on 26/08 at the Ruhrtriennale. Kaaitheater co-presents its Belgian première together with La Monnaie. Check more tour dates here.
This season, we are presenting four productions by Rosas. After Mitten wir im Leben sind – on location at De Munt – you can also attend the Zeitung adaptation Zeitigung. Finally, Achterland (at the Théâtre National) and A Love Supreme (Kaaitheater) are being reprised.
La Monnaie | 23, 24, 26, 27/09 | dance
Ant Hampton and Kaaitheater artist-in-residence Christophe Meierhans join forces to create THE THING, an automated and hybrid form between performance, workshop and journey. Over four episodes, THE THING takes you on an exploration of the overlap between things which matter to the world and a thing each of us could set into motion at any moment. In THE THING, no charismatic leader stands in your way. The only ones present are a group of 8 to 12 people who open a suitcase and follow a wild mix of different triggers as a guide.
Kaaistudio's | 25/09 > 7/10 | performance/workshop | in English | as part of RE:RITE
Is sexism inherent to Islam? Where does the menacing stereotype of the sexist Muslim come from and how is it perpetuated? In this armchair debate, sociologists Sarah Bracke and Zakia Salime address these questions in order to explore the alleged sexism of Arab Muslim men and Islamic Sharia law. They also expand the discussion to include questions of whether religious law is compatible with the universal human rights. They do not only address whether this is possible, but also if it is desirable.
This debate is organised by the Fatima Mernissi Chair. Moroccan sociologist Fatima Mernissi (1940–2015) laid the groundwork for the development of feminism in the Muslim world. Her works explored the tension between power, gender and Islam and built bridges between the West and the Arab world. After a successful tribute to her thought and legacy at the Kaaistudios, the VUB launched the Fatima Mernissi Chair in January 2017, likewise at the Kaaistudios.
Kaaistudio's | 28/09 | talk/debate | in English (surtitled in French) | part of the collaboration Kaaitheater - VUB
Eva Decaesstecker Kaaitheater
Katelijne Meeusen Kaaitheater