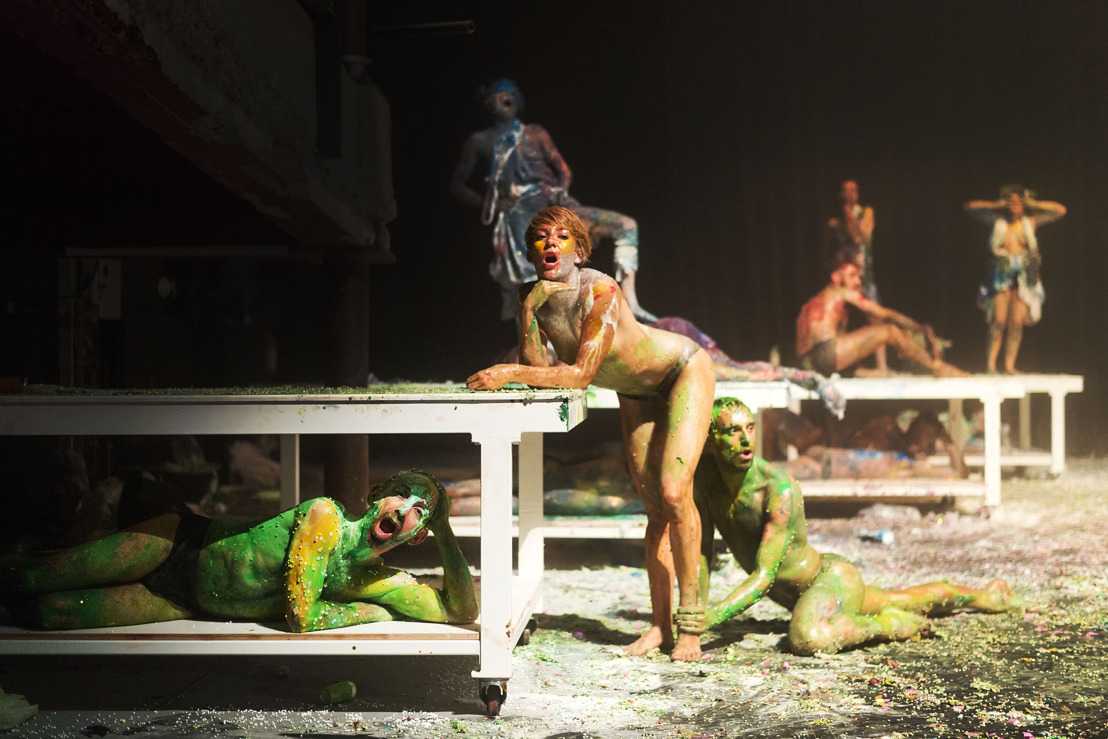 SEPTEMBER AT KAAITHEATER
Opening the 2016-2017 season: Jan Fabre's marathon performance Mount Olympus | Laila Soliman in Belgian première
Thursday, July 14, 2016 —
Jan Fabre/Troubleyn: Mount Olympus
In Mount Olympus. To glorify the cult of tragedy, a 24-hour performance, a slice of history comes to life before your eyes. For 24 hours, a maelstrom of images carries you off to a different, labyrinthine time. A monumental happening - Jan Fabre has never before presented such an all-encompassing image of his work for theatre, spanning over 30 years.

A still, internal force dictates the movements and dance of 27 performers - a cast that covers four generations. They awaken and sleep on stage. Fabre pays tribute to their beauty by transforming their stolen dreams into images.

Mount Olympus had its premiere last year at the Berliner Festspiele. After its European tour, the performance is now coming to Brussels. The production has been selected for the Flemish Theaterfestival 2016 and will also be staged in Antwerp at the end of August.

Kaaitheater | Sat 24/09 16:00 > Sun 25/09 | sold out | theatre | in English + Dutch > surtitled in English

Laila Soliman: Zig Zig
During the British occupation of Egypt a hundred years ago, soldiers are brought before a military court. Among the witnesses are twelve women who were raped. The Egyptian theatre maker Laila Soliman found the transcripts of their witnesses in British archives and used them as a starting point for a documentary theatre performance. In Zig Zig, four actresses bring this historical material to life and link it to their personal experiences and to the contemporary culture of rape. A century on, has anything really changed?
Laila Soliman is a writer, director and dramaturge. She lives and works in Cairo and studied at DasArts in Amsterdam, amongst others. In 2015, she appeared at the Kaaistudio's with Whims of Freedom.
Zig Zig premiered in April in Caïro, and will tour around Europe as from August.
Kaaistudio's | Fri 30/09 + Sat 01/10 - 20:30 | theatre | in English | Belgian premiere
Prior to the Saturday show, Liesbet Stevens of the Belgian Institute for the Equality of Women and Men will talk about gender stereotypes as a challenge for law and society. It is the second RE:MAKE TALK in this season's series (01/10 - 19:00 - in English).
CANCELLED - On the First Global Parliament of Mayors
Benjamin Barber & Mayors
With regret Benjamin Barber and Kaaitheater inform you that this evening (13/09) is cancelled. The dates of the GPM in The Hague were changed at the last moment: the foreign guests were unable to stay for an extra day, to join the evening in Brussels. We will try to organize an alternative evening on the GPM, later on in the season.
[ Following the global success of his book If Mayors Ruled the World, the American political scientist Benjamin Barber came up with a concrete initiative: The Global Parliament of Mayors. The first meeting of this new democratic platform will take place in The Hague from 9 until 11 September 2016. The mayors of 125 cities – large and small, developed and developing – will debate the global challenges of our times: www.globalparliamentofmayors.or
"Separately, cities are as powerless as nation states, but when they cooperate they are big enough to govern powerfully on a world scale." – Benjamin Barber ]
Eva Decaesstecker Kaaitheater
Katelijne Meeusen Kaaitheater