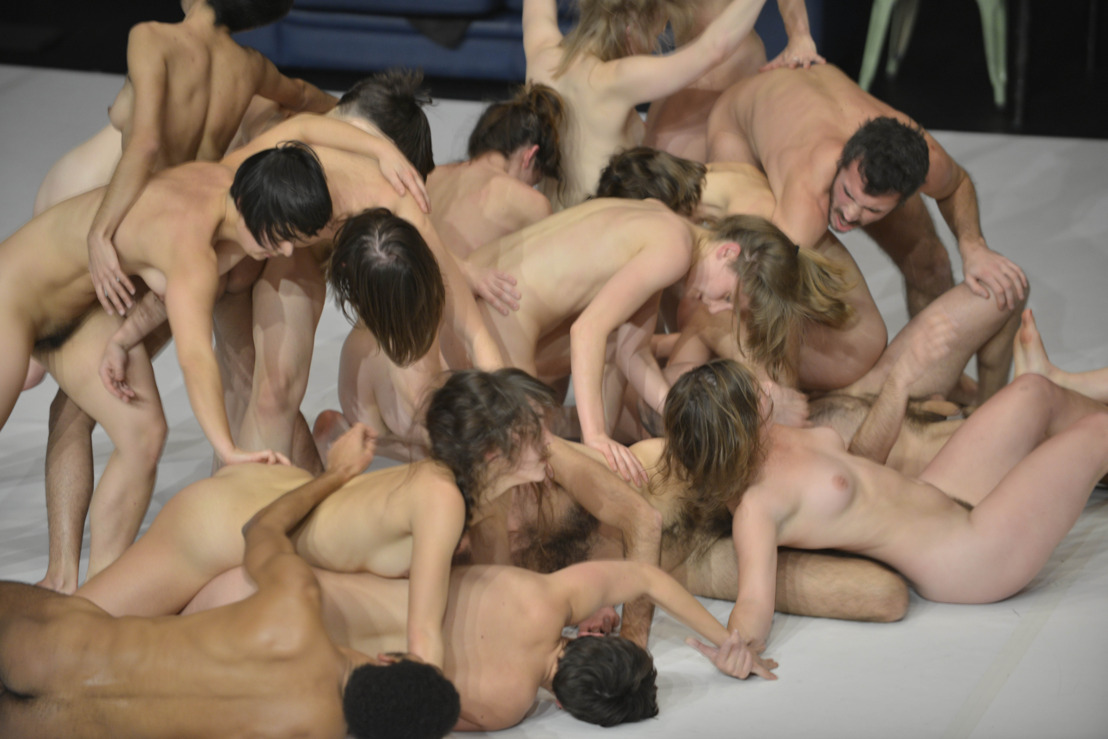 October at Kaaitheater
Thursday, August 25, 2016
premières by Rosas & Ictus (Rain) and Tristero (Leave a Comment)
Belgian premières by Tiago Rodrigues and Lemm&Barkey/Needcompany
work by Kaaitheater artists-in-residence Mette Ingvartsen and Ivo Dimchev
RE:MAKE talk by Susan Neiman and conference with Nick Srnice, Alex Williams a.o.
In her latest performance cycle The Red Pieces Kaaitheater artist-in-residence Mette Ingvartsen investigates the role of nudity and sexuality in our society. In 1 week she will stage 2 productions, followed by The Permeable Stage, a performative conference about the politics of sexuality in relation to the public and private realms.
In the solo 69 Positions - somewhere in between exhibition and performance - she brings the counterculture and experimental performances of the 1960s back to life. In 7 Pleasures, a group choreography for 12 dancers, she looks seven concepts of pleasure straight in the eye. You cab read an interview with Mette Ingvartsen here.
69 Positions Kaaistudio's 4 > 5/10 | 7 Pleasures Kaaitheater 7 > 8/10 | The Permeable Stage Kaaistudio's 8/10
On Wednesday afternoon we are organising a workshop for children aged 6 to 10: Gender under the microscope (5/10, 14:00) - the first of a new series of workshops, in which children learn about our season's most important themes at their own level.

To the pulsing notes of Steve Reich's Music for 18 Musicians – performed live by Ictus – ten dancers surrender themselves to an irrepressible collective energy. Mathematical figures, continuous repetitions, and the art of continual variation: Rain (2001) is one of Anne Teresa De Keersmaeker's most vibrant performances en is now, 15 years after its creation, being recreated with live music and a new cast of 10 young Rosas dancers.
Steve Reich (°3 October 1936) celebrates his 80th birthday at the eve of this world première, after which the production embarks on a long tour in Belgium and abroad. In September 2016, Anne Teresa De Keersmaeker was named
"Choreographer of the Year" by Tanz magazine and a jury of international dance critics.
On location at the Cirque Royale | 4 > 7/10 | dance

The born performer and Kaaitheater artist-in-residence Ivo Dimchev returns to stage his performance Operville, which he created for Performatik 2015. He also invites pianist Lea Petra for a voice improvisation in the form of a concert - an unforgettable musical experience.
Concerto Kaaitheater 12/10 | Operville Kaaitheater 14/10
Out of Shakespeare's most hopeless of tragic love stories, the Portuguese writer and director Tiago Rodrigues (leading the Teatro Nacional in Lisbon) has distilled a poetic adaptation.You will not find classical actors here, but two exceptional dancers: Sofia Dias and Vítor Roriz.
Antony and Cleopatra was staged at the 2015 Avignon Festival and toured extensively around Europe.
Kaaistudio's | 13 > 15/10 | theatre in English
Grace Ellen Barkey and Lot Lemm are posing questions about our struggle with mortality. In this new choreography, the score of Gustav Mahler's Der Abschied is made visible.
Kaaitheater | 21 > 23/10 | dance​
Forever will have its première in Graz on 24 September. After the Belgian première at Kaaitheater, the production will go on tour in Flanders.
Together with the Sunday 23/10 show, we're organising this season's first Matinee Kadee: while the parents see Forever, their children (4-12y) can play in a fun workshop: Constructing with hay.
Every second, an hour of video material is uploaded onto YouTube. We dish out 'likes' and 'dislikes' and enjoy nothing more than offering detailed commentary. Guided by a selection of these comments, Tristero touches upon fundamental themes, such as the fragility of art and of freedom of speech. This leads to a drily humorous, sometimes disconcerting portrait of the globally linked YouTube community.
Tristero is the Brussels-based theatre collective whose artistic core comprises Kristien De Proost, Youri Dirkx and Peter Vandenbempt. With a long history at Kaaitheater, they are synonymous with wry comedies, contemporary dramaturgy, movement theatre or a mix of all of these. They have previously used found material as the basis for a performance, such as The Search Project and Iemand van ons.
Kaaitheater | 27 > 29/10 | theatre NL/FR/ENG | coproduced by Kaaitheater​
Leave a comment will première at Kaaitheater, check more tour dates here.
The new dance production by Claire Croizé is a tender creation set to songs by David Bowie. EVOL will première in Leuven (STUK), the Kaaistudio's are the first stop of the tour - check all dates here. You can find the trailer below.
Kaaistudio's | 28 > 29/10 | dance
The American moral philosopher Susan Neiman has written books such as Why Grow Up? Subversive Thoughts for an Infantile Age and Moral Clarity: A Guide for Grown-Up Idealists. In them, she always seeks to chart a middle course between blind utopianism and cynical realism. She will expand on these ideas during this talk, the second in the new Kaaitheater series RE:MAKE.
Kaaitheater | 17/10 | talk in English
How are we to 'remake' society at the dawn of the 21st century? This central question forms the leitmotif throughout our 2016-2017 programme. We're presenting talks and debates that bring both concrete practice and new ideas to the fore. By inspiring thinkers such as Benjamin Barber, Michel Bauwens, Alicja Gescinska, Tim Jackson, Srećko Horvat, en Nick Srnicek (see below).
Despite the extreme crises that the capitalist system has recently undergone, we simply thunder on at an ever-faster pace. New social, grassroots movements are increasingly calling for things to slow down. But why not allow society to go into overdrive and pass into a new order? During a two-day programme, Nick Srnicek, Alex Williams, Benjamin Noys, Patricia Reed, Helen Hester a.o. will be taking a detailed look at this Faster-Slower contradiction.
Kaaistudio's | 22 > 23/10 | conference in English | part of the RE:MAKE series
Eva Decaesstecker Kaaitheater
Katelijne Meeusen Kaaitheater