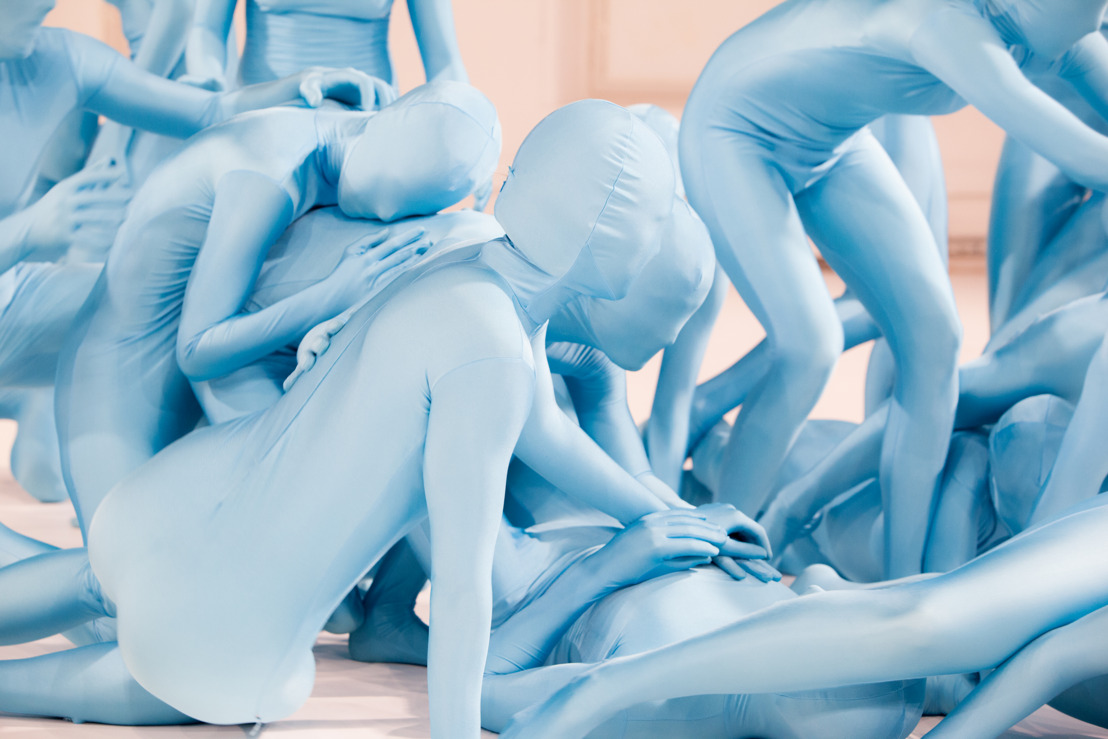 November at Kaaitheater
Thursday, October 11, 2018
To Authenticity... and Beyond! focusses on The Sublime - with Miriam Rasch, Rudi Laermans, Leslie Thornton, Ivana Muller, Annie Dorsen, Bruno Latour & Frédérique Aït-Touati
Première: SAFE by Ictus & Julie Pfleiderer
Belgian Première: Rosas dances Fase with a new generation of dancers
Ecopolis 2018: Just Transition
Album Presentation Sculptures Ivo Dimchev
to come (extended) by Mette Ingvartsen
Mila Rau's Compassion. The History of the Machine Gun
Flamer by Femke and Lander Gyselinck
Throughout the season, we are bringing artists and intellectuals together to focus on our desire for 'realness'. Where might the search for truth and origins take us, if we are prepared to look beyond authenticity? To Authenticity... and Beyond is a series of performances, 7PM talks preceding performances and encounters with thinkers.
The Sublime, a four day programme, focusses on the eponymous concept with a long philosophical history. It was particularly popular in the 18th century, in the thought of philosophers like Burke, Kant, and Rousseau. It was also central to Romanticism, which was rooted in a fascination for overwhelming, terrifying nature. But how are we to interpret the concept today? Genuine, unspoiled nature is become ever scarcer. And the terrifying aspect appears to lie more in the destructive human impact on nature.
The Sublime opens on 21/11 with a screening of A Philosophers Walk on the Sublime, a shortfilm by American film and video artist Leslie Thornton, and a conversation with writer and philosopher Miriam Rasch and sociologist Rudi Laermans (KU Leuven).

Ivana Müller - Conversations out of place
In this beautiful philosophical and ecological fable, Ivana Müller reflects on a world dictated by humanity. She starts from our relationship with nature. Four human beings wander around an unusual and slightly absurd universe. Their manipulations, interventions, and the rubbish they leave behind slowly but surely create a Romantic tableau. Are we witnessing the sublime experience of our own disappearance?
Conversations out of place premièred in Shauspielhaus Leipzig and has been touring across Europe since.
Kaaitheater | 21>22/11 | theater | in English

Annie Dorsen - The Great Outdoors
American writer and artist Annie Dorsen takes you on a sublime journey through the digital infinity in the dark of an inflatable planetarium. A lone performer reads texts culled from comments on the internet. Gradually, fragments of narrative emerge from the online chatter.
The Great Outdoors premiered at the Noorderzonfestival last year and has been touring internationally since. The Brussels performances are co-presented by and staged in the hall of KANAL - Centre Pompidou.
Kanal-Centre Pompidou | 22>25/11 | theatre

Bruno Latour & Frédérique Aït-Touati - INSIDE
Over the past decade, philosopher Bruno Latour and director/researcher Frédérique Aït Touati have collaborated on projects at the intersection of science and theatre. In this lecture performance, they reflect on the relationship between human beings and their environment. Can we change our perception of the earth? No longer from a great distance, like a blue marble flying through space, but from the inside out, from the wafer-thin outer layer of the globe on which all life, human activity and resources are concentrated?
Kaaitheater | 24/11 | performance talk | in English
In Todd Haynes' film Safe (1995), a woman suffers from increasingly intense allergic reactions that ultimately make her life almost unliveable. It is unclear whether she is a victim or an attention-seeking manipulator. As both a concert and a performance, SAFEstarts from the film to sketch an image of contemporary hypersensitivity: join an immersive journey that will stimulate all your senses.
Julie Pfleiderer makes performances, sound art, and film at the intersection of documentary and fiction. The Brussels-based contemporary music ensemble Ictus has been a regular guest at Kaaitheater for years.
SAFE will première at the Kaaistudio's and travel to Vienna and Kortrijk.
Kaaistudio's | 22 > 23/11 | music | in English
Fase (1982) is the breakthrough production by Anne Teresa De Keersmaeker and is probably her most frequently performed choreography. Set to four repetitive compositions by the American minimalist Steve Reich, Fase comprises three duets and a solo. The movements are executed so perfectly that they almost appear mechanical, but they are nevertheless strangely moving.
Having always danced Fase herself, Anne Teresa De Keersmaeker is passing it on to a new generation of dancers for the first time in the work's history.
The production premiered in Paris on 19 September.
Rosas Performance Space | 8, 9, 10, 11, 15, 16, 17, 18, 22, 23, 24, 25/11 | dance
How can we effect a just transition in the current context of increasing polarization and inequality? Can we enhance social justice while also addressing the demands of ecological sustainability? This is the challenge that Just Transition seeks to address.
Ecopolis is the annual meeting for everyone committed to a sustainable future. This fourth edition is again bringing together voices from the academic and artistic world, civil organizations, and business.
On the programme: Kate Raworth (author of The Doughnut Economy), Sharan Burrow (secretary-general International Trade Union), Alberto Allemano (prof. Univ. Paris and author of Lobbying for change), Jean-Pascal Van Ypersele (climate expert, IPPC member), Thomas Leysen (Chairman of KBC Group and Umicore) and many others.
Kaaitheater | 25/11 | debates/talks | in Dutch, French and English
Ivo Dimchev's work is an extreme and colourful mix of performance art, dance, theatre, music, drawings, and photography. His sense of musicality and exceptional voice have always been central to his performances, but over the last two years he has definitively chosen the path of music. At Kaaitheater he is now presenting a live and danced version of his first studio album, Sculptures.
Kaaitheater | 7/11 | music/performance | in English
Advertising, film, magazines, the internet: we are constantly surrounded by images of sexualized bodies that display the intimate and the erogenous. In to come (extended), 15 performers explore the relationship between individual sexual freedom and sexuality as a collective experience.
to come (extended) is the latest instalment in Mette Ingvartsen's series about sexuality and the experience economy. The piece follows the cycle The Red Pieces: 69 Positions, 7 Pleasures and 21 Pornographies, which were all staged at Kaaitheater. to come (extended) premiered during steiricher herbst in Graz has toured around Europe since.
Kaaitheater | 16>17/11 | dance
Preceding the performance on 16/11, philosopher Petra Van Brabandt will hold the 7PM-talk To Heat By Melting. What do Cabanel's Birth of Venus, Klein's Anthropometry, and Kusama's Self-Obliteration have in common? According to Van Brabandt, these artworks deploy a wet aesthetic, which is realized through the perceptual interaction with wetness.
Milo Rau and his team travel to the political hotspots of the age: the Mediterranean refugee routes from the Middle East and the areas affected by the Congolese Civil War. This is a semi-documentary double monologue that consciously navigates conflicting terrain: how can we bear the misery of others and why do we look at it?
Compassion premièred last Summer during the Boulevard festival in 's Hertogenbos and is now on tour across Belgium and The Netherlands.
Kaaitheater | 9 > 10/11 | theatre | in Dutch and French (surtitled in English, Dutch and French)
In addition to their genes, Lander and Femke – a brother and sister – share a great fascination and passion for one another's profession. He is a drummer, she is a dancer. For their first joint creation, they decided to swap roles. Lander dances (musically), Femke plays music (dansant), until both become blurred and blend together. Their older brother Wannes, a dramaturg, keeps an eye on the whole work. It's a family affair...
Lander Gyselinck is a drummer who plays in STUFF. and other bands. Femke Gyselinck (ex-PARTS) is a dancer and the artistic assistant of Anne Teresa De Keersmaeker. FLAMER premièred at Vooruit (Ghent) in May and is currently on tour.
Katelijne Meeusen Kaaitheater
Eva Decaesstecker Kaaitheater