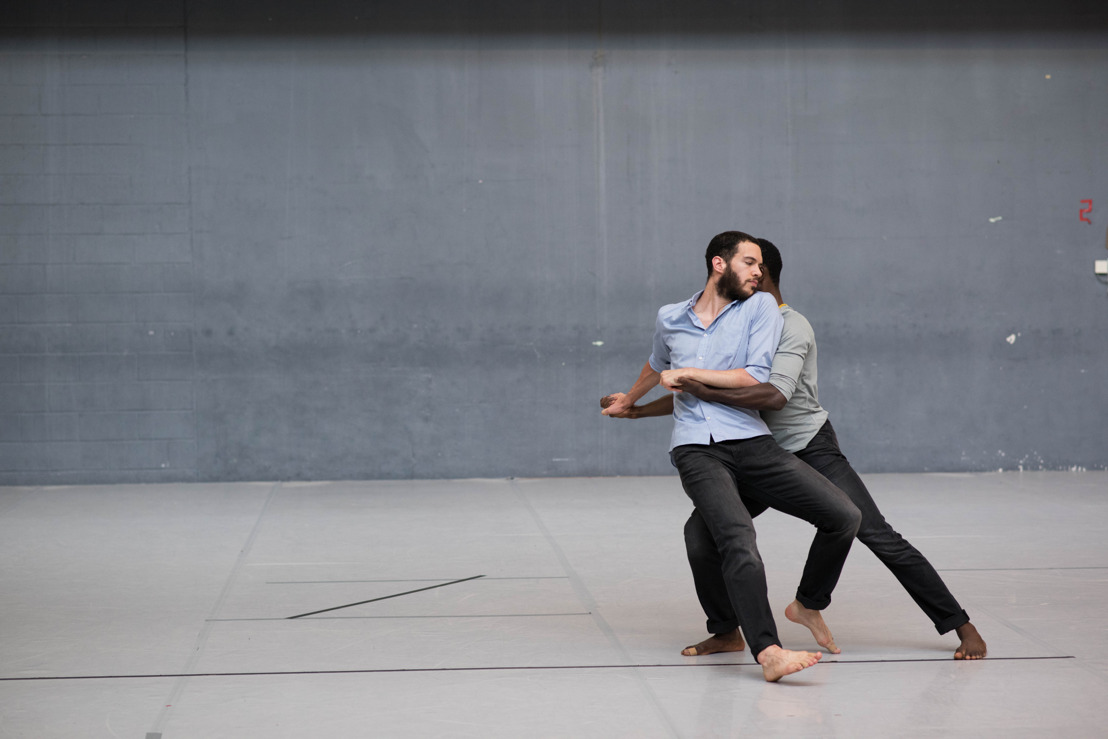 November at Kaaitheater
Wednesday, September 13, 2017
Premièring: Zeitigung by Anne Teresa De Keersmarker, Louis Nam Le Van Ho, Alain Franco/Rosas & Andrade by Michiel Vandevelde
RE:RITE lecture by Darian Leader
'From Seeing to Feeling': The Palm of Your Hand II by Vera Tussing & Anatomie by Anne Juren
Children take control during Matinee Kadee & Arts Day for Children
IETM Brussels: performing arts professionals meet around 'Can We Talk? Art in times of populism'
In 2008, Anne Teresa De Keersmaeker and Alain Franco created Zeitung. In 2017, the two will collaborate again to rewrite the piece as Zeitigung. In Zeitung, they focused on choreographic and musical material that dealt with composition, improvisation, and the experience of time, generating a performance to the music of Bach, Webern, and Schönberg (underlining the importance of the nineteenth century by skipping over it). Zeitigung will rethink and reset its own sources. As part of this process, De Keersmaeker and Franco have invited Louis Nam Le Van Ho (a P.A.R.T.S.-graduated dancer and choreographer). His participation in their ongoing interrogations offers another view on the conception of stage work.
In 1928, Oswald de Andrade wrote his 'cannibalist manifesto', which advocated the consumption, digestion, and excretion in a new form of colonized cultures. With Andrade's manifesto in mind, Michiel Vandevelde questions what we can consider to be 'invasive' in public spaces in the West. In an attempt to create a new culture, he arms himself with video clips and advertising. The result is an intimate, explosive solo. By adding all the dance and music from his previous productions to the mix, Vandevelde generates a synthesis of his search for a hitherto undiscovered culture. But his central question remains: who eats and who gets eaten?
Michiel Vandevelde – a graduate of PARTS and currently co-editor of Etcetera and curator at Extra City – is one of Kaaitheater's artist-in-residence. Along with fABULEUS and a group of young dancers, he is presenting Paradise Now (1986-2018) later this season.
Kaaitheater | 29>30/11 | dance
Is it true that our only realities are increasingly virtual and digital devices have made us unable to concentrate? Psychoanalyst Darian Leader's suggestion as to how we should think about these cultural transformations is nothing if not bold and original. 'What if rather than focusing on the new promises or discontents of contemporary civilization, we see today's changes first and foremost as changes in what human beings do with their hands?'
Kaaistudio's | 15/11 | lecture in English | part of RE:RITE
Upon the invitation of the Kaaitheater and its European partners Wiener Tanzwochen, CN D (Paris) and The Place (London), Vera Tussing and Anne Juren create work that can be experienced by people who can see, but also by those who are blind or visually impaired.
How can a mental choreography give you a sense of movement? In Anatomie, the French choreographer, dancer and performer Anne Juren creates a movement score for entrails and bodily functions. While you lie on a mat with your eyes closed, she uses her voice to guide you around your body and your mind. To research this 'dance', Juren worked on blind spots, collaborating with visually impaired people. Their experiences became the material to create a choreography that takes place in your body.
Kaaistudio's | 17>18/11 | performance | in het Engels
Vera Tussing: The Palm of Your Hand II
In 2015, Vera Tussing created the production The Palm of Your Hand, in which social behaviour and classical choreographic patterns were brought very close to the viewers, or rather, participants. Vera is now adapting the production specifically to make it accessible to the blind or visually impaired. To this end, she is making the choreography communicate beyond the merely visible. Continuous interaction between the performers and audience is rooted in an implicit understanding. Along with your fellow audience members, you delineate the stage in an ellipsis: this is a dance of touch. Join the performers in this adventure to discover what it means to experience tactility!
Later this season, Vera Tussing is also presenting the duet Both, Two. She has been an artist-in-residence at Kaaitheater since 2017.
Kaaistudio's | 17>18/11 | dance
During the Arts Day for Children on 19 November, we throw the doors of the Kaaistudios wide open and let children take control. Choreographer and Kaaitheater artist-in-residence Vera Tussing immerses them in the world of dance.
In november we're organising the first Matinee Kadee of the season. On five Sunday afternoons we organise creative workshops for children (4>12y). The little ones (0>4y) have fun in the playroom, while their parents can enjoy the performance with their minds at rest. An afternoon at Kaai for the whole family!
12/11 = Matinee Kadee workshop Little Composers + Zeitigung (Rosas)
19/11 Arts Day for Children | Kaaistudio's
IETM, a network of over 500 performing arts organisations and individual members working in the contemporary performing arts worldwide, is organising its next plenary meeting in Brussels, which will be held at Kaaitheater and Charleroi Danses. The four-day programme consists of an artistic programme, reflection and debates on a central theme: 'Can We Talk? Art in times of populism'. The Canal zone acts as a laboratory, Brussels as a possible city of the future.
Eva Decaesstecker Kaaitheater
Katelijne Meeusen Kaaitheater