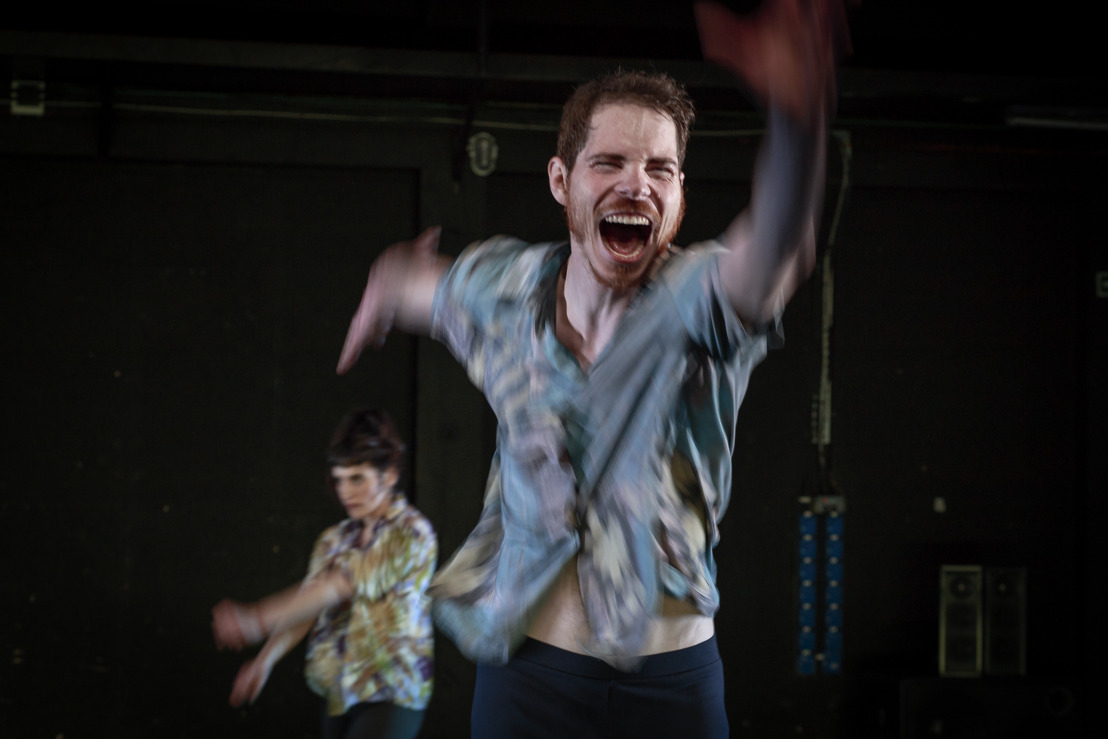 November at Kaaitheater
Thursday, August 25, 2016
Belgian première Vera Mantero: The Clean and the Dirty
Première Meg Stuart & Tim Etchells: Shown and Told
Kaaitheater productions 'In the Eyes of Heaven' (Ruud Gielens, Rachid Benzine, Hiam Abbass) and 'Goldberg Variations 1-15 & 16-30' (Steve Paxton & Walter Verdin)
RE:MAKE talk with Michel Bauwens
Simon Mayer's 'Sons of Sissy' with audio description in the context of The Humane Body - ways of seeing dance
5th edition of the Night of Knowledge on Brussels
The transition towards a sustainable society has been central to Vera Mantero's work for some years now. InThe Clean and the Dirty, the Portuguese choreographer focuses on the inner transition. If we want to change our relationship with our environment and with the way we care for it, then we also need to change our inner selves.
Vera Mantero is the grande dame of Portuguese contemporary dance. She has previously appeared at Kaaitheater with "::" (2005) and Until the moment when God is destroyed by the extreme exercise of beauty (2007).
The Clean and the Dirty premièred in Lisbon last April, and will have its Belgian première at Kaaitheater.
Kaaitheater | 23 > 24/11 | dance
Two regular guests at Kaaitheater will once again be joining forces. The choreographer and dancer Meg Stuart and the writer/performance artist Tim Etchells (artistic director of Forced Entertainment) have entitled the latest instalment in their series of collaborations Shown and Told. During this improvised encounter, they use their own bodies as performance instruments within a shared space of language and movement.
Kaaistudio's | 30/11 + 1 > 2/12 | dans/performance | Check also: damagedgoods.be
Director Ruud Gielens, Palesinian film actress Hiam Abbass and Rachid Benzine, philosopher, Islamologist and Europe's pioneer of enlightened Islam, joined forces to create this monologue in which we hear Nour, a prostitute from North Africa during the Arab Spring.
In the Eyes of Heaven premièred at Kaaitheater on 24 March 2016, two days after the attacks in Brussels. In the midst of the upheaval that gripped the city, In the Eyes of Heaven offered a degree of perspective.
Now, the production returns to Kaaitheater. It will also tour and be staged in Genk, Berlin and Tunis.
Kaaitheater | 15/11 | theatre in English, subtitled FR + NL | a production by Kaaitheater and Moussem
The improvisations of the American choreographer Steve Paxton to Johann Sebastian Bach's Goldberg Variations are unforgettable for anyone who ever witnessed them. In 1992, for ten days, video artist Walter Verdin followed the movements of the improvising Paxton and edited a striking 54 minute-long dance film, produced by Kaaitheater. This unique document will now finally be released on DVD. To mark this, we will be showing the video again on the big screen.
Last season, you could see Simon Mayer at work in his solo SunBengSitting. In Sons of Sissy, Mayer continues his search for tradition. Together with three other dancers/musicians he adroitly strips traditional Alpine music, group dances and rituals of their conservatism and rules. The piece premièred in Vienna last year and has been touring through Europe since.
In the context of The Humane Body – Ways of seeing dance, a collaboration between 4 European theatres, we're offering audio description and a touch tour to visually impaired people. This pilot project is aimed at involving the blind and partially sighted in contemporary dance.
Together with the performance, we're also organising this season's 2nd Matinee Kadee workshop: Folkdance (4-12y).
Which new social structure are we evolving towards? Michel Bauwens tries to work this out by looking at contemporary practices that address the challenges of the future in the most direct way. Michel Bauwens, a Belgian cyber philosopher and founder of the P2P Foundation, and a network of researchers into the emerging commons-based economy present a summary of 10 years of research.
Kaaitheater | 14/11 | talk in English
How are we to 'remake' society at the dawn of the 21st century? This central question forms the leitmotif throughout our 2016-2017 programme. In the RE:MAKE series we're presenting talks and debates that bring both concrete practice and new ideas to the fore. By inspiring thinkers such as Susan Neiman, Nick Srnicek and Srećko Horvat.
Brussels does not have one, but many identities. That's where MIXITY stands for, the theme of the fifth Night of Knowlegde on Brussels. Once again, the Brussels Studies Institute will be mobilising a crack team of researchers and thinkers to share their knowledge of Brussels with you.
Kaaitheater | 25/11 | talks & debates NL + FR + ENG
Eva Decaesstecker Kaaitheater
Katelijne Meeusen Kaaitheater