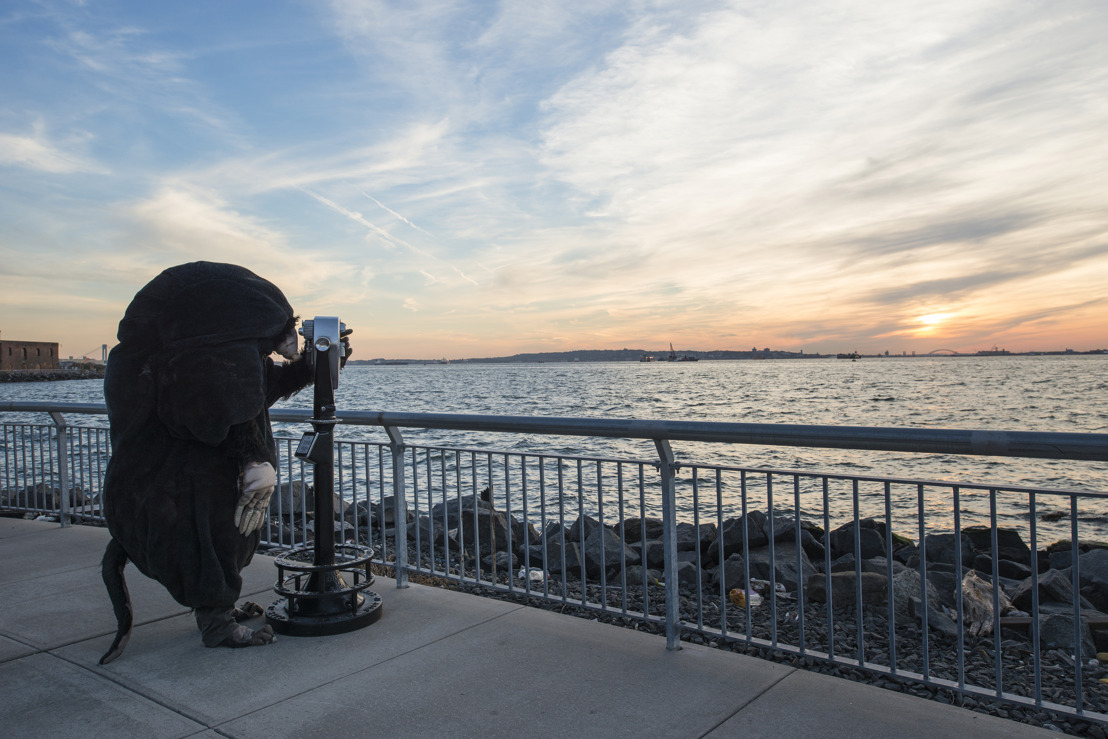 May at the Kaaitheater
Philippe Quesne, Germaine Kruip, Eleanor Bauer, Thierry De Mey during the Kunstenfestivaldesarts
Thursday, March 31, 2016 —
Philippe Quesne - world première
The Night of the Moles (Welcome to Caveland!), the new production by French director Philippe Quesne, is set in an allegorical world populated by fantasy animals, giant moles and figures from the underworld. The cave dwellers travel from city to city like a circus to present their 'ecosophical' tale in theatres and at festivals. Philosophical myths and science-fiction-like tales and utopias are woven into one another.

In his work, Philippe Quesne starts out with rituals from daily life and transforms them into little ceremonies, which are sometimes melancholy and sometimes funny. Quesnes' work is shown all around the world, from Avignon to New York and Hong Kong. Previous work of his that we have presented includes L'Effet de Serge, La Mélancolie des Dragons, Big Bang, Swamp Club, and Next Day. The Night of the Moles is coproduced by Kaaitheater and will have its world première on the opening night of the Kunstenfestivaldesarts. You can read more about Philippe Quesne here.

Germaine Kruip - Belgian première
During Performatik 2015 at Bozar, the Amsredam and Brussels based artist Germaine Kruip presented A Possibility of an Abstraction: Square Dance. This time she presents a new instalment of her A Possibility of an Abstraction, for which she is transforming the theatrical space into a 'field of cinematic experience'. It is a play of perception, where shadow, reflection, architecture and stage become the characters in a filmic experience created in the moment itself. The music accompanying the performance is by Hahn Rowe, known for his work with Meg Stuart a.o.
A Possibility of an Abstraction is coproduced by Kaaitheater and will have its Belgian première during the KFDA.
Previously to the third show, Arjen Mulder presents the ninth and last RE:THINK 7PM TALK of this season at the Kaaitheater. Arjen Mulder (teacher and author, specialized in media theory) gives a talk on Paul Virilio and his book The aesthetics of disappearance (1980), one of the sources of inspiration for Germaine Kruip. Subsequently, Kruip and Mulder engage in conversation.

Eleanor Bauer, Chris Peck & Ictus - Belgian première
Meyoucycle (me-you-cycle) – when spoken aloud, sounds something like 'musical,' but in a vaguely foreign accent. And indeed, the choreographer Eleanor Bauer and the composer Chris Peck are creating something foreign to what is already known as a musical. All the ingredients of a musical are there: song, text, dance and music; but the result leads to a strange new genre. Meyoucycle brings performers together on stage with members of the Ictus ensemble.

Meyoucycle will première during the Rencontres Chrorégraphique International de Seine Sainte Denis festival in Montreuil (FR). The Belgian première at the Kaaitheater is staged during the Kunstenfestivaldesarts. You can find more info as well as tour dates here.
Eleanor Bauer is artist in residence at the Kaaitheater from 2013 to 2016.

Thierry De Mey - première
Thierry De Mey has been exploring the grey area between dance and music for more than 30 years. He has composed music for dance performances, directed films about dance, and constructed choreographic multimedia installations. In 2016, for the first time, he is creating a dance performance for the big stage, SIMPLEXITY, in collaboration with Ensemble intercontemporain, the legendary Paris music ensemble founded by Pierre Boulez.
This performance will première at the Kaaitheater during the KFDA, and continue to Paris and Liège. You can find more info and tour dates here.

Rachida Aziz
Those who flee must leave things behind, just like those who arrive must seize their own place in a foreign society. That is the price that all refugees pay: the more hospitable the place of arrival, the higher the price. Brussels has always been a city that embraced exiles. Baudelaire, Hugo, Multatuli or the painter Jacques-Louis David all described the capital as a shelter where they could continue to work on their oeuvre. Fashion designer and activist Rachida Aziz is now giving a new generation of refugees a voice.

Cinemaximiliaan
Cinemaximiliaan is a cinema for people on the move, created by cinema-lovers Gwendolyne Lootens and Gawan Fagard. The project started spontaneously in the refugee camp in the Maximilian Park, where daily film screenings provided a welcome distraction. The organization now leads cultural projects and daytrips in refugee centres across the country. The volunteers of Cinemaximiliaan have encountered dozens of newcomers with artistic talent. At the Kaaistudio's the Syrian musicians Hussein Rassim and Shalan Alhamwy and the Palestinian dancer Mohammed Aukal will present their work.
MAY AT THE KAAITHEATER
LUCAS VANDERVORST
Of Wittgenstein
3 > 4/05 | theatre | NL | Kaaistudio's
PHILIPPE QUESNE
Night of the moles. Welcome to Caveland!
6 > 9/05 | theatre | FR > NL | première
GERMAINE KRUIP
A Possibility of an Abstraction
14 > 15/05 | theatre | Belgian première
ARJEN MULDER
The aesthetics of disappearance
15/05 | RE:THINK TALK | EN
THIERRY DE MEY
SIMPLEXITY
20 > 22/05 | dance | première
CINEMAXIMILIAAN
Hussein Rassim, Shalan Alhamwy & Mohammed Aukal
21/05 | dance/music/film | NL/FR/EN | Kaaistudio's
RACHIDA AZZIZ
The price of the ticket
25/05 | happening | Kaaistudio's
ELEANOR BAUER, CHRIS PECK & ICTUS
Meyoucycle
27 > 28/05 | dance/music | Belgian première