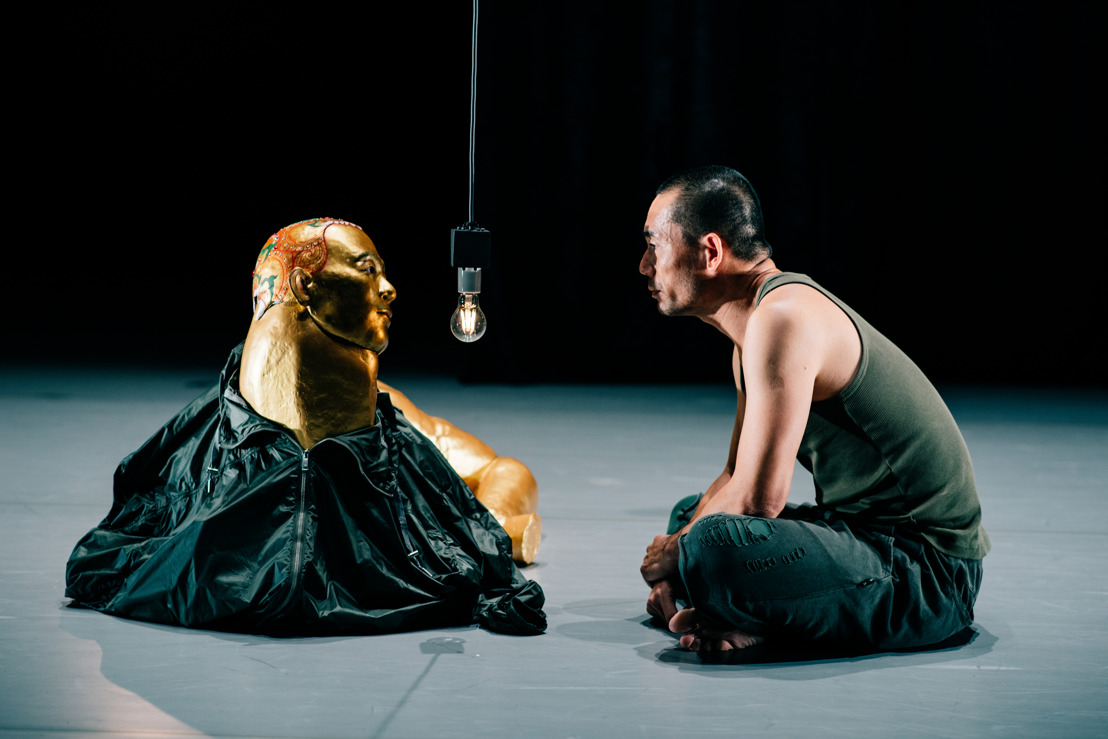 May at Kaaitheater
Tuesday, April 2, 2019
Belgian Première: Pichet Klunchun & Chen Wu-kang - Behalf
2 Kaaitheater co-productions at the Kunstenfestivaldesarts19:

Mette Edvardsen & Matteo Fargion - Penelope Sleeps - Première
Thomas Bellinck/ROBIN - The Wild Hunt (Simple as ABC#3) - Belgian Première

4 co-presentations by Kaaitheater & Kunstenfestivaldesarts19 :

Eleanor Bauer & Chris Peck - New Joy - Belgian Première
Kris Verdonck/A Two Dogs Company & ICK - Something (Out of Nothing) - Première
Rimini Protokoll & Thomas Melle - Uncanny Valley - Belgian Première
Anne Teresa & Jolente De Keersmaeker - Somnia - Première
Behalf is a danced dialogue between the Thai dancer Pichet Klunchun and the Taiwanese dancer Chen Wu-kang. This creation began as a series of conversations about their cultural backgrounds and the patriarchal social structures in both Thailand and Taiwan. It is about the relationship between traditional and contemporary dance and between students and their teachers. But it is also about East and West and about their recent fatherhood. A series of dance solos – a form that exists in almost all traditional dance – results in a mutual dialogue, which then moves on to involve a musician and the audience.
Kaaitheater | 3 > 4/05 | dance | in English
Composer Matteo Fargion and performance artist Mette Edvardsen previously collaborated on Any Table Any Room (created by Jonathan Burrows and Fargion) and oslo (presented during Performatik17). Now they venture into opera. For Penelope Sleeps, Edvardsen is writing a text in prose, like an essay. Essay, from the French 'essai', which means to attempt, and opera, which in Italian means 'work'. In this 'attempt at work', a space is created that will take the two creators to unknown landscapes and allow them to deepen their artistic trajectories. The relationship between voice and music and between space and scale are important, but the duo has opted not to refer to images from opera literally.

→ Penelope Sleeps premières at Kaaitheater during the Kunstenfestival and will then tour across Europa.

Kaaitheater | 10,11,12, 14/05 | music/performance/opera
A cloud of voices gathers in an imaginary museum. Their bodies are held up elsewhere, but here absent storytellers recount histories of hunting. Some of these voices are heard. Many are not. All are experts of a certain reality. Theatre-makers, journalists, politicians, law enforcement: we are all on the hunt for something. Sometimes it's people. During this actorless audio performance, you will hear snippets of Arabic, English, Farsi, French and Greek collected from around the Mediterranean. Sampling from hours of recordings, The Wild Hunt pieces together a many-voiced portrait of today's humanhunt.
The Wild Hunt is the third instalment of Simple as ABC, a growing series on the Western migration management machine. It follows a theatrical audio essay about cutting edge detection technology (Man vs Machine) and a documentary musical about the digitisation of the EU border (Keep Calm & Validate).

→ The production premières in Athens on 12 May and then travels to Brussels.

Kaaistudio's | 21, 22, 24, 25, 27/05 | theatre | in Dutch, French and English (alternating)
During the Kunstenfestivaldesarts, from 10 May to 1 June in Brussels, Kaaitheater is co-presenting 4 other productions besides The Wild Hunt and Penelope Sleeps:
The unrelenting logic of profit and technological development have reduced human beings to disposable objects. The next step is making our environment completely uninhabitable. The new production by Kris Verdonk explores our physical and psychological state of being in light of an imminent extinction. The dancers are often not more than shadows in a landscape of blow-up sculptures, cello-noise, and a robotic drum.
→ Something (Out of Nothing) will premiere at Kaaitheater during Kunstenfestivaldesarts. Afterwards the performance will start a tour in the Netherlands.
Kaaitheater | 22 > 23/05 | theatre | in English (surtitles in French & Dutch)
In parallel with the performance, Verdonck's installation series BOGUS I_III will be on display at Kanal – Centre Pompidou. A performance ticket gives you access on the same day.
Rimini Protokoll had a humanoid robot created that looks exactly like playwright Thomas Melle. This lifelike mechanical doppelganger takes the place of the human original onstage. But what happens to the original when the copy takes everything over? Are the copy and the original doomed to compete with one another or will they collaborate? And do we as viewers feel as much empathy for a human as for a machine?
→ Uncanny Valley premiered in Munich in 2018 and is traveling throughout Europe.
Kaaistudio's | 30/05 > 1/06 | theatre | in English (surtitles in French & Dutch)
Eleanor Bauer & Chris Peck
New Joy - Belgian premiere
co-presentation Kaaitheater & Kunstenfestivaldesarts
In New Joy, Eleanor Bauer confronts the chaos, excess, and absurdity of life head-on in this post-truth information age. Can we create new forms of understanding by cooperating better with one another and with machines? To grasp the challenges of our age by the horns, New Joy imagines a 21st-century version of Dadaism: dataism. Bauer and her partner in crime, composer Chris Peck (they previously created This is not a Popsong and Meyoucycle), mix aesthetic, social, and informational dimensions, resulting in a cyber a cappela Dataist opera.
→ New Joy premiered at Bochum (Schauspiehaus), and is coming to Kaaitheater for the Belgian premiere, during KFDA19.
Kaaitheater | 30/05 > 1/06 | music/dance | in English
Anne Teresa and Jolente De Keersmaeker will create a location-based production in a clearing in the woods. A group of 44 dancers who are in the final year of their training at PARTS and 13 musicians engage in a dialogue with their natural surroundings: gravity, the musical sounds of nature, and the various rhythms of life outside the city.
Somnia is created in the framework of Kunstenfestivaldesarts (29/05 > 1/06 ). Kaaitheater presents Somnia from 5 to 9/06.
Kasteel van Gaasbeek | 29/05 > 9/06 | dance
Katelijne Meeusen Kaaitheater
Eva Decaesstecker Kaaitheater