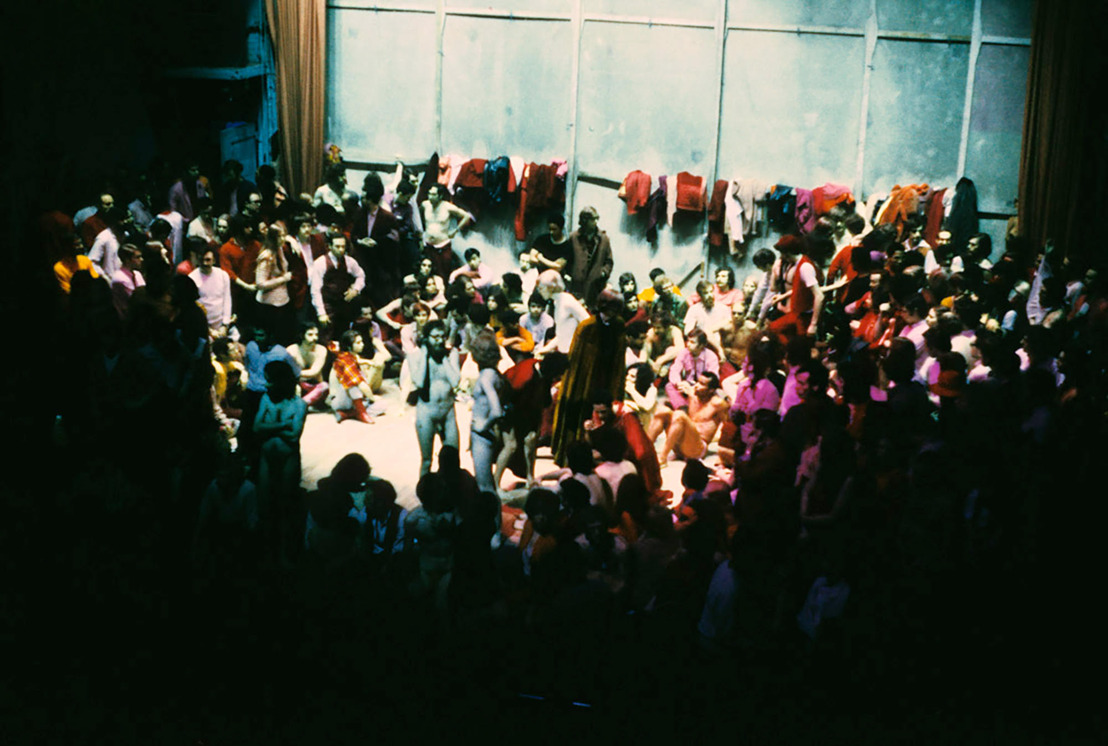 May at Kaaitheater
Monday, March 26, 2018
Kaaitheater artist-in-residence Michiel Vandevelde & fABULEUS present Paradise Now (1968-2018)
more performances during Kunstenfestivaldesarts: El Conde de Torrefiel, Christodoulos Panayiotou and Toshiki Okada
July 1968. The legendary Paradise Now by the New York theatre company The Living Theatre premieres at the Festival d'Avignon. The actors attempted to unleash a revolution by getting the audience into a state of readiness. Their revolution was not only political but also spiritual. They focused especially on the relationship between the collective and the individual.
Half a century later, Kaaitheater artist-in-residence Michiel Vandevelde is exploring the vestiges of the legacy of May '68 with a new generation of young people. Many of the ideals of the hippie generation have become hip practices: companies like Google and Apple promote self-organization and decentralization as the best way to develop new ideas and achieve results. But does the collective still have any significance as an artistic and political statement?
On stage are 13 youngsters between 14 and 23 years old. The coming weeks, they continue their collaboration with Michiel Vandevelde for this performance at fABULEUS in Leuven and at Elsenor Pianofabriek in Brussels.
Paradise Now (1968-2018) will premiere in Leuven (STUK) on the 8th of May. After the Brussels presentations, the performance continues its tour, passing in Ghent (Vooruit), Berlin (Tanz im August), Antwerp (De Studio) and again Leuven.
Kaaitheater | 12>13/05 | performance/dance | in Dutch, French and English

Also during the Kunstenfestivaldesarts, Michiel Vandevelde is bringing his Political Party library to Brussels. Every weekend he organizes a close reading of a text, each time conducted by two other guests. Vandevelde started the think tank The Political Party in 2013 to explore different ways of thinking and doing politics.
During this year's Kunstenfestivaldesarts, from 4 to 26 May throughout Brussels, Kaaitheater is co-presenting three more productions:
El Conde De Torrefiel - LA PLAZA - première
El Conde de Torrefiel is one of the recent revelations at the Kunstenfestivaldesarts. The duo creates visual performances in which hyper-realistic tableaux are juxtaposed with incisive texts – a mix of history, current affairs, and futurism. LA PLAZA treats the stage as a square: a public space in which banal, everyday activities in today's Europe occur, but where disquieting scenes of the future also play out.
Kaaitheater | 5,6,8,9/05 | theatre | in Dutch and French
Christodoulos Panayiotou - Dying on Stage
Over the years, Christodoulos Panayiotou has compiled an archive on the ways in which fiction can escape mortality and finitude. From Dalida's most tragic songs to Michael Jackson's urge to perform one last time. He presents this archive in Dying on Stage. He combines the precision of a lecture with the indeterminacy of night-time internet surfing.
Kaaistudio's | 5 & 7/05 (in English), 6/05 (in French) | performance
Toshiki Okada - Five Days in March - re-creation
Joining the American-British invasion of Iraq in 2003 was Japan's first military engagement since WWII. Historic peace marches took place in Tokyo, and many of the protesters were young people. In Five Days in March, a number of characters voice their deeply personal concerns. The image they sketch of their personal, everyday lives in Tokyo stands in sharp contrast to their public participation in the demonstrations. In this adaptation of his original 2007 creation, Toshiki Okada sketches a generation of young people who have lost their way.
Kaaitheater | 23>26/05 | theatre | surtitled in Dutch and French
Eva Decaesstecker Kaaitheater
Katelijne Meeusen Kaaitheater