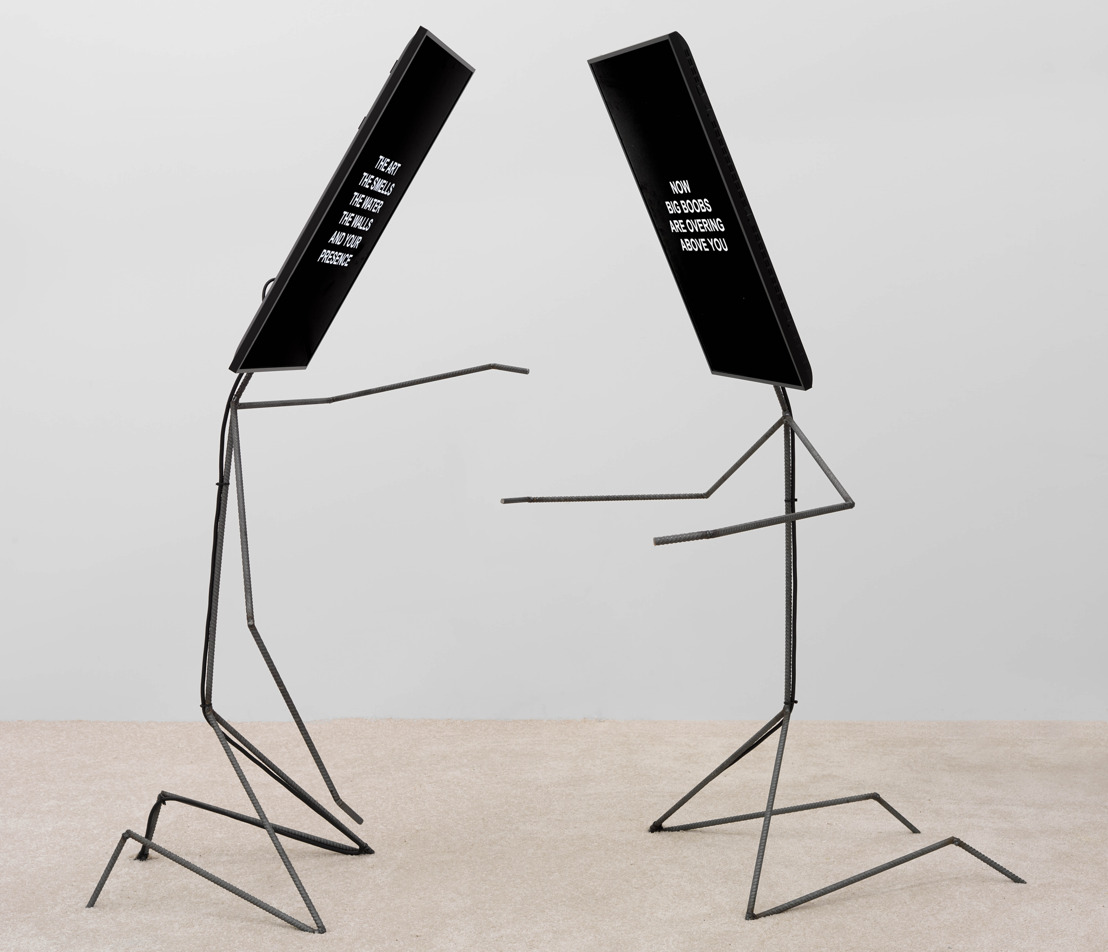 March at Kaaitheater
Friday, December 21, 2018
Performatik, the Brussels biennale of performance art with a.o. Laure Prouvost, Alexis Blake, Jimmy Robert, Nora Turato, Noé Soulier, Ivo Dimchev, Gluklya, Radouan Mriziga, Ula Sickle & HYOID, Jamila Johnson-Small, Jozef Wouters & Globe Aroma, Joycelin Cottencin, Mette Ingartsen & Will Guthrie, Lotte van den Berg
Authenticity CONVERSATION #3 with Nina Power
Claire Croizé & Matteo Fargion: Flowers (we are)
Tristero & Kassys: The Script
Performatik – the Brussels biennale of performance art – showcases contemporary performance art or live art and enters the intriguing twilight zone in which artists tinker with the codes of both the performing arts and the visual arts. Performance has flourished in the arts world in the past, but over the past few years has increasingly come to occupy its own distinct space.
This sixth edition of Performatik will take places from 13 to 23 March 2019 on a dozen different locations throughout the city and will present the work of over 40 local and international artists:
Laure Prouvost, Sam Belinfante & Pierre Droulers | Alexis Blake | Bilial | Bryana Fritz | Christian Bakalov | Dan Graham | Emi Kodama | Gabino Rodriguez | Gluklya | Ivo Dimchev | Jamila Johnson-Small | Jan Vromman | Jassem Hindi | Jeremy Shaw | Jimmy Robert | Joycelin Cottencin | Jozef Wouters & Globe Aroma | Léa Drouet | Liz Magic Laser | Lotte van den Berg | Melih Genzoboyaci | Meryem Bayram | Mette Ingvartsen & Will Guthrie | Mieko Suzuki | Mike Schmid | Naomi Kerkhove | Natalie Bikoro | Noé Soulier | Nora Turato | Oracle | Pieter van Bogaert | PRICE | Radouan Mriziga | River Lin | Sophie Whettnall | Stav Yeini | The Monastery | Ula Sickle & HYOID | Vera Tussing | Vladimir Miller & Philipp Gehmacher
For Performatik19, Kaaitheater is joining forces with 11 partners across Brussels: ranging from renowned venues to small scale artists' organisations, specialising in either live arts, the visual arts or both. They all contribute their own expertise:
KANAL – Centre Pompidou | Beursschouwburg | Wiels | Argos | Bozar | Topaz/In/finity | workspacebrussels | CC Strombeek | Centrale For Contemporary Art | ZSenne artlab | a.pass
You can find the complete programme of this sixth edition on www.performatik.be
In 2009, cultural critic and philosopher Nina Power wrote the book One Dimensional Woman about contemporary portrayals of women. She draws a parallel between the emancipation of women and consumerism and critiques the lack of systematic political reflection in contemporary forms of 'hip' feminism. She proposes alternative ideas to effect change in areas such as employment, sexuality, and culture. Since she published her book, the #MeToo movement and other pressing feminist questions have emerged. How does Nina Power evaluate her book and the appeals she made then, today – on International Women's Day?
This season's Conversations are a series of evening discussions, in which leading authors, intellectuals and philosophers debate the concept of authenticity. Following Didier Eribon, Philipp Blom, Mogobe Ramose and Afua Hirsch, Nina Power is now taking the stage. The next Conversation will be held with Thijs Lijster.
Under the general title To Authenticity... And Beyond!, Kaaitheater is focussing on the contemporary desire for authenticity. Where might the search for truth and origins lead us, if we are prepared to look beyond authenticity? In addition to the Conversations, we are presenting a series of productions and 7PM talks, preceding performances.
Kaaitheater | 8/03 | talk/debate | in English
French-Brussels choreographer Claire Croizé engages with two of her favourite sources of inspiration: Bach and Rilke. She places both masters in the hands of Matteo Fargion, the British composer and multi-instrumentalist. They are not creating slavish interpretations of Bach and Rilke, but rather opt for a playful, somewhat unruly tribute.
Flowers (we are) premièred in Bruges on 17 January. After Leuven, next stop is Brussels, Kaaitheater.
Kaaitheater | 27 > 28/03 | dance
Six actors on the stage and only one solo. There are no leading or secondary roles, but six simultaneous interpretations of the same script. How strictly will each actor comply with the stage directions? Will they allow one another a place in the spotlight? The Script simultaneously focuses on the existential loneliness that you sometimes feel in a group. How is it possible to be so similar and yet live 'side by side'? Het Script is the recent collaboration between the Brussels-based company Tristero and their Dutch counterparts Kassys.
Kaaistudio's | 29 < 30/03 | theatre | surtitles in Dutch, French and English
Katelijne Meeusen Kaaitheater
Eva Decaesstecker Kaaitheater