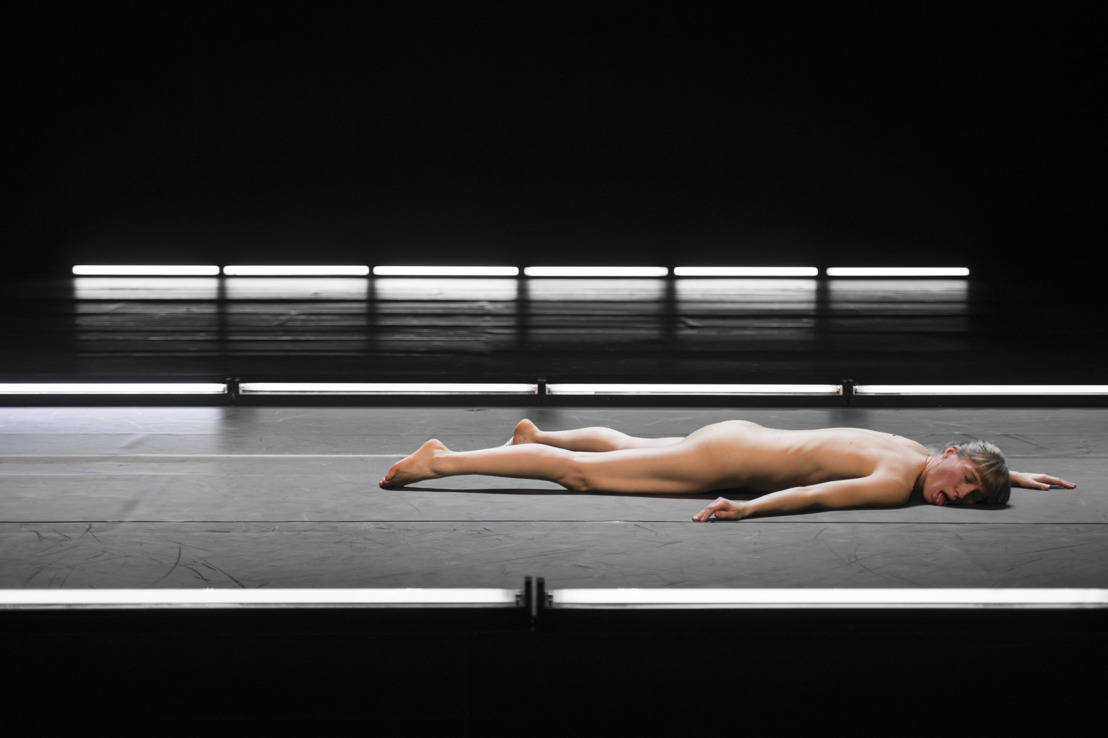 March at Kaaitheater
Friday, December 22, 2017
third edition of WoWmen! - on Gender, Arts & Society - with Mette Ingvartsen, Ligia Lewis, Samira Elagoz, Juli Apponen, Helena Dietrich & Janneke Raaphorst + debate programme
Belgian première: Pursuit of Happiness by Nature Theater of Oklahoma & Enknapgroup
RE:RITE-performances by Dolores Bouckaert (between health & illness) and La Piscine with Myriam Lefkowitz a.o. (distance & nearness) and a RE:RITE debate on old and new rituals
Un Sacre du Printemps by Daniel Linehan during the Klarafestival
Belgian première: Emke Idema's Stranger
Jan Lauwers/Needcompany brings home War and Turpentine
Night of Knowledge on Brussels 2018
It is the week of International Women's Day: high time for the third edition of WoWmen! It is apparent from current affairs that this focus on gender, society, and art is still necessary. Time and time again, women have to struggle for rights that we thought they had already won in the West.
WoWmen! opts for ambiguity. You can expect artists who are difficult to categorize, either by discipline or theme. What are the identities you discover onstage at the intersection of gender, age, class, origin or religion? What does minority mean?
The performance programme is completed by a debate programme that responds to actual affairs, with among others a lecture by Gloria Wekker and a discussion on #wetoo and engagement: seksism in the dance scene.

Mette Ingvartsen | 21 Pornographies
Mette Ingvartsen seeks to question the mechanisms of pornography. She focuses on various characteristics of the pornographic: from its cruelty to its clinical precision and violence, but also its expressions of pleasure, excitement, and thrill. By mixing physical action with narrative descriptions, a speculative choreography is created.
Ligia Lewis | minor matter - Belgian première
In minor matter, the Dominican-American choreographer Ligia Lewis poses questions about the black body within the frame of the black box. Continuing her ongoing engagement with embodiment while interrogating the social inscriptions of the body, minor matter draws upon visual and conceptual metaphors relating to blackness.
Samira Elagoz | Cock, Cock, Who's There?
An unsettling and gripping report by a young woman who researches intimacy and violence. Armed with her camera, Samira Elagoz sheds light on the online manipulation of bodies, while cleverly subverting typical gender dynamics on the internet.
Juli Apponen | Life is hard and then you die - Part 3 - Belgian première
Finnish performer Juli Apponen exposes an autobiography of her body. Inevitably, it is about identity, sex and gender. The result is a collage of unspeakable pain, anatomical reports of far too many operations, and bureaucratic adventures. Who or what determines who or what you are?
Helena Dietrich & Janneke Raaphorst | Elastic Habitat
​An immersive installation – you could call it a kind of playground – that invites you to explore, touch, and even carry textile sculptures. You literally inhabit an imaginary body and thus have the time to explore your own identity in an uninhibited, sensory, intuitive way.
The Monastery | A-LIFE
For the third time this season, The Monastery, a Brussels-based experimental spiritual urban community, is coming to the Kaaistudios with A-LIFE. This time, the urban monks not only guide you through the transition from winter to spring. As part of the WoWmen festival, A-LIFE will devote two days to feminine energy and cyclical transformation.
You can either live the life of a monk from 6am through to 8pm, or take part in one or a few rituals of your choice.
According to the American Declaration of Independence, the pursuit of happiness is one of the three inalienable rights with which we are all imbued at birth. But what is happiness? In what dark and remote corners do we have to crawl individually and collectively to find it? The New York-based Nature Theater of Oklahoma pair of directors Pavol Liska and Kelly Copper spent a year working with the EnKnapGroup, an international dance company from Ljubljana. Together, they have created a bizarre, painful and hilarious horror comedy about voracious expansion in the Wild West and all the violence that ensued as a result.
Pursuit of Happiness premiered in Slovenia at the end of 2016. Meanwhile, the show was staged at the steiricher herbst festival and the Paris Théâtre de la Ville, a.o..
Kaaitheater | 2>3/03 | theatre+dance | in English | watch the trailer
For this ambitious group choreography, Daniel Linehan delved into Stravinsky's masterpiece Le Sacre du Printemps. He opted to stage the beautiful version for two pianos, which is performed live by Jean-Luc Plouvier (from Ictus) and Alain Franco. The audience is seated near the thirteen dancers and the pianists. This proximity results in a collective shared energy.
Un Sacre du Printemps is staged during the Klarafestival. The production premiered in de Singel in 2015. It toured in Belgium and France, and now finally comes to Brussels.
Kaaitheater | 23>24/03 | dance/music | during the Klarafestival
What might rituals be in our current, 'fluid' times ? The RE:RITE series searches for new, contemporary rituals, with as a leitmotif seven major and minor transitional moments.
Galop tells the bizarre story of the life cycle of a body in ten tableaux. Dolores Bouckaert's co-stars in this solo are a bed, ten record players, and – via film and audio – a fast and powerful horse. The two are one another's opposites until they become interchangeable, when the horse' gallop coincides with the rhythm of her heartbeat.
Galop premières in De Werf (Bruges) on 8th March. Next stop on the tour are the Kaaistudio's, then the production goes to Ghent. Together with the shows at Kaaistudio's, an exhibition on Galop will be held.
Kaaistudio's | 20 & 22/03 | performance/theatre | in Dutch (language no problem)
nearness <-> distance
La Piscine
La Piscine is a collective project that gathers different artistic practices and works addressed to a single spectator. Going from a walk with the eyes closed, to a conversation, to a bath, a single spectator and one of the artists will tune to each other to draw a singular path into Les Bains du Centre – at the heart of the Marolles.
Les Bains du Centre | 20>24/03 | performance | in French or English
On 21/03, spring promises a new beginning, but also the second anniversary of the attacks on Brussels. Over the past two years, we have seen how resilient a community can be, despite the trauma and upheaval. We have invited Jone Salomonsen, professor of theology and author of Enchanted Feminism. After the bloodbath that Anders Breivik committed in Norway, she founded a research group that focuses on new rituals as a reaction to attacks. Architect Koen Vansynghel will be joining for a lecture about (temporary) mourning monuments and the rituals associated with them. And Kristin Verellen – who founded Circles after losing her partner on 21/03 – talks about her circle gatherings aiming at a culture of togetherness and dialogue.
Kaaitheater | 21/03 | talk | in English
For many artists, rituals are an important part of the practice itself. In dance for example, elements originating from spiritual believes such as yoga, meditation and mindfulness, are integrated into bodily routines. Rituals can as well be a way of finding a focus, of organizing daily life and constructing a work rhythm.
With Pieter Ampe, Eleanor Bauer, Dolores Bouckaert, Anne Teresa De Keersmaeker, Lisbeth Gruwez, Myriam Lefkowitz, Dounia Mahammed, Kobe Matthys, Simon Mayer, Radouan Mriziga, Robert Steijn, Elke Van Campenhout and Kasper Vandenberghe.
Kaaistudio's | 23/03 | symposium | in English
STRANGER is a playful and probing social laboratory, a life-sized board game that explores first impressions. Can you share with others the thoughts you have when you see an unknown face? While it is completely averse to political correctness, STRANGER is an exciting experiment about social and moral boundaries.
This successful production by Dutch theatre maker Emke Idema is the first in a series of works that explore the intersections between theatre, the social sciences and gaming. STRANGER premièred in 2012, toured internationally and continues to be relevant.
Kaaistudio's | 28/03 | theatre | in English
Jan Lauwers presents his theatre adaptation of War and Turpentine, the gripping epic by novelist Stefan Hertmans. Following the success of Isabella's Room (2004) about his own family history, and The blind poet (2015) about the ancestors of all the members of Needcompany, he is now exploring somebody else's family history. One that is situated between art and war and in the midst of the struggle for Flemish emancipation. War and Turpentine premiered at the Antwerp Toneelhuis end of 2017, and has been touring in Belgium and Europe since.
Kaaitheater | 27>30/03 | theatre | in Dutch (surtitled in French and English)
Is Brussels complex? Absolutely. Administratively, culturally, socially, economically, and demographically Brussels is anything but easy. But this complexity does not mean that you cannot understand or learn to understand Brussels. The sixth Night of Knowledge on Brussels will again explore this urban district and all its varied dimensions. Twenty researchers and Brussels experts share their knowledge through pertinent, 14-minute presentations. You can expect accessible and relevant knowledge about Brussels, peppered with debates and music.
Kaaitheater | 16/03 | talks & debates | in Dutch, French and English