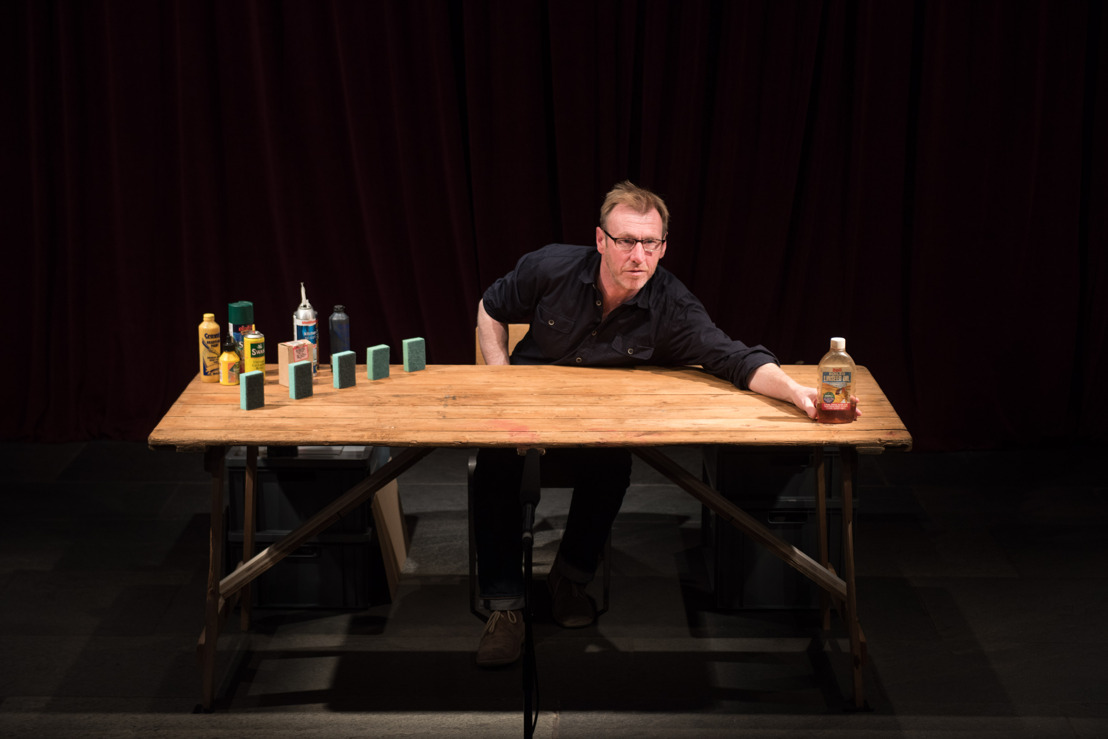 March at Kaaitheater
Friday, October 28, 2016
Performatik17, the fifth edition of the Brussels performance art biennale, presents work by over 40 artists, on 20 locations throughout the city
Forced Entertainment stages its marathon Complete Works: Table Top Shakespeare
The Diary of One Who Disappeared by Ivo Van Hove & Muziektheater Transparant premières and BOSCH BEACH by LOD/Vasco Mendonça, Kris Verdonck & Dimitri Verhulst is staged during the Klarafestival
Prototype by Marc Vanrunxt a.o. during Brussels, Dance!
Reset Democracy talks
The fifth edition of PERFORMATIK, the Brussels (Belgium) performance art biennale, will take place from 24th March to 1st April 2017.
Performatik17 will be entering the intriguing twilight zone where artists – in collaboration with 14 partners/venues across Brussels – tinker with the codes of visual arts and the performing arts.
The act of creating something together in the here and now: that is what we collectively so crave. Body sculptures play a central role in this edition of Performatik, that is subtitled Bodily attempts at social sculpting. From movement in sculptures to the sculpting of movement. Never monumental, always fragile.
Performatik 2017 presents performances, exhibitions by and debates with over 40 artists:
Alioum Moussa & Maarten Vanden Eynde | Benjamin Vandewalle | Charlemagne Palestine | DD Dorvillier | Feiko Beckers | Felix Ott & Bahar Temiz | Filip Berte | Grace Schwindt | Hedwig Houben | Ieva Misevičiūtė | Ivo Dimchev | Kate McIntosh | Laure Prouvost | Lotte van den Berg & Daan 't Sas | Maarten Seghers| Kristof Van Gestel/Manoeuvre & Heike Langsdorf | Mario Merz | Meg Stuart/Damaged Goods, Jeroen Peeters, Jozef Wouters | Mette Edvardsen | Miet Warlop | Müge Yilmaz | Nora Kapfer & Inka Meißner | Ola Maciejewska | Orla Barry | Philippe Quesne/Münchner Kammerspiele | Pieter Van den Bosch | Rabih Mroué & Hito Steyerl | Robbert&Frank Frank&Robbert | Romy Rüegger & Deena Abdelwahed | Tim Etchells & Ant Hampton | Trajal Harrell | Yves Klein
Performatik17 is a Kaaitheater festival in association with Argos, Beursschouwburg, Villa Empain – Boghossian Foundation, BOZAR, Cultureel Centrum Strombeek, Centrale for Contemporary Art, Enough Room for Space, Muntpunt, Passa Porta, Q-02, Wiels, workspacebrussels & ZSenne art lab.
You can find the Performatik17 press release here. On www.performatik.be you'll find more information about all artists, as well as day by day programmes.
Soon the Performatik Salons - a series of talks between artists and curators - will be announced here too. The Performatik17 Opening Lecture will be held by Dorothea von Hantelmann, art historian and author of the book How To Do Things with Art.
24/03>2/04, Brussels | performances/exhibitions/debates
Shakespeare died four hundred years ago in 1616, which was a compelling reason to stage extensive commemorations in Great Britain and far beyond. Forced Entertainment – the most adventurous of British theatre companies – had never previously ventured into the work of this British legend. But they are now making up for this in spades – by performing his complete works over a period of just six days. Not the entire plays, but condensed versions of them. Each of the six actors took six texts and distilled their essence to arrive at thirty-six beautiful miniature performances, each around 36 minutes long. The cast is made up of household objects, and the stage is a metre-long tabletop.
For twenty years, Forced Entertainment has been a permanent fixture on the Kaaitheater programme. They recently won the prestigious Ibsen Award. Complete Works premièred at the Berliner Festspiele 2015. This marathon production toured across Europe, and will arrive at Kaaitheater for its Belgian première, then travel to Ghent (Campo).
Kaaistudio's | 7>12/03 | theatre (in English)
Hieronymus Bosch's painted scenes look like hell on earth. The seven deadly sins are having a field day in his Garden of Earthly Delights, while its inhabitants keep on smiling – in spite of their suffering. 500 years on, in his first opera, Kaaitheater artist in residence Kris Verdonck translates this false paradise into the 21st century, setting it on the white beaches of Lampedusa. The Belgian writer Dimitri Verhulst wrote the libretto and the Portuguese composer Vasco Mendonça wrote the music.
Bosch Beach première at the Concertgebouw Brugge, embarked on a tour arond Europe, and is now returning to Belgium. The Brussels shows at Kaaitheater are staged during the Klarafestival.
Kaaitheater | 17>18/03 | music theatre in English
In 1917, the Czech composer Leoš Janáček wrote Zápisník zmizelého: 'The Diary of One Who Disappeared'. This spirited tale in verse is about a village lad who gives up everything to follow a mysterious gypsy girl. The resulting 22-scene song cycle is a delicate mix of cruelty and tenderness, which is typical of Janáček's poetry. With his minimalism he penetrates through to the essence of the music, and even seems to be heralding the end of the opera genre. Annelies Van Parys, Transparant's in-house composer, has written a brand new coda to Janáček's piece. The production is directed by Ivo Van Hove, artistic director at Toneelgroep Amsterdam, who has presented numerous large theatre productions, ranging from Maria Stuart to Angels in America (staged at Kaaitheater), Idomeneo and La Clemenza di Tito (staged at La Monnaie), and Lazarus, David Bowie's musical theatre show.
The Diary of One Who Disappeared will première at Kaaitheater during the Klarafestival and then embark on a tour across Belgium and The Netherlands.
Kaaitheater | 7>8/03 | musical theatre
For dancers and choreographers, Brussels stands out as a unique city. From all over Europe young artists venture to our capital, where a network of open and daring venues connects their diversity. Brussels, Dance ! is an initiative by venues across Brussels to celebrate the creativity of the city, from 1 February to 31 March 2017.
Check out the entire programme here.

Kaaitheater was one of its partners for the first edition in 2015, and will be a partner for this 2nd edition as well. In March we will be presenting the following dance performances: Prototype by Marc Vanrunxt, Caen Amour van Trajal Harrell and Atelier III van Meg Stuart, Jeroen Peeters & Jozef Wouters/Damaged Goods (both during Performatik17).
Democratic institutions in Western countries are undermined by an unprecedented legitimacy crisis. This "democratic fatigue syndrome", which David van Reybrouck mentions in his book Against Elections, is a disorder that affects countless Western societies. However, it has not yet been fully described and analysed. With regard to these issues, we have invited historians, political scientists, journalists and essayists such as Caroline Hornstein-Tomic, Constanze Kurz and Carolin Emcke to take part in a series of public debates. The aim of these debates is to exchange views, analyse the situation and propose a cure for democracy, the great invalid of the Western world.
Eva Decaesstecker Kaaitheater
Katelijne Meeusen Kaaitheater