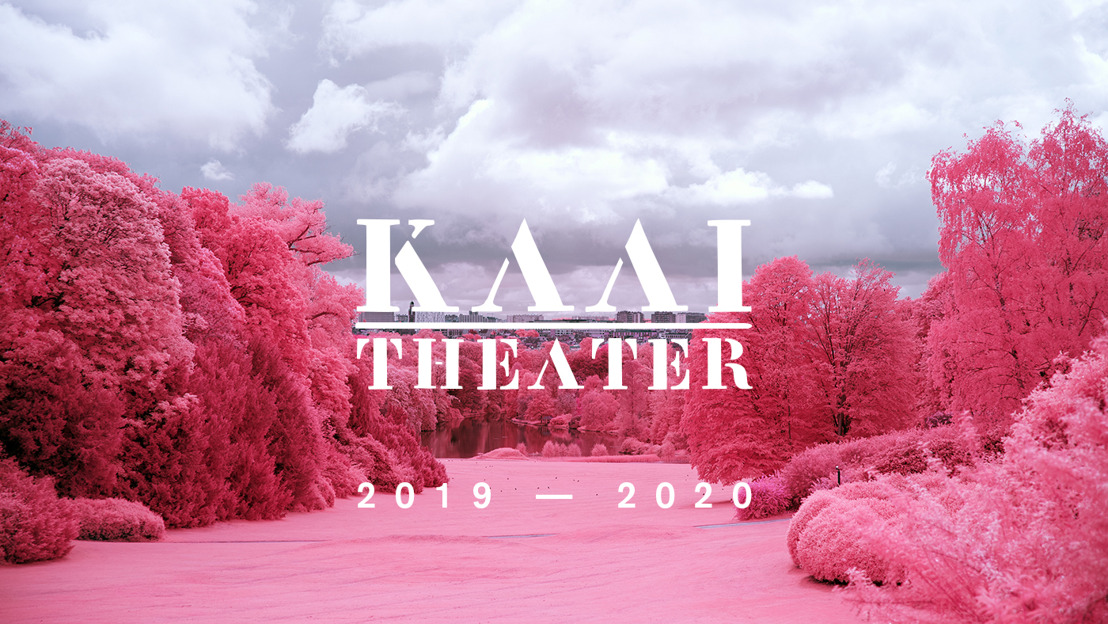 Kaaitheater presents: the 2019-2020 season
Friday, June 7, 2019 —

Why aren't you doing anything? Why do you cling on to a system and its attendant politics when it is becoming increasingly clear that it is leading to planetary destruction? These were the questions that striking school pupils and students have been asking politicians across Europe over the past few months.
The Dutch sociologist Willem Schinkel calls it diluvial politics: political action that wittingly makes the Great Deluge more likely and that is prepared to suffer the destruction it causes.
The American philosopher Lauren Berlant talks about Cruel Optimism: clutching on to a dream while knowing full well that its fulfilment is being obstructed by structural and social circumstances. She developed the concept of Lateral Agency, that avoids the paralyzing dichotomy between hegemony and counter-practice, between acceptance and rejection.
The French philosopher Bruno Latour, on the Kaaitheater stage last Autumn, also argues in favour of lateral movement.
He calls this new direction the Terrestrial, a place where local specificity and global interdependence coalesce. To make this Terrestrial attractive, he states, it must be charged with affect. He considers the arts, and specifically the theatre to be an ideal forum to increase awareness and sensitivity to the Terrestrial.

→ read the full text by Guy Gypens and Katleen Van Langendonck (introduction on season 2019-2020)
Premières & Belgian premières
In 2019-2020 Kaaitheater presents 11 Belgian and 13 world premières, by Mette Ingvartsen, Globe Aroma & Niko Hafkenscheid/Pablo Castilla/Hedvig Biong, Vera Tussing, de KOE & mugmetdegoudentand, Jan Decorte & Sigrid Vincks, Eszter Salamon, Kris Verdonck, Remah Jabr & Dareen Abbas, Tristero, Joost Vandecasteele, Radouan Mriziga, Encyclopédie de la parole/Joris Lacoste & Ictus, Benjamin Vandewalle, Michiel Vandevelde, Mădălina Dan & Agata Siniarska, Ligia Lewis, Bashar Murkus, Boyzie Cekwana & Danya Hammoud, Forced Entertainment, Alexandra Bachzetsis, Jonathan Burrows, Claire Croizé & Etienne Guilloteau and Pieter De Buysser.
You can find an overview of our dance, theatre, performance, music theatre and debate programmes on kaaitheater.be

We live in a time of emergencies. They are political, economic, ecological, social, racial, sexual – they cover the totality of our existences, as well as the ones of the species with whom we share the Earth. In the course of the new Kaaitheater season, five leading thinkers - Keller Easterling, Boris Groys, Graham Harman, Rosi Braidotti en Zhao Tingyang - will each introduce a new philosophical concept that they introduced themselves. From architecture to art theory, from philosophy to political thinking, they all challenge our current assumptions and suggest new ways of looking at what surrounds us. When the sense of the present is dramatically augmented by a feeling of emergency, there is no choice but to confront ourselves with what it means to live in the hyperpresent. All thinkers will give a talk and then engage in a conversation with philosopher Laurent de Sutter – who curated this series.
In the first week of March – the week of International Women's Day – the fourth edition of WoWmen! is coming to Brussels. This programme of performances, talks and workshops focuses on gender, art and society and includes performances by Orla Barry and Alexandra Bachzetsis. For WoWmen! 2020, the Kaaitheater collaborates with deBuren, ROSA, VUB and workspacebrussels among others. The full programme will be announced in January 2020.
Since 2017, Kaaitheater collaborates with a second group of artists-in-residence: Kate McIntosh, Christophe Meierhans, Radouan Mriziga, Vera Tussing, Michiel Vandevelde and Benjamin Vandewalle. These six artists from different disciplines – dance, theatre, performance – are characterized by their research-based art, drive to experiment, and social commitment. In their artistic practice, they bring the questions and concerns of contemporary artists to the fore. Each from their own incisive perspective on the world, they invite the audience to participate in different ways – either in thought or practice. In the new season they present their works on Brussels' squares - Benjamin Vandewalle with Studio Cité - as well as in the theatre: Radouan Mriziga's 8.2 and Tafukt, Michiel Vandevelde's Paradise Now (1968-2018), Goldberg Variations and Human Landscape I and II , Christophe Meierhans's Trials of Money and Vera Tussing's Tactile Quartet(s).
Kaaitheater partnerships
In 2019-2020, the Kaaitheater continues its collaboration with Globe Aroma, an arts centre that works with newcomers and refugees in the heart of Brussels. During the Theaterfestival we collaborate to present Underneath Which Rivers Flow, a project by Globe Aroma and Jozef Wouters set in Decoratelier in Molenbeek. Later this season Landscape Orchestra, a project by Globe Aroma artists and Niko Hafkenscheid, Hedvig Biong en Pablo Castilla, will première at the Kaaistudios.
The Kaaitheater also continues its partnership with Moussem Nomadic Arts Centre. During the annual festival MOUSSEM CITIES we collaborate to stage work by young generations of performing artists, coming from an Arabic metropolis. After editions focused on Beirut, Casablanca and Damascus, MOUSSEM CITIES this year a spotlight will be cast on Algiers.
The young Kaai audience
As part of the lecture series The Hyperpresent, a group of young people are going in search of words and language to describe the present. How do young people talk about current affairs and about the issues that concern them? Ecology and identity are two of the central themes. In philosophical conversations, slam poetry workshops, and exchanges with artists Khadija El Kharraz Alami, Anoek Nuyens & Rebekka De Wit, they will complete a trajectory that ends in a presentation moment for the general public: WORD UP!
There will be a new K-team for the beginning of the 2019-2020 season: a team of young people who love theatre and dance. For a whole year, they are being given carte blanche at the Kaaitheater and help to fire enthusiasm of other young people for contemporary performing arts. Follow them here and on Instagram and find out which shows they declare 100% K-team proof. Kaaitheater offers the 'young' ticket price of €10 per show to all those under 26.
Kaaitheater also continues its successfull Matinee Kadee. On five Sunday afternoons we organise creative workshops for children (4 to 12 years old). The little ones (up to 4 years old) have fun in the playroom, while their parents can enjoy the performance with their minds at rest. An afternoon at Kaai for the whole family!
Co-funded by Act & the Creative Europe Programme of the European Union: Mette Ingvartsen, Hyperpresent (Keller Easterling, Rosi Braidotti, Graham Harman, Boris Groys, Zhao Tingyang), Ecopolis, Katja Dreyer & Karen Roise Kielland, Orla Barry, Harman, David Weber-Krebs & Jeroen Peeters and Benjamin Verdonck / Toneelhuis.
Katelijne Meeusen Kaaitheater
Eva Decaesstecker Kaaitheater