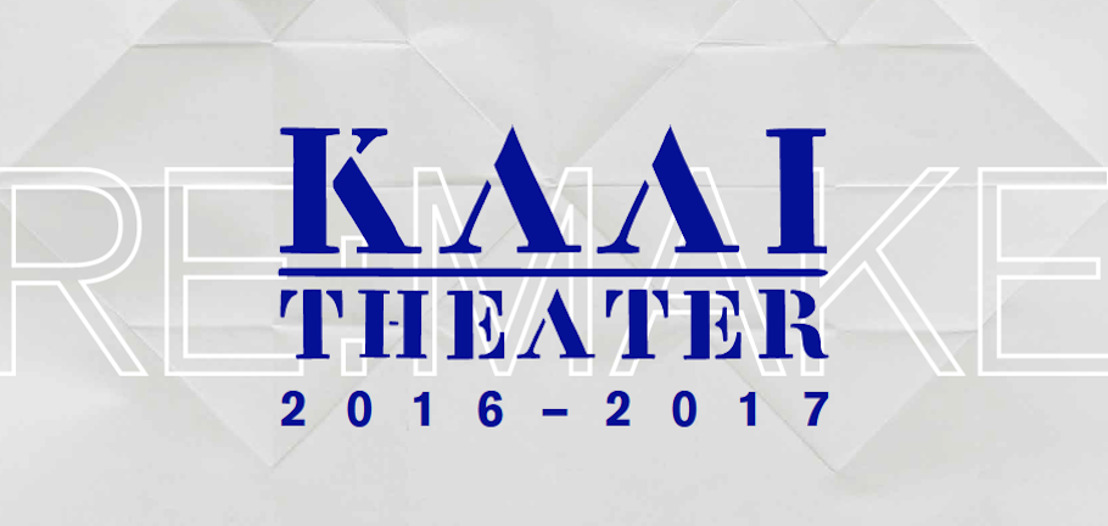 KAAITHEATER 2016-2017
a new season, a new kaaitheater.be
Thursday, June 23, 2016 —
Beyond both fear and indifference
How are we to 'remake' society at the dawn of the 21st century? This is the central question at the beginning of this season, and it forms the leitmotif throughout the 2016-2017 programme at the Kaaitheater. In times of climate change, migration, international terrorism, extreme privatization, increasing inequality and fast-paced globalization, appeals to (re)make our society resound ever louder. Where are the current impulses for new societal ideals today? Where is the necessary imagination born? And how can we, as an arts centre, contribute to a climate in which engagement becomes self-evident and in which positive, utopian ideas are free to grow?
In the RE:MAKE series we're presenting talks and debates that bring both concrete practice and new ideas to the fore. By inspiring thinkers such as Benjamin Barber, Susan Neiman, Michel Bauwens, Alicja Gescinska, Tim Jackson and Srećko Horvat.
A striking number of artists seek to connect to current events around the world. The power of change in society and the energy unleashed by these metamorphoses provoke a higher state of alert amongst artists. In this way artistic autonomy, which is indispensable for safeguarding the quality of work, increasingly becomes an 'engaged autonomy'. The nature of the encounter between the artist and audience consequently becomes more political – a characteristic that is engrained in the DNA of the theatre as a meeting place.
We hope that our programme will also inspire you and that in these perplexing times it might contribute to a new measure of perspective, beyond both fear and indifference.
New Artists-In-Residence 2017-2021
We are delighted to introduce six new artists-in-residence: Kate McIntosh, Christophe Meierhans, Radouan Mriziga, Vera Tussing, Michiel Vandevelde en Benjamin Vandewalle. From 2017 their work and practices will be woven into the Kaaitheater programme for five years. All six artists stand out for their inquiring attitude and urge to experiment. Through the diversity in their artistic practice, they gather together the preoccupations and issues of artists today. They all train their penetrating gaze on the world and force the spectator to play an active role. They take you with them in their actions and thinking, no longer only in the theatre, but also in the public space. Come and meet our six new artists-in-residence in January 2017, the New Residents' Month.
World and Belgian Premières
In 2016-2017 we'll be presenting 15 Belgian and 17 world premières by Meg Stuart & Tim Etchells, Zita Swoon Group, Laila Soliman, Forced Entertainment, Vera Montero, Tristero, Jan Decorte & Comp.Marius, Joost Vandecasteele, Heike Langsdorf, Grace Schwindt, Tiago Rodrigues, Meg Stuart & Jeroen Peeters & Jozef Wouters, Philippe Quesne, Trajal Harrell, Heine Avdal & Yukiko Shinozaki/fieldworks, Gintersdorfer/Klassen and Radouan Mriziga a.o. All premières are listed on this page.
You'll find an overview of our dance-, theatre-, performance en music theatre programmes on our brand new website kaaitheater.be.
Burning Ice #10, Performatik17
In December 2016 we're presenting the tenth and final edition of Burning Ice. Playing a central role will be artists who over the past few years have demonstrated that art does in fact have a role to play in the transition towards a sustainable society. They go about this by undertaking critical and uncompromising analyses of the current system, by offering perspectives that allow us to deal with confusion and uncertainty, and by sketching out an alternative view of human beings and the world. Heike Langsdorf, David Weber-Krebs, Kate McIntosh, Myriam Van Imschoot, Els Dietvorst and Kris Verdonck are all former guests at Burning Ice. New names signed up for this year's festival include Benjamin Verdonck, Pieter Ampe, Lotte van den Berg and Niko Hafkenscheid.
In autumn 2017, we will be starting up a brand new festival (working title CITY:LAND). It will connect Burning Ice's ecological theme with the intercultural perspective of Festival Kanal, and be staged both at Kaaitheater itself and at various other locations in the Brussels Canal Zone.
Near the end of March we're turning our gaze to performance art for the fifth edition of Performatik. For this Brussels biennial of performance art, Kaaitheater works together with partners across the city: from Argos through Bozar and CC Strombeek to Wiels, from Beursschouwburg to Passa Porta. Performatik17 will be entering the intriguing twilight zone where creators tinker with the codes of visual arts and the performing arts. And with your position as a spectator. For if a revival of performance art is bringing about a renewal in the arts, then this now chiefly lies in the radical questioning of your position: your gaze as a museum visitor, your role as a theatrical spectator, or something beyond this. In Performatik17 the intrinsic meaning of a work is less important than the act of creating something together in the here and now.
This festival edition will present work by Trajal Harrell, Grace Schwindt, Philippe Quesne, Yves Klein, Alioum Moussa en Maarten Vanden Eynde, Fabrice Samyn, Orla Barry, Lotte van den Berg & Daan 't Sas, Kate McIntosh, Ieva Misevičiūtė, Mette Edvardsen, Maarten Seghers, Feiko Beckers, Meg Stuart & Jozef Wouters & Jeroen Peeters, Rabih Mroué & Hito Steyerl, Ola Maciejewska and Miet Warlop a.o. The full programme will be announced in January 2017.
New partners: Moussem and Globe Aroma
From 2017, Kaaitheater is a partner of Moussem Nomadic Arts Center. In February 2017 we're co-presenting MOUSSEM CITIES, a festival that offers an insight into contemporary Arab societies and the dynamic of their cities. This edition will focus on the Lebanese capital Beirut. Over the course of this ten-day festival, guest artists, relevant thinkers and cultural players such as Tony Chakar, Nancy Naous & Wael Kodeih, Dictaphone Group, Sirine Fattouh and Lucien Bourjeily tell the story of their city through their work.​ You can find the programme-in-progress here.
Also from 2017, Kaaitheater is setting up a close partnership with Globe Aroma. December 2016 will bring the première of CAPSAICIN, a production for which theatre maker Michiel Soete works with newcomers to Brussels.
European Networks
In 2016-2017, Kaaitheater is a partner in three European networks.
'The Humane Body – Ways of seeing dance' is a pilot project aimed at more closely involving the blind and partially sighted in contemporary dance. To this end, the network offers audio descriptions and touch tours to accompany existing dance performances. The four partners also co-produce new dance work that is specifically created with and for the blind and partially sighted.
Until 2019, the Imagine 2020 (2.0) network brings together eleven performing arts organisations from nine different European countries to consider the issue of climate change, and in which Kaaitheater is taking the lead. The network believes in the power of the artistic imagination to come up with new and different future scenarios.
The ten partners of the HOUSE on FIRE network pursue an international programming and co-production policy, based on the conviction that the arts have an essential role to play both in the communication between peoples and in the development of thought and debate about problems and challenges that our societies and the world are facing. The network is supported by the European Union until Summer 2017, its project leader Teatro Maria Matos (Lisbon) is preparing to apply for yet another 5 year period.
A Young K-Audience

An exclusive preview of Kaaitheater's 2016-2017 programme was presented to the K-team, a team of young people who love theatre and dance. During the course of the season, they watch performances together and help to fire enthusiasm of other young people for contemporary performing arts. They compiled a selection of 10 performances that they declared 100% K-team proof. Check their selection here.
Kaaitheater continues to offer the 'young' ticket price of €8 to those under 26's.

For the ninth season in a row, Kaaitheater will be organising its successfull Matinee Kadee. While parents enjoy the Sunday matinee performance, children aged 4 to 12 take part in artistic workshops, younger brothers and sisters have fin the playroom. In the new season we've programmed seven Matinee Kadee's, from October to June: a Sunday afternoon for the whole family.

In October 2016, Kaaitheater is launching a new series of workshops for children. On Saturday or Wednesday afternoons children aged 6 to 10 learn about our programme's most important themes, from gender to philosophy. These workshops are fully designed to suit them.
Eva Decaesstecker Kaaitheater
Katelijne Meeusen Kaaitheater