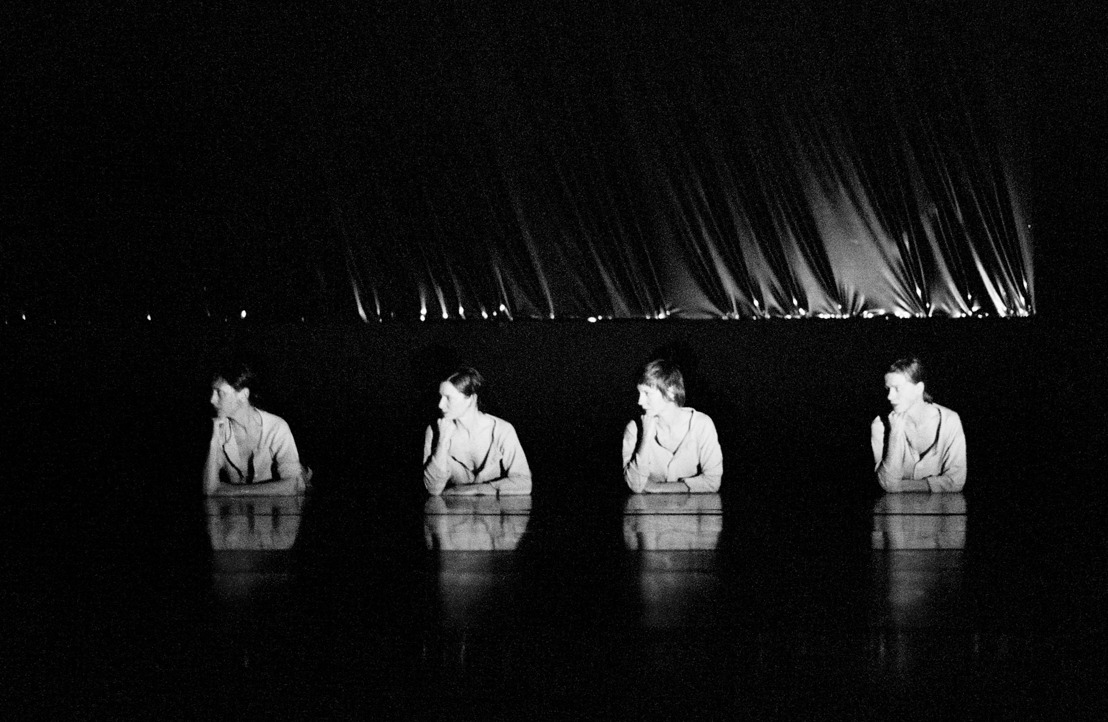 June at the Kaaitheater = Rosas, Arundhati Roy, Needcompany, Guy Cassiers ...
Wednesday, April 5, 2017
Rosas danst Rosas with a new and young cast
Jan Lauwers & Needcompany return to the Kaaitheater with The blind poet
Borderline (Grensgeval) by Guy Cassiers
Arundhati Roy presents her new book The Ministry of Utmost Happiness
Elfriede Jelinek wrote Die Schutzbefohlenen in 2013 as a reaction to the increasingly desperate refugee problem in Europe. Her text has proved to be more than prophetic: all the images that are now burnt into our memories she minutely calls to life years before the actual events. With this adaptation, Guy Cassiers throws himself into a diptych about the problems surrounding migration. Guy Cassiers matches Jelinek's torrent of words with images and with a group of dancers in a choreography by Maud Le Pladec.
Borderline (Grensgeval) premiered in Antwerp on April 29th, after which the production tours through Belgium and the Netherlands. This Summer, it will be presented at the Avignon Festival.
On Friday 2/06, we provide an audio description of the performance for people with a visual disability. Here you find more info on audio description and the European network The Human Body.
Kaaitheater | 1>2/06 | theatre+dance | in Dutch Nederlands (surtitles in French)
History is written by the victors. By men. How many lies, chance encounters and mishaps have actually determined history as we know it? With this idea in mind, Needcompany and Jan Lauwers travel through history by way of the family trees of all Needcompany's members. After an international tour,The blind poet – having been selected for the Theaterfestival 2016 – returns to Kaaitheater, where it premiered in 2015.
Kaaitheater | 9>10/06 | theatre | in Dutch, French, English, Arabic (surtitles in Dutch, French, English)
Twenty years after her incredibly successful debut The God of Small Things – which won the Man Booker Prize and has been translated into more than 40 languages – Indian author Arundhati Roy is publishing a second novel: The Ministry of Utmost Happiness. In this sensory work, she takes you on an intimate journey across India through the moving stories of her characters, which are subtly woven together. In the years between her two novels, Roy wrote biting essays about, among other things, the American invasion of Iraq and Afghanistan, nuclear tests in India, and economic inequality. As an activist, she thus reached a global audience. Annelies Beck is now welcoming her to the Kaaitheather for an in-depth author's interview.
This evening is the closing event of RE:MAKE, this season's Kaaitheater series focussing on the question : how are we to 'remake' society at the dawn of the 21st century?
Kaaitheater | 15/06 | book presentation | in English
In 1983, Anne Teresa De Keersmaeker firmly put her newly formed dance company Rosas on the international map with Rosas danst Rosas. The choreography builds on the minimalism initiated in Fase – which she created the year before – and has become a benchmark in the history of post-modern dance. Thierry De Mey and Peter Vermeersch's repetitive, 'maximalistic' music was created side by side with the choreography. For this revival, an entirely new, young cast will dance Rosas danst Rosas.