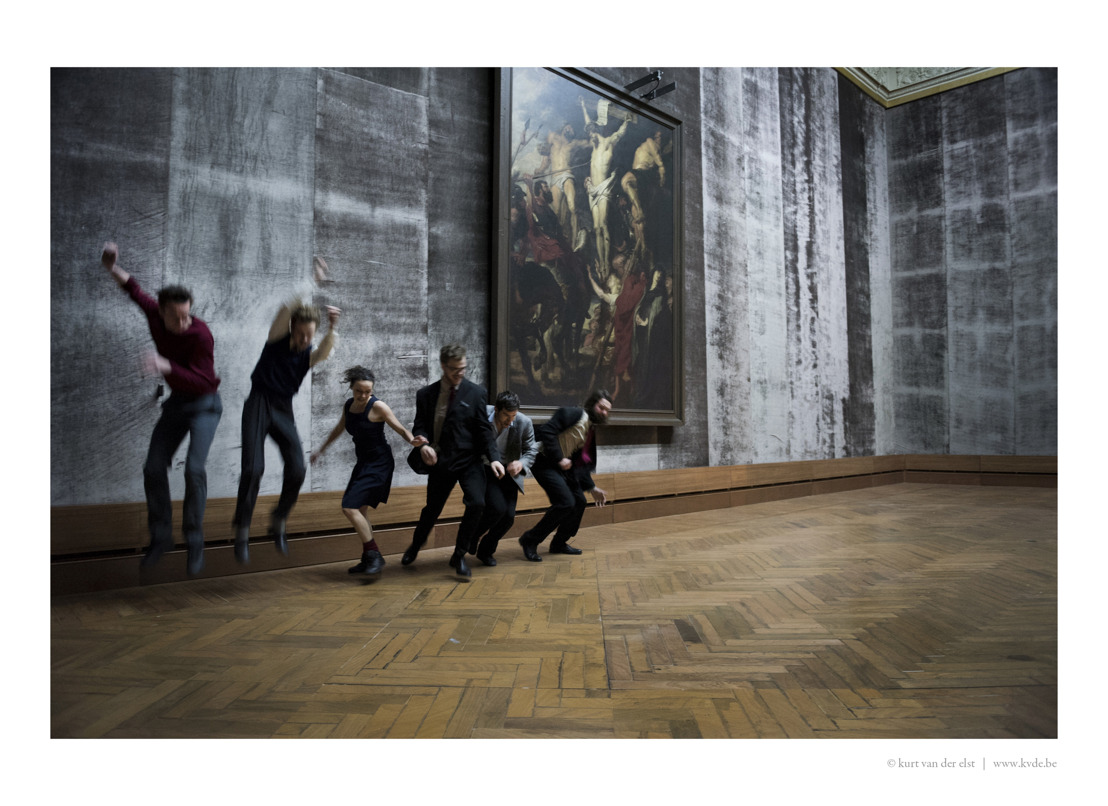 JUNE AT THE KAAITHEATER
with Guy Cassiers, FC Bergman, RITCS, PARTS and workspacebrussels
Monday, May 2, 2016 —
FC Bergman - Het Land Nod
For their latest production, FC Bergman drew inspiration from the majestic Rubens' Gallery at the Royal Museum of Fine Arts in Antwerp. With Het land Nod (performance without words) they tell a gripping story about this museum gallery, its works, and above all the people who seek solace and shelter in the museum.

The young Antwerp based theatre group FC Bergman joined Toneelhuis in 2014. Their work is adventurous and on a grand scale. In impressive, majestic stage settings, they tell us something about the vulnerability of man. Kaaitheater previously presented Terminator Trilogy (on the waste land of Tour & Taxis) and Van den vos.

Het land Nod premiered in Antwerp. After a tour through Belgium and the Netherlands, the performance is now coming to Brussels. The shows will take place on loaction at Les Halles in Schaerbeek. Afterwards, Het land Nod will travel on abroad, and will be staged at the Avignon Festival, a.o. > more info and trailer.
Guy Cassiers / Toneelhuis & Toneelgroep Amsterdam - De welwillenden
Guy Cassiers tackles Jonathan Littell's almost one-thousand-page novel The Kindly Ones. In De welwillenden, (performed in Dutch, surtitled in French) he confronts the darkest side of human behaviour: the Nazi ideology and the destruction of the Jews. What happened in order to make this catastrophe in the heart of Europe possible? What political, ideological, psychological and social transformations brought about this violence and let it take its course? Europe's current shaky political foundations and the rise of far-right, xenophobic and anti-European parties give this project a special urgency.
For this production, the Toneelhuis ensemble is joined by five actors from Toneelgroep Amsterdam. De welwillenden premiered in Antwerp early March, and is now on tour in Belgium and abroad. Check the tour dates and the trailer.

workspacebrussels - Working Title Situation #4
Workspacebrussels is a workspace for live arts and installation art in their most hybrid forms. WSB supports young and emerging artists through an intensive residency program, co-productions and coaching of creations and research projects. Rehearsal spaces in the Kaaitheater and the Kaaistudio's are part of the offer. During Working Title Situation #4 artists will show their work in an old metal facoty at Ixelles, in ParckFarm near Tour & Taxis and in the city centre. Check our website or www.workspacebrussels.be for the complete programme.
New generation of theatre makers at RITCS
Get to know a new generation of theatre-makers and technicians graduating in Brussels. In June, the theatre students at the RITCS will be presenting their graduation productions as the final part of their courses in Directing and Stage Technique. You can see the exam pieces for the Bachelor course in Directing by Felix Banholzer, Pascal Buyse, Joana Cotrim and Marie Pien at the Kaaistudios. The detailed programme will be available on our website soon.
PARTS Graduation Tour
Once every three years students can enter the renewed PARTS Training Cycle. The first group started in 2013, and 35 of them are graduating this June. They are closing their cycle with a creation of their own as well as new pieces, with a limited rehearsal time of six weeks, directed by the experienced choreographers Daniel Linehan, Fabrice Mazliah, Eszter Salamon, Vera Mantero and Marc Vanrunxt. From 30/5 on, the entire programma will be available the website of PARTS.
Eva Decaesstecker Kaaitheater
Katelijne Meeusen Kaaitheater