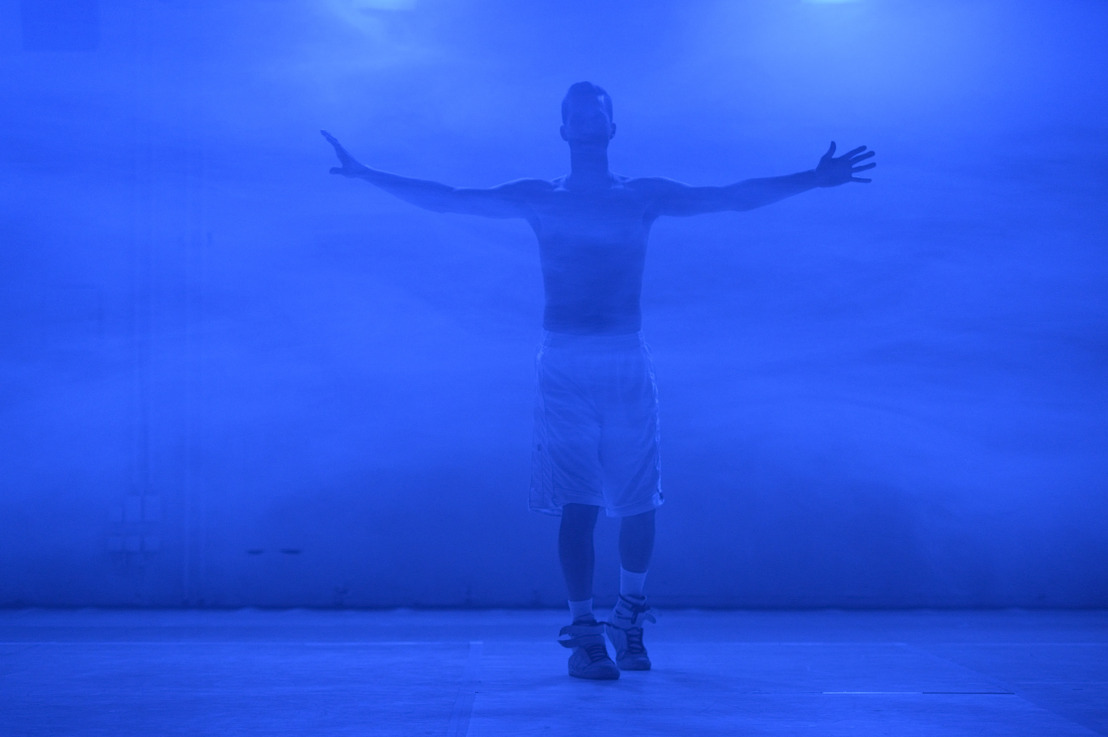 January at Kaaitheater
Monday, December 3, 2018
4 Belgian premières:

Ligia Lewis - Sorrow Swag
Jan Lauwers/Needcompany - Begin the beguine
Eleanor Bauer - a lot of moving parts
Anne Teresa De Keersmaeker/Rosas, Amandine Beyer & B'Rock Orchestra - The Six Brandenburg Concertos


Afua Hirsch, Conversation #4: On Race, Identity, and Belonging
Rosas & tg STAN's Quartett - again at Kaaitheater after 20 years!
film première Mitten by Olivia Rochette and Gerard-Jan Claes, on the making of Anne Teresa De Keersmaeker's Mitten wir im Leben sind/Bach6Cellosuiten
Meg Stuart reruns Built to last
During her 1980 stay in New York, in which she first rehearsed her celebrated Violin Phase to the music of Steve Reich, the only other recording playing in Anne Teresa De Keersmaeker's studio was the Brandenburg Concertos by Bach. More than 35 years later, De Keersmaeker continues her work with this music. De Keersmaeker immerses sixteen dancers from different Rosas generations in the music. Following Mitten wir im Leben sind/Bach6Cellosuiten, and Vortex Temporum, she again approaches the music as a dance score, resulting in Bach's polyphonic virtuosity being embodied onstage. The baroque ensemble B'Rock performs the concertos live. Violinist Amandine Beyer, with whom De Keersmaeker previously collaborated on Partita 2, will conduct the orchestra.
This production premièred at the Berlin Volksbühne in September 2018. Kaaitheater and La Monnaie co-present its Belgian première.
In this solo, the American choreographer and performer Eleanor Bauer embraces the particularity of dance-thought as synthetic, complex, change-oriented, fantastical, and multi-faceted. She works with the frictions, collisions, translations, love affairs and gaps between dance and language. In Swedish, to feel and to know are the same verb: coincidence, or poetic justice?
This production premièred in September during the Festival d'Automne in Paris. After staging the solo in New York, Eleanor Bauer is now taking it to Kaaitheater.
Kaaistudio's | 11&12/01 | dance | in English

Sorrow Swag is the first part of Ligia Lewis' triptych that deals with affect and embodiment, as well as race and representation. Each part has been created using a colour that represents a mood. This first instalment, in blue, is defined entirely by the language of sadness and explores questions of race, authorship, gender, and grief. Samuel Becketts Not I and Jean Anouilh's Antigone serve as the backbone to this work, while the choreography is inspired by on Stanislavski's acting techniques and aspects of Authentic Movement.
Sorrow Swag premièred in Los Angeles in 2015 and has been touring internationally since. The Belgian première will take place at Kaaistudio's.
Kaaistudio's | 25 > 26/01 | dance
Before the performance on 25/01, anthropologist/artist Julian Warner will hold the 7PM talk On Racial Authenticity. Drawing from his ethnographic fieldwork on the current state of black cultural workers in Germany, he addresses the articulation of racist discourse, progressive politics, and neoliberal commodification.
Begin the Beguine is the last text that the legendary filmmaker John Cassavetes ever wrote. Two men – both imprisoned in one way or another – want to live it up one last time and order women from their dark bedroom. They wait and philosophize. This jet-black allegory about love and death was kept in a cupboard for 25 years by Cassavetes' heirs. Until the German publisher S. Fischer Verlag asked Jan Lauwers to take on the staging of this masterpiece. He created the first version in 2014 in Vienna. This is the second: actors Gonzalo Cunill and Juan Navarro collide with Romy Louise Lauwers and Inge Van Bruystegem.
The production premièred in Montpellier last year. After being staged in France and Spain, it is now coming to Belgium, to Kaaitheater (Belgian première) and Toneelhuis (Antwerp).
Kaaitheater | 29 > 30/01 | theatre | in English & French (surtitled in Dutch, French and English)
Afua Hirsch is an author, journalist, and human rights activist. She writes for The Guardian, among other publications.
She lives in the United Kingdom and is British, but her skin colour constantly elicits questions about her ethnic background. In her debut Brit(ish): On Race, Identity and Belonging, she has written a subtle personal history that also sketches the history of a country. Who can and may appropriate British identity? The guise of 'colour-blindness' actually causes more problems than it solves. Hirsch argues for change, and especially: the development of a language to talk about the subject. In her book, she analyses the identity crisis in which European societies now find themselves.
This season's Conversations are a series of evening discussions, in which leading authors, intellectuals and philosophers debate the concept of authenticity. Following Didier Eribon, Philipp Blom and Mogobe Ramose, Afua Hirsch is now taking the stage. Later Conversations will be held with Nina Power and Thijs Lijster.
Under the general title To Authenticity... And Beyond!, Kaaitheater is focussing on the contemporary desire for authenticity. Where might the search for truth and origins lead us, if we are prepared to look beyond authenticity? In addition to the Conversation, we are presenting a series of productions and 7PM talks, preceding performances.
Kaaistudio's | 21/01 | debate | in English
A salon before the French Revolution, a bunker after the Third World War. As the world stands on the verge of collapse, a man and a woman exchange a razor-sharp dialogue based on a caustic text by Heiner Müller. The confrontation between the two is also a confrontation between the power of words and the threat of movement.
Frank Vercruyssen from tg STAN and Cynthia Loemij from Rosas created Quartett in 1999 with Jolente and Anne Teresa De Keersmaker. After 20 years, they return to the stage. First in Paris at the Festival d'automne, then in Brussels at Kaaitheater.
Kaaitheater | 23/01 > 26/01 | dance / theatre | in English (surtitled in French and Dutch)
Mitten follows the final weeks of rehearsal of Mitten wir im Leben sind, the performance by Anne Teresa De Keersmaeker, her company Rosas and cellist Jean-Guihen Queyras, based on the six cello suites by Johann Sebastian Bach. The film offers an intimate glance into De Keersmaeker's meticulous methodology, in which a choreographic universe is built up through a careful study of musical composition. This intense creative process of continuously reshaping and honing, characterised by De Keersmaeker's inexhaustible longing for precision and detail, is reflected in the filmmakers' patient look at the work of the choreographer, the musician and dancers.
Five performers travel through the history of dance – and possibly into its future. Is it possible, today, to still believe in eternal values and universality? Things are built up only to fall down again, in much the same way that we long to constantly rediscover ourselves. In Built to Last, Meg Stuart worked for the first time with existing classical music. The production premiered in 2012 and has been touring since.
Kaaitheater | 19 > 20/01 | dance | in English
Katelijne Meeusen Kaaitheater
Eva Decaesstecker Kaaitheater