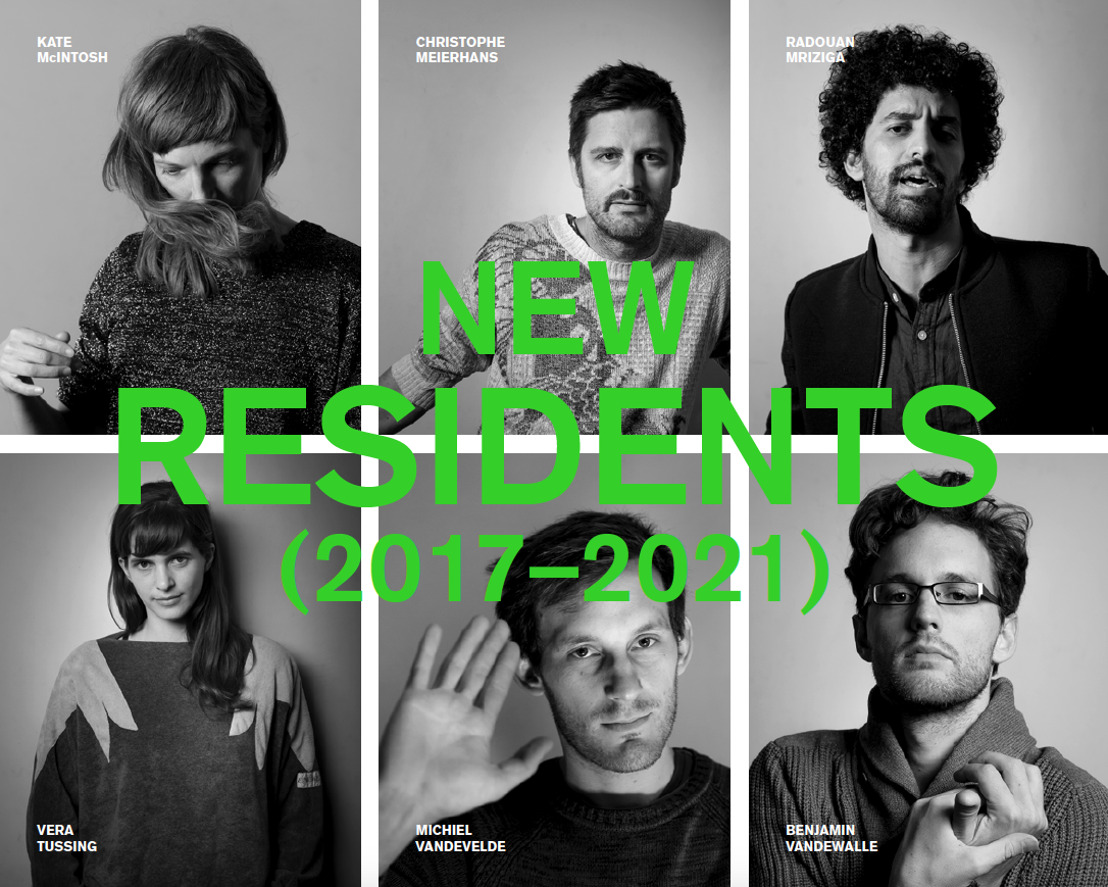 January at Kaaitheater
Thursday, November 10, 2016
January is New Residents' Month: we welcome Kate McIntosh, Christophe Meierhans, Radouan Mriziga, Vera Tussing, Michiel Vandevelde and Benjamin Vandewalle, the new Kaaitheater artists in residence from 2017 to 2021
premières of 'Piano & String Quartet' by Ictus & Fumiyo Ikeda and 'Say No! - The Deserters' Song' by the Brussels Brecht-Eisler Choir & Jan Vromman/Dick van der Harst/Elvis Peeters
Video installation 'Veterans' by Lola Arias
'Vive l'Armée', the new Superamas production
We are delighted to introduce six new artists-in-residence: Kate McIntosh, Christophe Meierhans,Radouan Mriziga, Vera Tussing, Michiel Vandevelde and Benjamin Vandewalle. From 2017 they will have a prominent place in the Kaaitheater programme for the next five years. All six artists stand out for their inquiring attitude and urge to experiment. Through the diversity in their artistic practice, they gather together the preoccupations and issues of artists today. Based in their commitment to their fields of research, they each give you as the viewer an active role, either intellectually or physically. Not only in the theatre, but also in the public space.
You will be amazed by their irrepressible urge for experimentation and razor-sharp perspectives. Discover the work of the six artists during the New Residents' Month.

Christophe Meierhans
Trail of Money (work in progress)
Kaaistudio's | 10>11/01 | performance
​You take the words right out of my mouth
Kaaistudio's | 10>14/01 | video
Michiel Vandevelde
Our times
Kaaistudio's | 13>14/01 | dance
Vera Tussing
Mazing
Kaaistudio's | 20>21/01 | dance
Radouan Mriziga
55
Kaaistudio's | 24/01 | dance
Benjamin Vandewalle
Hear
on location | 25>27/01 | performance
Kate McIntosh
All Ears
Kaaistudio's | 28/01 | performance
'I'm quite mystified with the public space in cities.' Read an interview with Kate McIntosh.
No stage set, no backdrops, no frills: everything is laid bare. The dancer and choreographer Fumiyo Ikeda takes you with her into the heart of Morton Feldman's Piano and String Quartet. Ikeda shares the stage with the Ictus performers, as if she herself were the sixth musician. The erratic, almost imprecise repetitions of Ikeda's movements perfectly echo Feldman's music.
In 1983, Fumiyo Ikeda joined the newly established Rosas, dancing in almost every production until 2008. She also created performances together with fellow artists such as Benjamin Verdonck and Tim Etchells.
The Brussels-based contemporary music ensemble Ictus has been a regular guest at Kaaitheater for years and often collaborates with Rosas. This season, Ictus will also be presenting a new Liquid Room-concert.
Kaaitheater | 27>28/01 | dance/music
By harnessing the stories of deserters, the Brecht-Eisler Koor seizes the opportunity offered by the WW1 commemorations to drive discussions about specific peace strategies. In 2014, it performed the musical theatre production WaanVlucht! (FleeTheFrenzy!) with six Belgian choirs. With Say No, the poet Elvis Peeters and the composer Dick van der Harst once again call upon people to flee from this frenzy. Say no to the madness of war and the misery that it causes!
A number of international choirs and ensembles record their own version of the anthem, and Jan Vromman and Hans Meijer group them together in a video creation. A powerful signal against war violence resonates through this contemporary song, which is interwoven with a live performance by an international mass choir.
The Brussels-based Brecht-Eislerkoor has brought together large one-off choirs before. It previously performed The Shouting Fence (2009) and FleeTheFrenzy – Ode to the Deserter (2014) at Kaaitheater.
Kaaitheater | 22/01 | music/video
In Veterans, the video installation of the Argentinian writer, actress and theatre maker Lola Arias, Argentinian veterans look back at their traumatic experiences during the Falklands War in 1982. Thirty-five years on, they do this by 'reconstructing' their war memories in places where they go every day. They retrieve their war memories through a kind of time machine that transports their past to the present.
Kaaitheater | 13>28/01 Mon-Fri 11:00>18:00 + before&after the performances | video installation
IIn times of declarations of war, the revival of nationalistic thinking and an excess of extreme, simplistic solutions, the French-Austrian theatre collective Superamas offers fresh points of view. Vive l'Armée ! is a reflection on war, violence, propaganda and nationalism. Based on the familiar Superamas recipe, you see a continuously interlinked mix of storylines translated into text, video and music.
Vive l'Armée is a Kaaitheater coproduction. The performance premiered in Amiens in November and will be presented during the NEXT festival. Next Belgian stop is Kaaitheater.
Eva Decaesstecker Kaaitheater
Katelijne Meeusen Kaaitheater