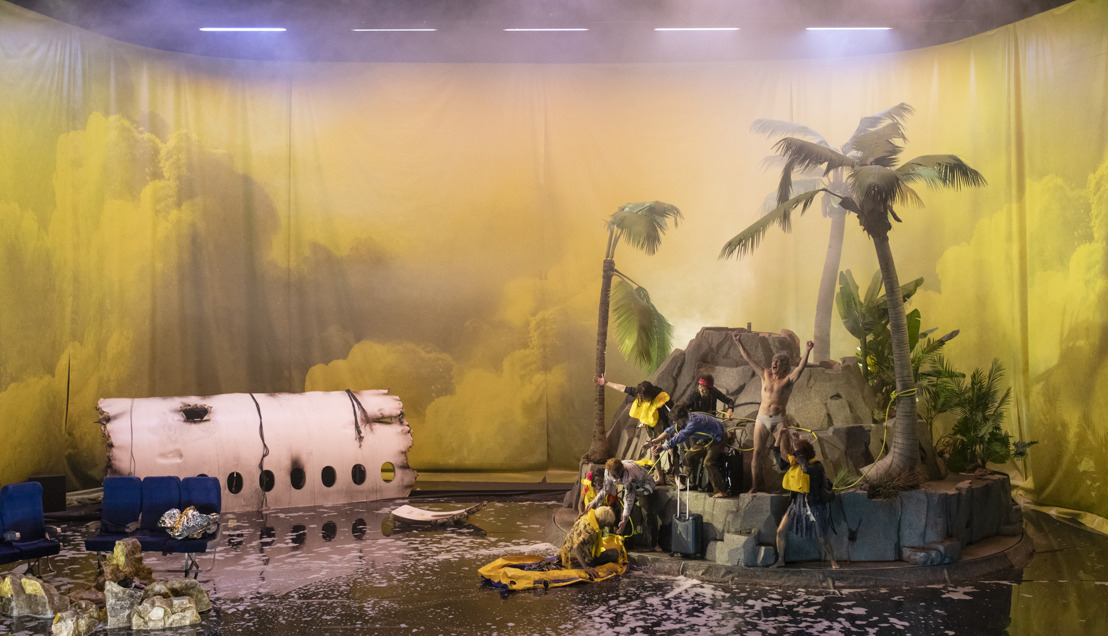 February at Kaaitheater
Monday, December 17, 2018
Moussem Cities: Damascus
Belgian première Noé Soulier: The Waves
Belgian première Philippe Quesne: Crash Park
Cullberg Ballet & Deborah Hay: Figure a Sea
2x Marc Vanrunxt: with Bahar Temiz & Jan Martens
Symposium: the School of Speculative Documentary
French choreographer and philosopher Noé Soulier is convinced that watching dance is just as creative as dancing itself. To stimulate this physical response in the audience, he transforms practical gestures like hitting, throwing, and grasping into unfinished, interrupted movements. In this latest creation, he presents six dancers and two percussionists: Tom De Cock and Gerrit Nulens from the Ictus-ensemble. The drum sounds add commas and full stops, punctuating or pausing a series of movements, or initiate new actions. In The Waves, Soulier explores the intersection of extremely precise dance writing and pure improvisation.
The Waves premièred in August 2018 during Tanz im August (Berlin). The performance is touring through Europe and stops at Kaaitheater for its Belgian premiere.
Kaaitheater | 1 > 2/02 | dance / music


Since time immemorial, the idea of an island as a place of infinite possibilities has been a source of inspiration for writers and artists. In Crash Park, theatre-maker Philippe Quesne , known for his distinctly visual work, has written his own robinsonade. When the survivors of a plane crash emerge from the wreckage, they encounter the bizarre bestiary on a desert island. Epic scenes alternate with musical intermezzos, while this contemporary fable spotlights the greatness and the failings of the human race.

Crash Park premièred in Nanterre-Amadiers in November 2018 and then embarked on a tour around Europe. The Belgian première will take place at Kaaitheater.
Kaaitheater | 22 > 23/02 | theatre
MOUSSEM CITIES 2019 gives the floor to the pressing voices of artists from Damascus, Syria and the Syrian diaspora to ensure that stories are not lost amidst the violence. Current affairs inevitably imbue this edition with a weightiness. The festival is thus also offering Syrian artists and curators the opportunity to shape the programme so that their work and commitment is situated in the correct context.
MOUSSEM CITIES sees Damascus as a concept and a mental window through which to focus attention on the artistic scene of a region and the creators in the diaspora. The city is a place where people make connections with one another, and where artists are first and foremost citizens who contribute to shaping society.
Every year MOUSSEM CITIES showcases a different Arab metropolis. Kaaitheater partners up with festival organiser Moussem Nomadic Arts Centre to present work of young generations of performing artists.
This edition includes two double bills and an installation by and with Lubna Abukhair, Eyas Al Mokdad, Majd Feddah, Mazen Alashkar, Hiba Alansari, Mayer Alexane & Hoor Malas and Waël Ali & Chrystele Khodr. Find the entire programme here.
Here you can read an interview with Waël Ali & Chrystele Khodr.
Kaaistudio's & Globe Aroma | 7 > 16/02 | dance/theatre/performance/installation/music/debate/talks
Figure a Sea is an encounter between Cullberg Ballet – the former classical ballet of Stockholm and now the most important contemporary dance company in Sweden – and two pioneers from the art world. Deborah Hay, who was one of the founders of post-modern dance in the 1960s, provided the choreography. She started out with the experimental Judson Dance Theatre and she was one of the first to introduce everyday movements in dance. The American composer and musician Laurie Anderson (O Superman) has created a soundscape. She started her career as a sculptor and performance artist, and she has been one of the great innovators in electronic music.
The result is a choreography for 21 dancers, both technically immaculate and distinctly minimalist, in which Deborah Hay challenges the intelligence, beauty, and humour of the Cullberg dancers.
The production has been touring through Europe and the US since.
Kaaitheater | 15 > 16/02 | dance
2x Marc Vanrunxt
Marc Vanrunxt & Bahar Temiz - White on White
Which movements or fragments of movements does a dancer remember after years of training and performance experience? In the first part of this solo for dancer Bahar Temiz, Vanrunxt explores the power and the possible significance of movement through memory. In the second part, Bahar fights a decelerated 'disco-drone': a scene in one flash of light that does not stop.
Kaaistudio's | 27/02 | dance
Marc Vanrunxt & Jan Martens - lostmovements
The artistic paths of Marc Vanrunxt and Jan Martens have crossed several times, and they are now coalescing in a solo for Jan. Vanrunxt was there in the early eighties, at the cradle of the innovative dance wave in Flanders. A few generations later, Jan Martens is adding great verve to the succession and continuation of this wave. In lostmovements, they explore lost and forgotten movements.
Kaaistudio's | 28/02 > 1/03 | dance
How can we rethink the documentary in art in terms of content, form and method? How can we be inspired by the paradox that as soon as you attempt to approach reality in a documentary way, it immediately evaporates and mutates? How can we wrest the documentary from its disciplinary divisions and develop strategies that escape formatted market thinking? How can we take our responsibility for mechanisms that determine what can or may be observed, seen, heard, said, thought, made, or done? And how do documentary makers themselves deal with their own positions (of power) and blind spots?
The School of Speculative Documentary is an interdisciplinary space for encounter that seeks to question the documentary act. Artists take the floor to discuss uncertainty and guesswork, to confront the unfixable holes in their work and the messiness of reality. With An van Dienderen, Max Pinckers, Els Dietvorst, Michiel De Cleene, Thomas Bellinck, Erika Balsom, a.o.
Katelijne Meeusen Kaaitheater
Eva Decaesstecker Kaaitheater