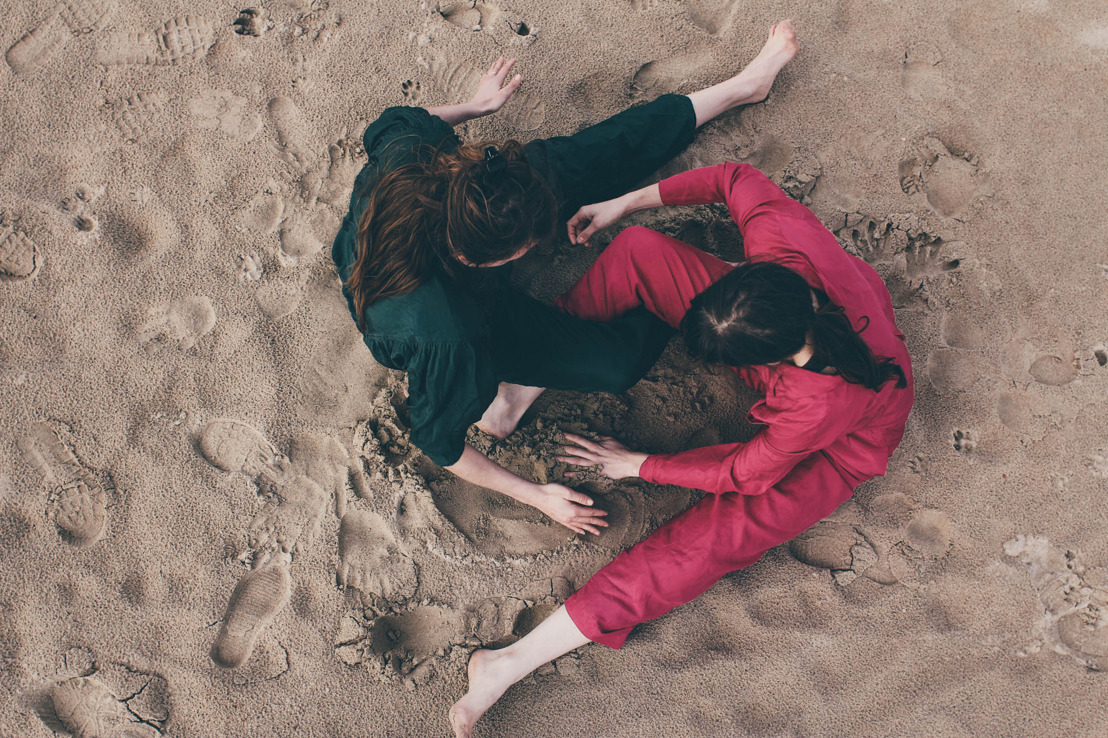 February at Kaaitheater
Friday, December 8, 2017
Moussem Cities: Casablanca
Premiering: Both, Two by Vera Tussing & Esse Vanderbruggen
Belgian premières by Laurent Chétouane, Benoît Lachambre and Pieter De Buysser
RE:RITE between health & sickness: the vacuum cleaner & Hannah Hull + Erik Thys (KAOS)
Jeroen Peeters & David-Weber Krebs On Enclosed Spaces and the Great Outdoor
Faits et gestes by French choreographer Noé Soulier
Other Places by Palestian director Bashar Murkus
Moussem Cities: Casablanca
In the annual Moussem Cities festival, Moussem Nomadic Arts Centre and its partners in Brussels focus on an Arab metropolis. Each time, they choose a city with a rich and culturally diverse history, which plays a vital role in contemporary Arab societies through its artistic dynamism. After editions focused on Tunis and Beirut, they are casting a spotlight on Casablanca in 2018. At The Kaaistudios, Moussem and Kaaitheater are co-presenting a programme with works by a young generation of performing artists from Casablanca and from the diaspora.
In this longread, Mohamed Ikoubaân and Cees Vossen – director and programmer of Moussem Nomadic Arts Centre – explain why they chose to focus on Casablanca this time.
Kaaistudio's | 1>3/02 | dance, performance, installation
Radouan Mriziga 8
Radouan Mriziga explores polyrhythm, a bass rhythm in African music. By looking for the social equivalent of this unusual harmony, this exercise for two dancers reminds us of the necessity and value of difference in the creative process.
Youness Khoukhou - Body Dialogue
Along with four young dancers from Meknes and Casablanca, Youness Khoukhou explores the human body as an inexhaustible source of information – and as an image that only needs to be deciphered. He shows bodies that retain energy, shape it, and pass it on, thus paving their way to the imagination.
Youness Atbane & Youness Aboulakoul The Architects
Plants, cups, books, chairs, lamps – these were the possessions bankers rescued from their Wall Street offices after the stock market crash. They are now the basis for a duet that questions the connection between object, art market, and crisis.
Meryem Jazouli Folkah!
Folkah! was born of the desire to bring two female artists around an ancestral dance from the Sahara: the Guedra. It is a unique collaboration between creator of the dance workshop Espace Darja, choreographer and dancer Meryem Jazouli – and the famous composer, producer and jazz singer Malika Zarra. Samen laten ze zich inspireren door een voorouderlijke dans uit de Sahara: de Guedra.
Hind Oudrhiri Haouma
The young architect Hind Oudhriri is building an installation along with visual and sound artist Abdallah Rchidi. Haouma (literally 'walk-about') takes you on a tour of Casablanca. It is a journey from the past to the present, between urban structures, and with a desire for chaos.
Two female bodies entwine until they become only one. Or three? Or… none? Where does a body actually begin? Taking the duet form as a starting point, Vera Tussing and Esse Vanderbruggen research the outer limits of human comprehensibility. Both, Two seeks to overflow the visual with other sensory elements: hearing, touch, and imagination. What does it mean nowadays to be two together?
Kaaitheater artist-in-residence Vera Tussing's work has long focused on sensory perception. This season, she also presented an adaptation of The Palm of Your Hand for all audiences, including blind or visually impaired people. This new creation is again accessible for all audiences. After premiering at Kaaistudios, Both, Two will be staged at KAAP/De Werf (Bruges) and then continue its tour.
Kaaistudio's | 21>22/02 | dance
What if we were to abandon verticality after centuries of walking upright? In Laurent Chétouane's new creation, two male dancers and a female dancer search for new equilibriums in an unhinged setting. They are accompanied live onstage by a pianist playing Bach's beautiful Partita for Violin No. 1 in B Minor.
French choreographer Laurent Chétouane has created various unusual adaptations of famous musical compositions. At Kaaitheater, he has presented his Sacre du Printemps (2013) and Bach/Passion/Johannes (2015). Out of joint / Partita 1 premiered in november in Berlijn (HAU). After its Belgian première at Kaaitheater the production will continue its European tour.
Kaaitheater | 2>3/02 | music/dance
Improvisation and the hyperconsciousness of your senses are always central to the work of the Canadian dancer and choreographer Benoît Lachambre. In LIFEGUARD he is again inviting us to listen to our senses and genuinely to experience the consciousness of our body, putting his audience in a playful trance centred on conscious vulnerability and concrete embodiment.
LIFEGUARD premièred last year in Paris and toured around Europe and South America. It is now having its Belgian première at the Kaaistudios.
Kaaistudio's | 7>9/02 | dance/performance
Prague Castle, 5 AM. The master of ceremonies appointed by Václav Havel finds an EU commissioner asleep under the conference table. Things clearly got out of hand. Brussels theatre maker Pieter De Buysser presents a play about magnanimity and magic, about human failings and the glorious dawn of politics. What is the significance of Václav Havel's legacy for Europe today?
The After Party premièred in Prague in March 2017. Now it will have its Belgian première at Kaaitheater.
Kaaitheater | 7/02 | theatre | in French and Czech (surtitled in Dutch, English and French)
RE:RITE: performances, talks & debate
What might rituals be in our current, 'fluid' times ? The RE:RITE series searches for new, contemporary rituals, with as a leitmotif seven major and minor transitional moments.
RE:RITE between health & sickness
The police call him an extremist. The UK National Health Service has labelled him 'highly disturbed' and borderline. He prefers the term Mental. After spending 14 years as an outlaw and in-patient, artist and activist, the vacuum cleaner shares an autobiographical performance told through his psychiatric records and police files.
The British artist the vacuum cleaner ­makes large scale interventions, 'one man shows', installations and films that subtly and provocatively address taboo issues. His work has been presented in Tate Modern as well as various European festivals and theatres.
Kaaistudio's | 22>24/02 | theatre | in English
When people suffering from mental illness make art, their work is often confronted with prejudice. Brussels psychiatrist and president of KAOS (KunstAtelier OpperStraat) Erik Thys argues that creatively fruitful minds are fragile minds. After his talk, he will enter in a debate with theatre maker Inne Goris (presenting Huis, the week before) and the vacuum cleaner and Hannah Hull (discussing their MadLove-project: how can we better understand the power relationships between patients and staff?).
Kaaistudio's | 23/02 | talk/debate | in English
We live in an age in which human activity has a profound impact on our physical and ecological surroundings. Nevertheless, these transformations often go unseen. How can we create stories, aesthetics, and spaces of experience to deal with this situation reflexively and critically? Looking for answers, David Weber-Krebs and Jeroen Peeters make a variety of hybrid artistic and theoretical interventions resonate with one another in a performative setting.
with Augusto Corrieri, Axel Dörner, Mette Edvardsen, Nikolaus Gansterer, Michael Marder, Stefanie Wenner a.o.
Kaaitheater | 10/02 | performances/debate | in English
Inspired by baroque compositional patterns, Noé Soulier has created a piece for four dancers. Set to the forceful piano tones of Johann Sebastian Bach and Johan Jakob Froberger Soulier researches how we perceive and interpret movements. Is it an action with concrete practical use, an abstract choreographic movement, or a gesture that communicates something?
Faits & gestes premièred in 2016. It has toured around Europe, and now comes to Brussels.
Kaaitheater | 20/02 | dance
What does Palestine mean to Palestinians who no longer live there, to the extensive Palestinian diaspora of refugees and self-imposed exiles? Bashar Murkus and 5 perfomers searched for a form to connect all these stories in a new kind of Palestinian identity that is not bound to a territory.
Bashar Murkus is a young Palestinian director from Haifa, a city in Israel. In 2011, he founded the Khashabi Ensemble there. Last year, Bashar Murkus presented New Middle East at Kaaitheater.
This production is again a co-presentation of Kaaitheater and Moussem. On its Belgian tour Other Places passes by Antwerp(Monty), Ghent (Vooruit) and Genk (C-Mine) before stopping at Kaaitheater.
Kaaitheater | 28/02 | theatre | in Arabic, surtitled in Dutch and English
Eva Decaesstecker Kaaitheater
Katelijne Meeusen Kaaitheater