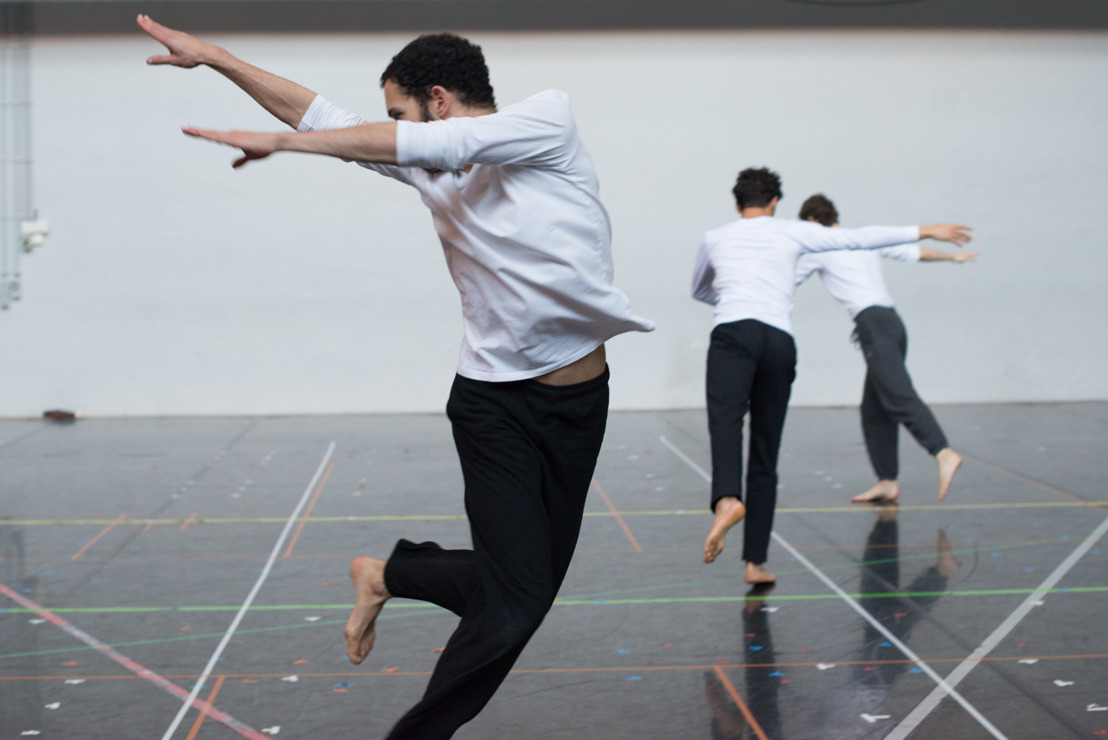 February at Kaaitheater
Thursday, December 1, 2016
Première A Love Supreme by Anne Teresa De Keersmaeker & Salva Sanchis
Belgian premières Atlas Revisited by Andros Zins-Browne & Karthik Pandian and Zaoum by Cindy Van Acker
Moussem Cities: Beirut
RE:MAKE talk by Srećko Horvat, RE:MAKE evening with Isabelle Stengers, RE:MAKE 7PM with Inigo Wilkins
Boris Charmatz a.o. during Brussels, Dance !
Kaaitheater coproduction Golem by Thomas Ryckewaert
John Coltrane's jazz album A Love Supreme is based on blues-inspired musical structures from which phrases emerge that provide plenty of room for expressive freedom. In 2005, Anne Teresa De Keersmaeker along with Salva Sanchis, created a quartet set to Coltrane's musical composition. This is literally expressed in the dance, with improvisation and composition interweaving until they melt together. With a new cast of young performers, De Keersmaeker and Sanchis rework A Love Supreme to create an exceptionally vital, evening-length performance.
After the première at the Kaaitheater, the performance embarks on a tour through Belgium and France.
Kaaitheater | 23/02>4/03 | dance
For the video Atlas/Inserts (2014) visual artist Karthik Pandian and the choreographer Andros Zins-Browne visited the Atlas Film Studios in the Ouarzazate desert (Morocco) and tried to coax a herd of camels into dancing in amongst the film sets of old Hollywood productions. With Atlas Revisited, the artists take a look back at this quest for an image of freedom. They show the making, unmaking and re-staging of a dance about freedom – and the deception that is often required when creating images of it.
Atlas Revisited premièred in EMPAC, New York. Kaaitheater presents its Belgian première, after which the performance will tour through Belgium and Europe.
Kaaistudio's | 9>10/02 | performance
Zaoum is the second part of the Flemish-Swiss choreographer Cindy Van Acker's new cycle, for which she was inspired by Luigi Nono's Quando Stanno Morendo. This piece of music draws on seven poems by figures such as the Russian Futurist Velimir Khlebnikov. The 'Zaoum' is apoetic form, in which sound takes precedence over meaning.
Zaoum premièred in September in Lausanne and will have its Belgian première at Kaaitheater.
Kaaitheater | 17>18/02 | dance
With an annually recurring city cycle, Moussem's Nomadic Arts Centre offers an insight into contemporary Arab societies and the dynamic of their cities. Every year, an Arab city is a guest in the capital of Europe. From 2017 onwards, Kaaitheater will be a permanent partner for the performing arts section of this festival.
From 2 to 18 February 2017, the Lebanese capital Beirut will be firmly in the spotlight, one of the Middle East's most heterogeneous and diverse cities. Palestinians, Iraqis and Syrians are of course an integral part of both Lebanese society and the arts scene. This dynamic scene may still be suffering from censorship, but it does make Beirut an important centre for art.
For three days performances, film screenings and theatre shows wll take place in and around the Kaaistudios, by artists who live and work in Beirut. You can see the work of Nancy Naous, Tania El Khoury, Dictaphone Group, Lucien Bourjeily, Chaghig Arzoumanian, Petra Serhal and Sirine Fattouh, an opening talk by Raafat Majzoub and a closing talk by Tony Chakar. You can find the complete festival programme on www.moussem.be.
Kaaistudio's | 3>5/02 | performance/lecture/theatre/film
The young Croatian philosopher, writer and political activist Srećko Horvat (1983) is one of the leading voices of his generation. The 2008 Subversive Festival in Zagreb was his initiative. His writings include After the End of History: From the Arab Spring to the Occupy Movement (2013) and together with Slavoj Žižek What does Europe want? The Union and its Discontents (2014). In 2015, together with Yanis Varoufakis, he set up the Democracy in Europe Movement 2025 (DiEM25).
For his lecture in this season's Kaaitheater series RE:MAKE, he starts from Fernando Pessoa's novel The Anarchist Banker and then explores models and practices to change a political and economic system from the inside out.
Leading Belgian philosopher Isabelle Stengers and literary magazine nY will immerse you in the world of science. And political thought. And witchcraft. Stengers has invited speakers from various disciplines to develop new perspectives on knowledge and knowledge production.
Kaaistudio's | 13/02 | talks/debate in English
Starting from the Golem myth – where Jewish scholars make alive dead material which then turns against them – Thomas Ryckewaert creates visual performance about ambition, creativity, power, creation, madness and destruction.
The performance premiered in December in deSingel. After a tour through Belgium and the Netherlands, Golem will be staged at Kaaitheater.
Kaaitheater | 15/02 | theatre/performance without words
Prior to the show, the British philosopher of mind Inigo Wilkins outlines the contemporary significance of the myth of Golem. It is the fourth RE:MAKE TALK at 7PM in this season's series (15/02 - 19:00 - in English).
For dancers and choreographers, Brussels stands out as a unique city. From all over Europe young artist venture to our capital, where a network of open and daring venues connects their diversity. Brussels, Dance ! is an initiative by venues across Brussels to celebrate the creativity of the city from 1 February to 31 March.
Kaaitheater was one of its partners for the first edition in 2015, and will be a partner for this 2nd edition as well. In February we will be presenting the following dance performances: Étrangler le temps + boléro 2 by Boris Charmatz/Musée de la danse & Emanuelle Huyhn, Zaoum by Cindy Van Acker (see above), A Love Supreme by Anne Teresa De Keersmaeker & Salva Sanchis (see above).
Eva Decaesstecker Kaaitheater
Katelijne Meeusen Kaaitheater