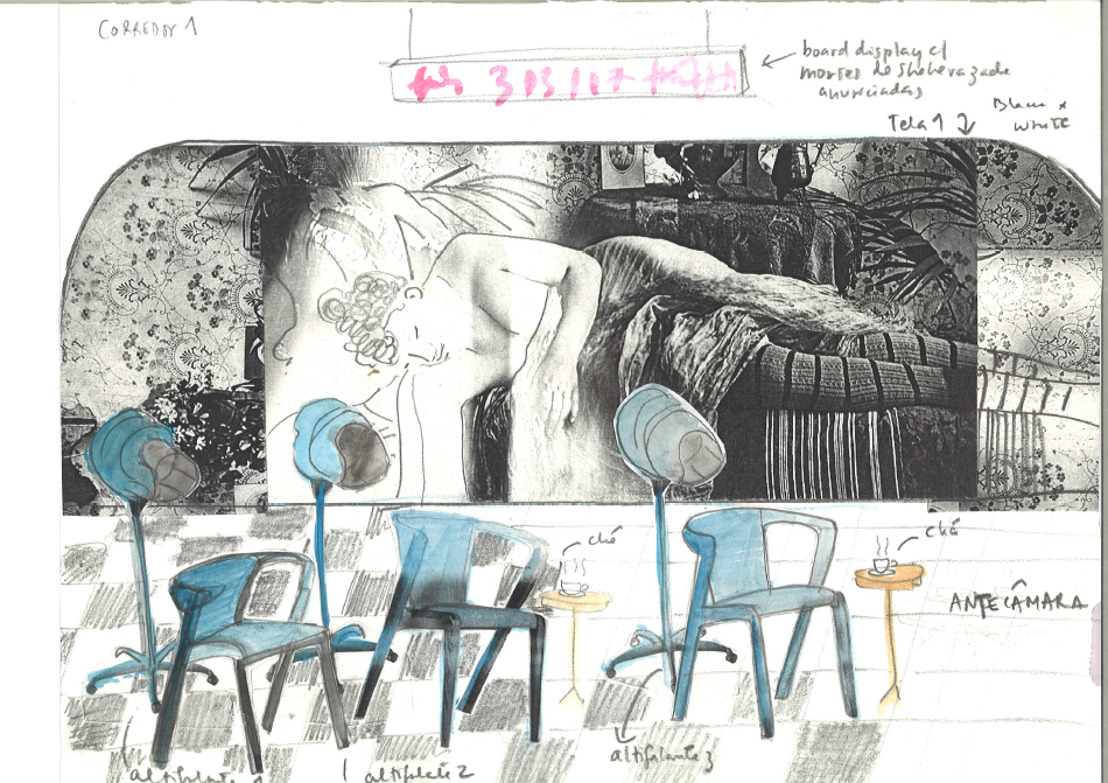 December at Kaaitheater
Friday, October 13, 2017
RE:RITE WE:SLEEP with David Weber-Krebs, Patricia Portela, The Monastery, Valentine Kempynck, Isabelle Gresser & Byung-Chul Han and Nathalie Pattyn
TJ Demos against the Anthropocene
Sarah Vanhee's film 'The Making of Justice'
reruns by Eleanor Bauer and Jérôme Bel
Is sleep the best form of meditation, as the Dalai Lama says? At the end of the year, around the time of the longest night on 21/12, we are bringing together artists and thinkers who reflect on the theme of sleep. The Kaaitheater season's theme RE:RITE temporarily turns into WE:SLEEP.
By interrupting all our activities and retreating from the world, sleep is perhaps the only possible escape from the ever-busier present. A place where you can let everything go and finally be alone. What is it like to be a viewer watching other people fall asleep in a theatre, to witness this most intimate act? The Guardians of Sleep is a collective attempt at disobedience in a world that is always 'switched on' – and where an 'off' button simply doesn't seem to exist.
The Belgische première of The Guardians of Sleep by the Belgian-German artist David Weber-Krebs took place at BUDA (Kortrijk), the beginning of October. Next stop are the Kaaistudio's. Read our interview with David Weber-Krebs here.
Kaaistudio's | 15>16/12 | performance | in English | part of RE:RITE WE:SLEEP
What does it mean to abandon yourself to sleep in a society which considers it to be an inevitable illness? Author and theatre director Patrícia Portela based this work on the uncompleted essay On Sleeping, Waking and the Absence of Dreams (1890) by Acácio Nobre, and on his reflections on the research of two 19th-century neuro-anatomists into the sleep of birds. She invites you to an installation of four rooms, which you walk through one by one. You pass a series of paintings, images that pass you by almost unnoticed. While listening to 1001 stories, you are enticed to fall asleep – or perhaps to wake up.
Parasomnia ends on 21/12 with a Late Night Event: chef de cuisine Annick Gernaey prepares a sleeping supper and Patricia Portela invites various guests for a discussion.
Kaaistudio's | 19>21/12 17:00 > 22:00 (continuously) | performance/installation | in English | part of RE:RITE WE:SLEEP

Also on this last evening of Parasomnia, Nathalie Pattyn, prof. biological psychology (VUB), holds a RE:RITE 7PM TALK. She researches the influence of light and dark on the quality of sleep, based on her article Sleep during an Antarctic summer expedition: new light on 'polar insomnia'.
Kaaistudio's | 21/12 | 7 PM talk | in English | part of RE:RITE WE:SLEEP
This essay film about philosopher Byung-Chul Han encircles the phenomenon of fatigue in our capitalistic societies – and its associated symptoms, such as depression and burnout. Visual artist Isabella Gresser interweaves the cinematic, photographic and drawn observations she made in Korea and Berlin with spoken text and lecture excerpts.
After the screening, Ignaas Devisch, Valentine Kempynck, David Weber-Krebs, Patricia Portela and Bieke Purnelle debate with one another on the thematics of the film.
Kaaistudio's | 18/12 | film & debate | in English | part of RE:RITE WE:SLEEP
Valentine Kempynck invites you to a brainstorm session about contemporary forms of hibernation. An animal crawls into its cave and eats its stored food – but what about humans in 2017? How can we slow down and digest as a society? Can we reinstate darkness in the role it needs and deserves? On 21/03, you can join the same group to finish the exercise.
Kaaistudio's | 21/12 | brainstorm | in English | part of RE:RITE WE:SLEEP
For the second time this season, The Monastery is coming to the Kaaistudios with A-LIFE, a ritual day that is patterned to the rhythm of the seasons. This time, the urban monks guide you through the transition from autumn to winter. You can live the life of a monk for the full 14 hours or take part in only one ritual, attend a lecture, or join a ritual dinner.
In the whirlwind of work, relationships, deadlines and discussions, we sometimes get distracted from the most important things in life: feeling alive and being conscious of our entire being and everything around you. The Monastery is an experimental spiritual urban community that aims to do exactly that: by performing daily rituals and making every action an intense experience. The 'monks' who will lead the A-LIFE cycle are Elke Van Campenhout, Stijn Smeets and Robin Amanda Creswell.
Kaaistudio's | 21/12 6:00 > 20:00 | rituals | in English | part of RE:RITE WE:SLEEP
T.J. Demos critically surveys the current upswing of attention in the sciences, arts, and humanities to the new proposal that we are in a human-driven epoch called the Anthropocene. Rather than uncritically endorsing and recirculating the Anthropocene ideology, radical artistic and activist practitioners are exploring multi-species ontologies, experimental and multidisciplinary pedagogies, eco-sexual economies, and forms of institutional liberation. These, Demos argues, offer vital resources for how to imagine the reinvention of the world in ways socially just and ecologically sustainable, and to counter the seeming ineluctability of catastrophic climate change.
This lecture is followed by a discussion between T.J. Demos and writer and dramaturg Jeroen Peeters.
Kaaitheater | 16/12 | talk & debate | in English
Along with seven convicts – all guilty of murder – Sarah Vanhee has written a crime film. The plot is based on their own experiences, ideas, and dreams, while they also explore motives, imprisonment, and re-integration. We are left guessing as to whether they use this fiction to confirm, defend, change, or rather escape from their own situations. Vanhee's film treats crime as a parallel reality: what would society look like if it was oriented to restorative rather than retributive justice? And what is the nature of justice itself? One of the men answers: 'The legal system is the application of laws – but justice is a human capacity.'
Brussels-based artist Sarah Vanhee creates performances, installations and films. She has previously presented Oblivion, Untitled and Lecture for Every One at the Brussels Kunstenfestivaldesarts. This film marks her debut at the Kaaitheater. The Making of Justice is having its official world premiere at the Jihlava International Documentary Film Festival (Czech Republic) and will be screened at festivals and theatres around the world. After the 8/12 screening at Kaaitheater, there will be a post-performance talk.
Kaaitheater | 7>8/12 | film | in Dutch (with English subtitles)
Reruns by Jérôme Bel and Eleanor Bauer
French choreographer Jérôme Bel opened the stage to people who do not usually have the opportunity to perform. In Gala he's now casting a spotlight on amateurs and their love of art. A colourful mix of dance lovers and professional dancers from diverse genres and cultures perform a veritable New Year's gala. The performance premiered at Kunstenfestivaldesarts in 2015. After touring around the entire world, it now returns to Kaaitheater.
Kaaitheater | 15>17/12 | theatre | in Dutch and French
In the near future, a group of poetic terrorists and emotional hackers withdraw to the sinister forest of the dark web. Along with composer Chris Peck and four Ictus musicians, Eleanor Bauer blends together all the ingredients for a musical, producing a completely new, hybrid genre. From 2012 to 2016 Bauer was Kaaitheater artist in residence. Meyoucycle premiered during Kunstenfestivaldesarts 2016 and now returns to Kaaitheater.
Kaaitheater | 6/12 | theatre/music/dance | in Engelish (with Dutch and French surtitles)