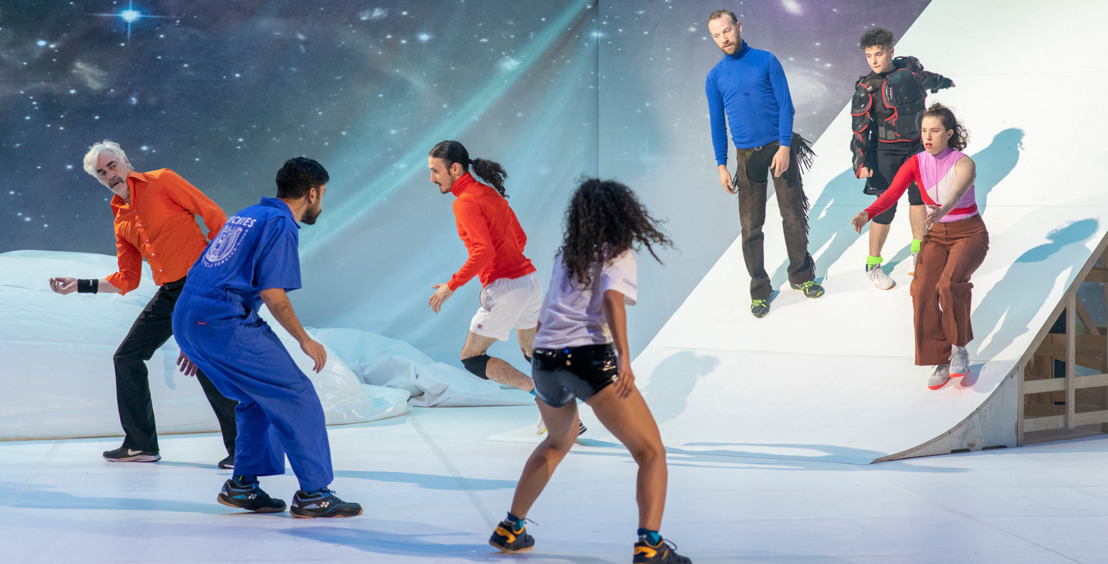 August and September at Kaaitheater
Opening the new season at the Sonian Forest and in our theaters!
Thursday, August 12, 2021
Listen Here: These Woods by Daniel Linehan – season opening at the Sonian Forest
Belgian premières: CASCADE by Meg Stuart/Damaged Goods; Mascarades by Betty Tchomanga
The Goldberg Variations BWV 988 by Rosas
The first edition of our new city festival Sous les pavés, het strand / Onder de stenen, la plage, with o.a. Panorama Ring Ring, Raev Rehearsal, Saintklet and Saskia Sassen
World premières: Journal d'un usager de l'espace by Benjamin Vandewalle, Maija Hynninen & HYOID and Two adults and a child by Ant Hampton
Sarah Vanhee & Bodies of Knowledge
Forces of Nature by Ivana Müller
A world tour of urban dance in ten cities by Ana Pi
from August to December at Kaaitheater: PAY WHAT YOU CAN
PAY WHAT YOU CAN
This coming months, we are turning the rules upside down. Together with our audiences, we want to relearn solidarity: every visitor decides the ticket price that suits their purse. In line with the new motto How to Be Many? we try to make room for more (different) people in the audience. Ticket sales start on 12th August! >> read more about PWYC
For the start of our programme we venture into the Sonian Forest with choreographer Daniel Linehan. Listen Here: These Woods is a literal invitation to go into nature. Set to the soundtrack of the forest, of wind rustling through the leaves and birds zipping by in the branches, the forest is these four dancers' home, as they draw you into feeling the dynamic aliveness of the forest.
The performance is accompanied by a workshop and guided walks.
Listen Here premièred at the beginning of Summer at Dansand in Ostend. The Sonian Forest is the next stop.
This show is supported by ACT - Art Climate Transition network (EU).
Groenendaal station | 28, 29/08 | dance + walk & workshop
In CASCADE, Meg Stuart and seven dancers reset the clock, and challenge reality to reconfigure itself. Balancing on the edge of a world that is rapidly disappearing, they plunge their bodies into another dimension. CASCADE is an unconditional surrender to what we do not know about the unknown other. Step into this free fall to the crumbling of time!
CASCADE premièred in Vienna during Impulstanz and will now travel through Belgium, France and Germany. At Kaaitheater we present the Belgian première.
Kaaitheater | 2 > 4/09 | dance | in English
This dance solo by Betty Tchomanga evolves around the mythological figure of Mami Wata ('Mammy Water'). She is a goddess of water, a figure from the depths of night, infused with power and sexuality. This stranded mermaid faces the people watching her.
Mascarades is Tchomanga's first performance as a choreographer. Since its première during the Artdanthé festival in France, the production has been touring through France. The Belgian première takes place at the Kaaistudios.
Kaaistudios | 3 & 4/09 | dance
After The Six Brandenburg Concerto, Anne Teresa De Keersmaeker continues her journey with Bach in dialogue with these variations. Along with pianists Pavel Kolesnikov and Alain Franco she brings The Goldberg Variations, BWV 988, a solo performance danced by herself. Here too, the musical score forms a blueprint for the choreography.
The production's première was delayed by Covid and took place in August 2020 during the Wiener Festwochen and has been touring across Europe since.
Rosas Performance Space | 3 > 18/09 | dance/live music
In this new series of programmes, Kaaitheater searches beneath the drab concrete and paving stones of the Northern Quarter for Brussels' super-diverse life in all its forms and colours. We call upon the poetic and revolutionary spirit of '68, to dream together of a better city. The aim: a just city 'for the many' which creates the right conditions for a thriving urban life.
This first edition will focus on housing and presents the Panorama Ring Ring stories, a Raev Rehearsal, workshops and talks by Saskia Sassen in conversation with Quinsy Gario, Leilani Farha & Fredrik Gertten, Lietje Bauwens & Wouter De Raeve, de Fanfakids, Permanent Summer School en the Saintklet DJs.
in&around Kaaitheater | 10 > 12/09 | talks, workshops, interventions, music, installations and an after-summer neighbourhood party
In Journal d'un usager de l'espace, you travel through the Kaaitheater building in a different way. Visible and invisible singers take you from one space to another, immersing you in an ever-changing sound bath. Journal d'un usager de l'espace is an immersion in the ordinary beauty of space, sound, architecture and movement.
Kaaitheater artist-in-resident Benjamin Vandewalle is always looking for new perspectives and experiences. Among other things Walking the Line, Birdwatching 4x4 and the installations Peri-Sphere, Inter-View and Studio Cité were part of Kaaitheater programme. Vocal ensemble HYOID specialises in contemporary music and does not hesitate to question traditional concert formats.
Journal d'un usager de l'espace will première at Kaaitheater and start its tour in Bruges.
Kaaitheater | 17 > 19/09 | performance/music
On stage: two adults and a child, unrehearsed, invited anew for every show. The child, on headphones, seems to be in charge. The adults copy the movements of children they see on screens around them. This puppet-like dance illustrates the stories, songs and dreams selected and whispered by the voices of yet more children as useful examples of vulnerability or surprise. Who are these kids?
Ant Hampton is known for automated structures (autoteatro) and non-rehearsed performative situations.Two adults and a child will have its première at the Kaaistudios and then travel across Europe.
Kaaistudio's | 23 & 24/09 | theatre/performance | in English (surtitled in Dutch & French)
How can you create a safe space in public space for the exchange of various forms of repressed or underexposed knowledge? This is the basic principle of bodies of knowledge (BOK), Sarah Vanhee's alternative school or nomadic classroom, a tent that stays in the same spot in the city for a few weeks or months, and then moves again. From September 18, BOK will be installed in the centre of Brussels for three months. You can take part in a free programme every week, whether it be a walk, a workshop, a game or a read-aloud.
BOK has been travelling through Brussels since the summer of 2020 and was part of the Kunstenfestivaldesarts programme, a.o. In 2022 Vanhee will create a production which will be staged at Kaaitheater. Then BOK will travel across Europa.
This project is supported by ACT - Art Climate Transition network (EU).
on location in Brussels | 18/09 > 18/12 | interventions | in Dutch, French, English, Arabic...
Gravity, inertia, resistance, momentum, action, and reaction. These are the five fundamental mechanical principles of movement we must control in order to walk and dance. Forces of Nature follows the movements of a complex organism that is constituted of five dancers, each with their own energy and ideas. From their negotiations and questions flows a score.
Forces of Nature premiered in June 2021 during the NEXT TIME festival in an online version, has toured since across France, Germany and Belgium. At Kaaitheater the show will be staged live for the first time in front of a Belgian audience.
Kaaitheater | 8, 9/09 | theatre | in English
From South Africa to Jamaica, from the United States to Angola... The young Brazilian choreographer Ana Pi gives a tour of the world of urban dance, through ten cities and ten different types of dance. Urban dance is linked to the city, its violence and injustice, but also to vibrant energy.
Ana Pi made Tour du monde des danses urbaines in 2014, after studying urban dance in Africa, South America and Europe. Since then, she has presented the play more than 400 times around the world, for audiences of all ages.
Eva Decaesstecker Kaaitheater
Katelijne Meeusen Kaaitheater