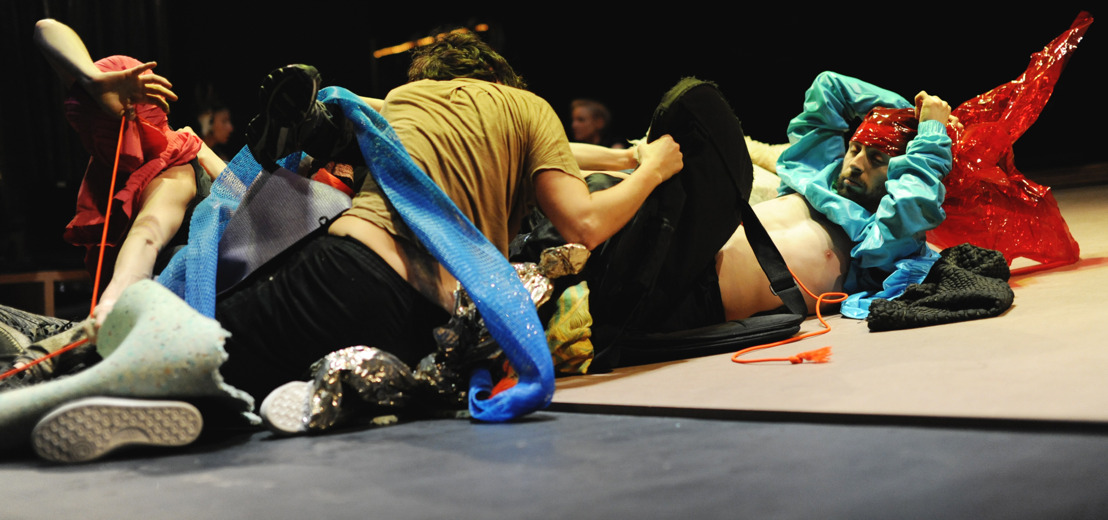 APRIL AT THE KAAITHEATER
Premiere by Inne Goris & LOD/Dominique Pauwels - Dance Day: Rosas, Meg Stuart/Damaged Goods, Jonathan Burrows & Matteo Fargion, Christine De Smedt & Eszter Salamon, etc. - Ecopolis 2016 - Eric Joris/CREW
Thursday, March 3, 2016 —
Premiere by Inne Goris
The Brussels theatre-maker Inne Goris is adapting Alessandro Baricco's novella Without Blood for the stage, with music by Dominique Pauwels (LOD Muziektheater). The story is about the consequences of war and the sympathy between perpetrator and victim, each of whom has to cope with their side of the trauma. Without Blood (in Dutch, surtitled in English) premieres at the Kaaitheater and will then be staged at the NTGENT and during London's LIFT Festival. Here you can find more info and the tour dates. The show is in Dutch, subtitled in English.

In his RE:THINK 7PM TALK introducing the Friday performance of Without Blood, philosopher and cultural analyst Joost de Bloois investigates the convergence of literature and philosophy, while looking at philosophers like Giorgio Agamben and Jean-Luc Nancy and others, who turn to writers such as Georges Bataille, Herman Melville or Robert Walser.
Dance Day 1.0
The 23rd of April is Dance Day, a new initiative by Flemish and Brussels dance organisations to spotlight Belgium's vigorous dance culture. Dance has always been closely associated with the history of the Kaaitheater – it's in our DNA. In a three day long programme, starting on Thursday, we take a look at the range of dance today: from virtuoso dance to performance art. On the programme: Meg Stuart/Damaged Goods presents an XL-version of Sketches/Notebook. Rosas reruns Verklärte Nacht at the Rosas Performance Space. At the Kaaistudio's Jonathan Burrows & Matteo Fargion bring New duet + Eleanor and Flora music, and they rerun Body Not Fit For Purpose. Christine De Smedt & Eszter Salamon show their Dance #2. Before and after the performances you can visit Heine Avdal/fieldworks' installation Box with holes. And Kris Verdonck/A Two Dogs Company invites you to his atelier in rue Lavallée to watch DANCER #3. You can find the complete programme for Dance Day at both the Kaaitheater and Kaaistudio's here.
Ecopolis 2016: Power, Politics and Chocolate
Ecopolis is the rendezvous for those who are committed to a sustainable future, presented by Oikos, Etopia and the Kaaitheater. On the programme, we have writers, scientists and theoretists from the civil society giving lectures and going into dialogue. All are in English, or translated into English). The first list of guests have now been announced: Joris Luyendijk (author of the bestseller Swimming with Sharks: My Journey into the world of the Bankers) speaks about economical and financial power. Spokesperson of the Climate Express Natalie Eggermont makes proposals on what should be done after the COP21. Mamadou Bamba, director of Ecookim, a union of cooperatives in Ivory Coast and supplier to Oxfam Wereldwinkels, focusses on the bitter aftertaste of chocolate. Economist and strong promoter of degrowth and economy of enough Niko Peach launches a debate, together with Wannes Cappelle, the author of Ont-ferm U in which he challenges achievement-oriented society and talks about our vulnerability and ability of compassion. How does the world come to Europe? It is a question Annelies Verbeke reflects upon in her latest book Thirty Days. How do young people perceive Europe? We will hear perspectives from Warda El-Kaddouri, a Belgian Youth Delegate to the United Nations. The American philosopher Susan Neiman will open the final debate of Ecopolis 2016. You can find more information on the programme and its guests here. All debates are held in English or simultaneously translated.
An all-in installation by Eric Joris/CREW
Eric Joris/CREW has created Absence, a multimedia performance (theatre, dance, Flemish symbolic landscape painting and new media) based on film material he collected in Japan after the 2011 tsunami. He worked with the writer Peter Verhelst, the dancer Fumiyo Ikeda and the actor Frank Focketyn. Music is served by KRENG. The performance premiered in October 2015 and will also be staged in Eindhoven this year. More info & touring list.
FULL PROGRAMME - APRIL AT THE KAAITHEATER
IVO VAN HOVE & RAMSY NASR / TONEELGROEP AMSTERDAM
De andere stem
12 + 14 > 17/04 | theatre | NL | Kaaistudio's | premiere

INNE GORIS & DOMINIQUE PAUWELS / LOD MUZIEKTHEATER
Without Blood
13 > 15/04 | theatre | NL (ENG surtitled) | premiere

JOOST DE BLOOIS
On philosophy and literature
14/04 | RE:THINK TALK | ENG

ROSAS
Verklärte Nacht
15-16-17-22-23-24-29-30/4 + 1/5 | dance | Rosas Performing Space

ECOPOLIS 2016
17/04 | books & debates | NL / FR / ENG

SUSAN NEIMAN
17/04 | RE:THINK LECTURE | ENG > NL / FR

LAURA VAN DOLRON
Sartre zegt Sorry
19/04 | theatre | NL | Kaaistudio's

MEG STUART / DAMAGED GOODS
Sketches / Notebook
21 > 23/04 | dance

JONATHAN BURROWS & MATTEO FARGION + ELEANOR SOKORSKI / FLORA WELLESLEY WESLEY
New duet + Eleanor And Flora Music
22/04 | dance | Kaaistudio's

KRIS VERDONCK / A TWO DOGS COMPANY
DANCER #3
23/04 | performance / installation | Rue A. Lavallée

JONATHAN BURROWS & MATTEO FARGION
Body Not FIt For Purpose
23/04 | dance / performance | ENG | Kaaistudio's

CHRISTINE DE SMEDT / ESZTER SALAMON
Dance #2
23/04 | dance / performance | ENG | Kaaistudio's

METTE INGVARTSEN / JEFTA VAN DINTER
Screening: IT'S IN THE AIR
23/04 | dance / performance / film | Kaaistudio's

HEINE AVDAL / FIELDWORKS
A box with holes
23/04 | installation / video | Kaaistudio's

PETER VERHELST / NTGENT
Liefde
27 > 30/04 | theatre | NL | Kaaistudio's

ERIC JORIS / CREW & PETER VERHELST / NTGENT
Absence
28 > 29/04 | theatre / performance | NL