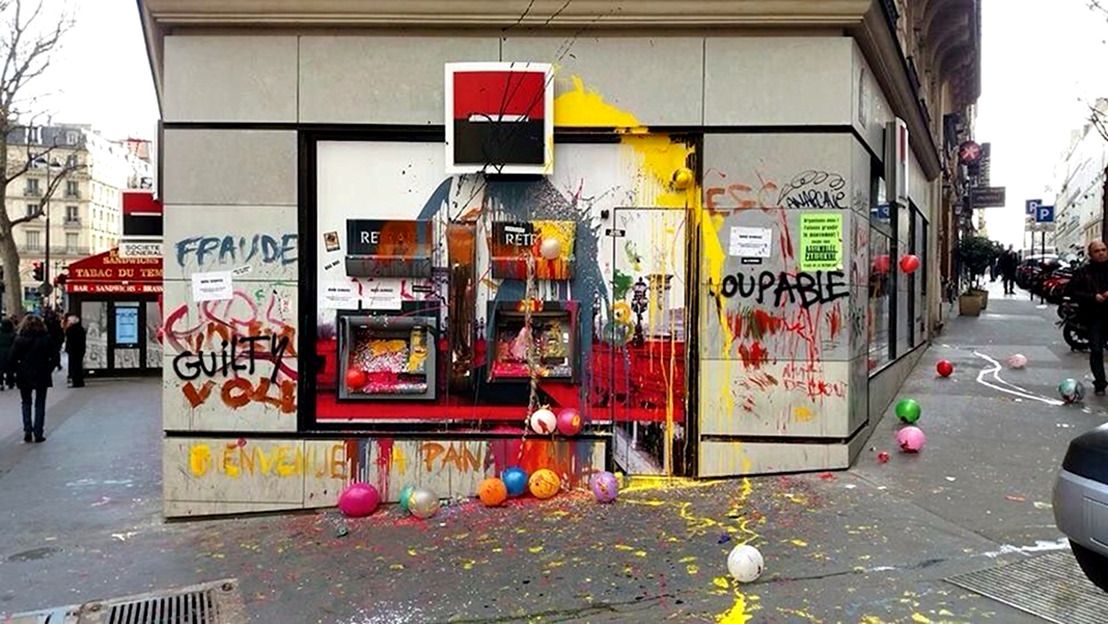 April at Kaaitheater
Dinsdag 13 februari 2018
Kaaitheater artist in residence Christophe Meierhans is premiering Trials of Money
Kaaitheater celebrates Dance Day for a week on end, with Jonathan Burrows & Matteo Fargion (Belgian premiere), Anneleen Keppens, DD Dorvilier and Mette Ingvartsen
Rosas recreates Achterland with a new cast
Fabrice Samyn takes over the Kaaistudio's with A Breath Cycle
Jan Fabre brings his ode to Belgium down to Brussels: Belgian Rules/Belgium Rules
Trials of Money turns the theatre into a court of justice which does not yet exist. The audience is invited to take part in the Special Tribunal for Semi-Human Persons in order to undertake the trial of a thing – the very complex thing most commonly called 'money'. Ten witnesses will testify: from a psychologist to an ex-banker, from a homeless person to a rich philanthropist.
The trial is conducted as a collective exercise: while the performers deliver their testimonies, they will respond to any question the audience has. All members of the audience are free to take the position of either accusation or defence, based on their convictions and the course of the proceedings.
• Christophe Meierhans is artist-in-residence at Kaaitheater. He has made a mark over the past few years with shows like Some Use for Your Broken Clay Pots and A Hundred Wars to World Peace – of which the outcome lies invariably in the hands of the audience. Trials of Money will premiere at the Kaaistudio's and then embark on a tour across Europe. In Belgium, Trials of Money will be staged in Ghent (Vooruit) and Kortrijk (NEXT Festival) a.o.
Kaaistudio's | 18>19/04 | theatre/performance | in English
Dance Day - at Kaaitheater and the Kaaistudio's
For the third time, Dance Day – an initiative by Flemish and Brussels dance organizations and arts centres – invites you to sample dance in all its forms. The Kaaitheater offers a week-long programme: three performances, a workshop and a lecture.

Jonathan Burrows & Matteo Fargion - Any Table Any Room - Belgian première
Jonathan Burrows, dancer and choreographer, and Matteo Fargion, musician and composer, have been making duets for the pas decade. In their playful but rigidly composed miniatures, they combine dance, music, comedy and performance art.
For Any Table Any Room, they invite four local artists to join them onstage in each new location – in Brussels they invite Mette Edvardsen, Dounia Mahammed, Lili Rampre and Andros Zins-Browne – to address the subject of 'the possibility and impossibility of community', using 72 clay objects created by the performers, group singing and Indian drone sounds on smartphones.
Kaaistudio's | 25>26/04 | dance/performance | in English

Anneleen Keppens - the moon is the moon is the moon
The moon is the moon is the moon deconstructs the structure of a dance trio and exposes its building blocks. Just like the preparatory sketches for a painting, the performance begins with various perspectives and movements. The individual layers that you discover in the choreography invite you to see things in new ways.
The moon is the moon is the moon is the debut of Anneleen Keppens as a choreographer. She has danced for Daniel Linehan, Xavier Le Roy and Rosas, among others. The moon is... premiered last October in Bruges. After Kaaitheater, is heads to Leuven.
Kaaistudio's | 27>28/04 | dance
Saturday afternoon 28/4 Anneleen Keppens is also giving a workshop: guided improvisations allow you to discover your personal movement language and to create simple dance phrases. No dance experience required!

DD Dorvillier & Sebastien Roux - Only One of Many
How does your perception of a dance or music sequence change when it is combined with a different choreography or a different musical composition? In Only One of Many, composer Sébastien Roux and choreographer DD Dorvillier invite you to experience the six possible pairs of four elements: Dance 1, Dance 2, Music 1, Music 2. What meanings, impressions and images are conjured, and what unexpected relationships to listening and looking are stirred?
The Puertorican DD Dorvillier currently lives in France, after living and working for many years in New York. The past few years, Dorvillier has collaborated closely with the French sound artist and composer Sébastien Roux. With Only One of Many they've toured across Europe.
Kaaitheater | 27>28/04 | dance

Mette Ingvartsen - Lecture on The Red Pieces
In this talk choreographer Mette Ingvartsen will speak about the relationship between sexuality, pleasure, performance and economy. The lecture reflects upon how borders between private and public space are dissolving and how this process is fuelled by an increasing demand for self-performance and self-exposure within media and communication driven economies.
All the Red Pieces have been on the Kaaitheater programme: 69 Positions, 7 Pleasures, and (during WoWmen 2018) 21 Pornographies.
Kaaitheater | 28/04 | lecture
Achterland is a seminal choreography in Anne Teresa De Keersmaeker's oeuvre. In this 1990 performance, for the first time, the choreographer gave the musicians a central position on stage and let them play an active role in the overall dynamic – an approach she would repeat in many subsequent projects. The unusual combination of György Ligeti's and Eugène Ysaÿe's music inspired De Keersmaeker and her dancers to create an original dance score with a delicate balance between energetic virtuosity and deceleration.
This also was the choreographer's first time writing dancing material specifically for men: three male dancers joined Rosas, which at the time was still a predominantly female company. The minimalism and dominant femininity of early Rosas pieces gave way to an ambiguous no-man's-land in which boundaries and signs were blurred.
Achterland was created in 1990. Now, the performances has been recreated with a cast of young Rosas dancers. After its premiere in Bruges, the performance has taken off on a tour across Europe.
Kaaitheater | 12>15/04 | dance
The visual artist Fabrice Samyn's work is highly diverse, both formally (from painting and photography to sculptures and installations) and thematically (time and light, idolatry vs. iconoclasm, etc.). Scattered in the Kaaistudio's, he presents five of his seven Breath Pieces, which take breathing as their starting point. Guided by a handbook, visitors move from one breath piece to another. To the rhythm of the breathing, a number of different actions are performed that intensify your awareness of time, while attention is focused on all that is fundamental and uncontrollable about breathing.
A Breath Cycle premiered during the Playogrund Festival in STUK (Leuven). Apart from his performative work, Samyn is especially known for his visual arts. Galerij Meessen De Clercq presents his visual work in Belgium.
Kaaistudio's | 21>22/04 | performance
Just like Fellini made Roma – an ode to his city – Jan Fabre is celebrating his own complex, crazy country. He is doing so in the most appropriate language to capture the spirit of this slippery state: the language of the theatre and of images. With an international cast of performers and musicians, Fabre goes in search of Belgian identity, and translates it into a dance and theatre production. Raymond van het Groenewoud has written a series of anthems, while author Johan de Boose wrote the text. In Belgian Rules/Belgium Rules Fabre examines our self-image – who knows, it might lead us to have more empathy.
Since the late 1970s, Jan Fabre is one of the most versatile artists on the international scene. Last season, he occupied Kaaitheater for an entire day with the monumental epic Mount Olympus. Belgian Rules/Belgium Rules premiered in July 2017 at Impulstanz in Vienna and is now touring across Europe.
Kaaitheater | 20>21/04 | theatre | in Dutch, French and German (surtitles in Dutch and French)
Eva Decaesstecker Kaaitheater
Katelijne Meeusen Kaaitheater